Premium ES 9.2 CH 8K A/V Receiver
Model: STR-AZ3000ES
About This Item
9.2 CH A/V Receiver2 (120W + 120W 8ohms, 1kHz, 2ch, THD 0.9%)
8K & 4K/120 HDMI Connectivity with HDMI 2.1 support (6-in/2-out)1,3
Supports Dolby Atmos® & DTS:X® object-based sound decoding
Offers
Features
ES A/V Receiver: Elevated performance for all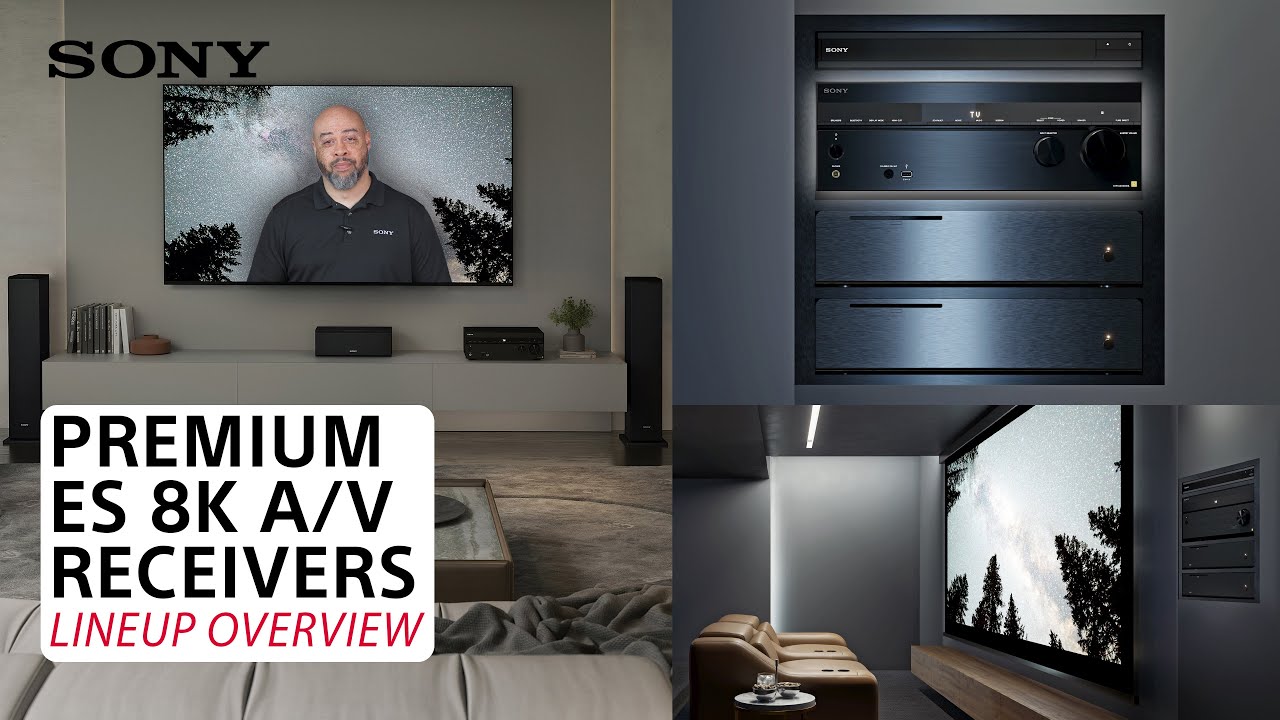 Redesigned with build quality in mind
Newly Designed Frame Beam Base Chassis
The chassis of the ES model has been fundamentally revised: the overall thickness has been increased for improved rigidity, and the structures of the transformer base and other weight-bearing parts have also been redesigned to improve the instantaneous power and crispness of the sound, when compared to a conventional chassis.
Offset Screw Position Foot
Designed with an offset screw position to both eliminate the resonance point and avoid frequency-specific, vibration-inducing resonance transmission to and from the transformer, the foot also contains additional ribs for increased rigidity and improved resonance control.
Refreshed Digital Circuit Board
Metal ES-grade frames both secure the circuit board and protect it from vibration caused by speaker sound pressure. The varying fin length of the integrated heat sink reduces audible resonance uniformity while also shielding delicate circuitry from noise.
New DAC enables 32-bit operations
Digital PCM signal input is processed at 32-bit and converted to analog by the DAC, while DSD signal input during direct mode is natively input to the DAC and converted to an analog signal.
Improved analog power for DAC
The DAC analog power supply uses a low- noise power supply IC to ensure that hi-fidelity performance is achieved
Redeveloped digital section
The new digital section enables all signal processing to be performed on a single chip while also providing lower impedance, increased capacitance, and better stability.
A new DAC analog output filter circuit was designed utilizing a JFET and op-amp improvement in noise floor. The phase rotation was shifted to a higher frequency, expanding the bandwidth and improving sound clarity for wide-bandwidth sources like high-resolution audio.
Sony exclusive integrated circuit
A Sony-exclusive integrated circuit was developed to improve all amplification function on the STR-AZ3000ES. The pre-amp is independently connected to each individual amplifier channel, improving channel separation and reducing internal interference over more traditional cascading designs.
Applying years of sound engineering and testing experience, Sony has developed an ES-grade solder. A high-purity tin base combines with small amounts of specially chosen metal elements for a unique alloy mix that enables a quality signal and exceptional sound.
The special resistance materials and structure, pure copper has been used in the electrodes to achieve high volumes of data with rich, vivid audio quality.
Redefined video tech to power your theater
Frequently Bought Together
©2023 Sony Electronics, Inc. All rights reserved. Reproduction in whole or in part without written permission is prohibited. Sony and the Sony logo are trademarks and or registered trademarks of Sony Corporation. Bluetooth® and the Bluetooth logo are trademarks of Bluetooth SIG, Inc. All other trademarks are trademarks of their respective owners. Features and specifications are subject to change without notice.