HT-A9
High Performance Home Theater System
Product highlights
360 Spatial Sound Mapping for a whole new surround experience with Dolby Atmos® and DTS:X®
Flexible layout with wireless connectivity
Hi-Res Audio capable X-Balanced speaker units
Immersive Audio Enhancement converts regular audio to near 7.1.4 Ch
Vivid visuals and fast paced game play with 8K2 and 4K/1203 passthrough
Stream your way with Bluetooth9, Wi-Fi, Chromecast built-in10, Spotify Connect, and Apple AirPlay 2
Customize your setup with two subwoofer choices
Pairs with BRAVIA4 for easy access to home theater system controls
Control content with your voice using Google Assistant5 and Amazon Alexa6
Premium audio made easy with onscreen user interface for sound adjustments
Bundle Items
High Performance Home Theater System
$1,999.99
Optional powerful 300W wireless subwoofer for HT-A9/HT-A7000/HT-A5000
$699.99
HT-A9
A new frontier of surround sound
Immerse yourself in a multi-dimensional audio experience with the HT-A9 Home Theater System. Unique 360 Spatial Sound Mapping technology calibrates sound to your room for an environment that seems to expand beyond the walls.
360 Spatial Sound that adapts to your environment
Our revolutionary 360 Spatial Sound Mapping technology creates up to twelve phantom speakers from just four real speakers. Here's how.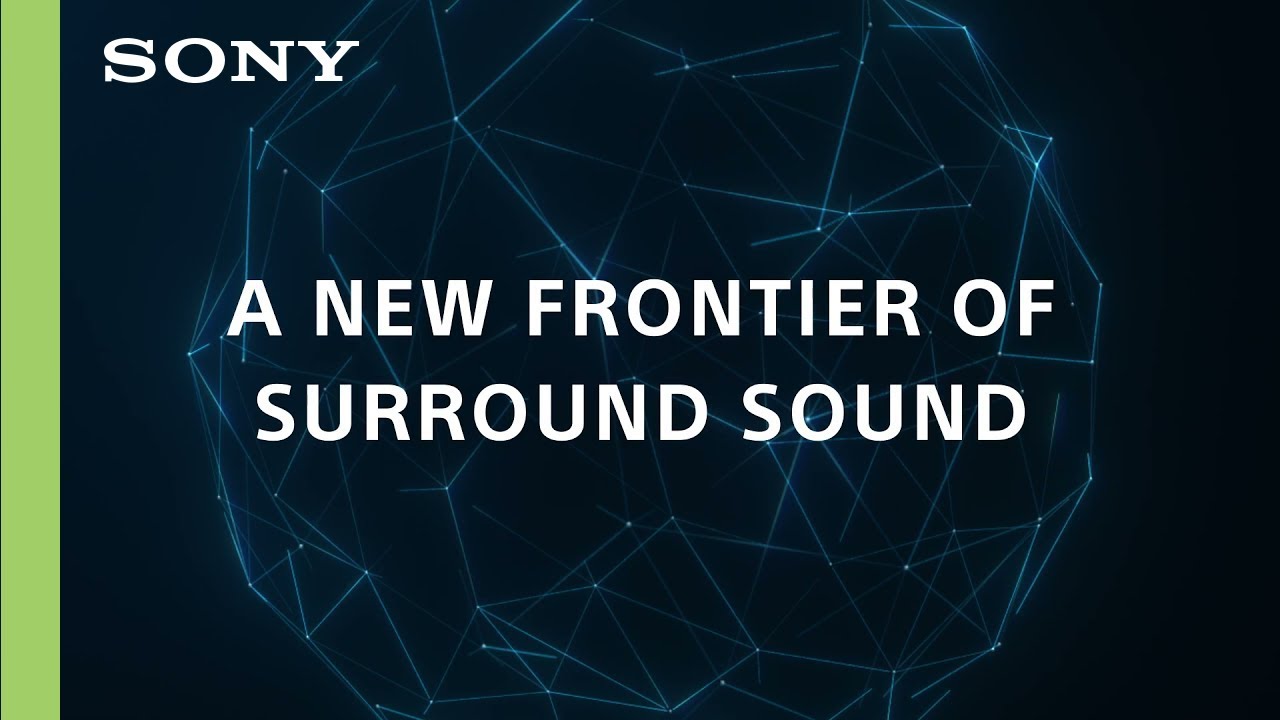 See what experts at Sony Pictures think of our new sound
In this video, two sound professionals from Sony Pictures Post Production Services talk about their experience with the HT-A9 and how 360 Spatial Sound Mapping brings movies to life.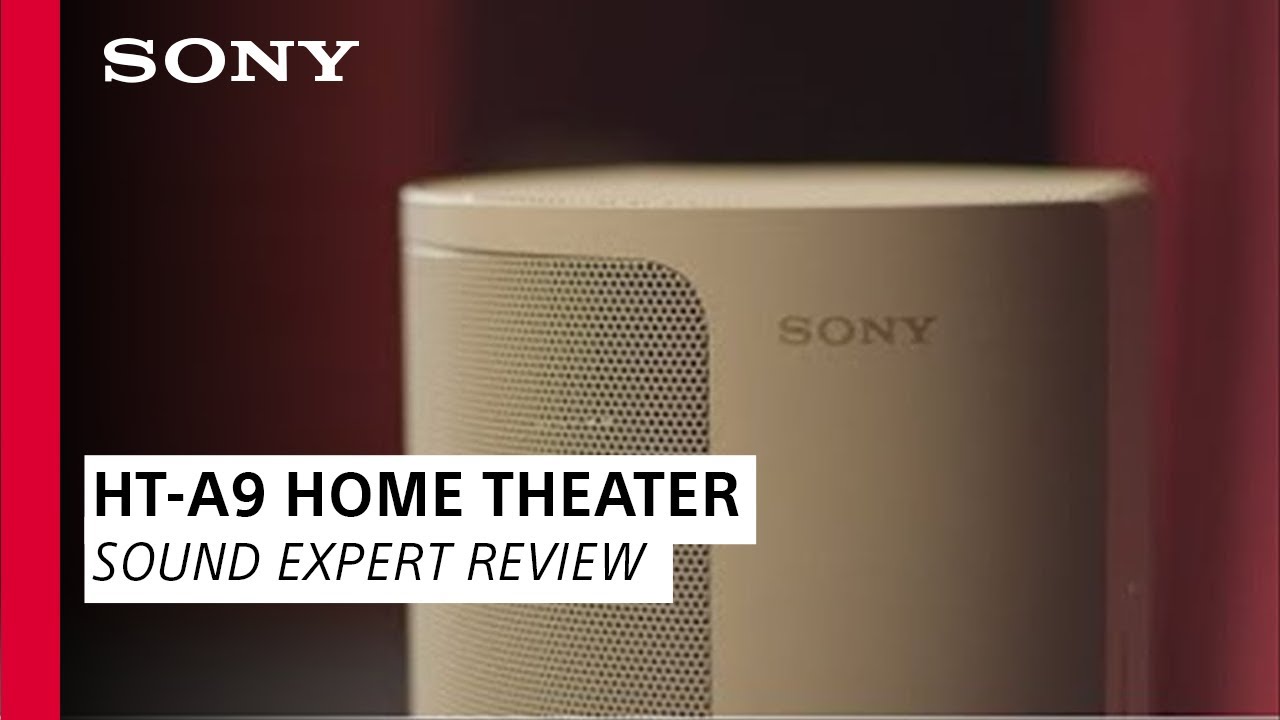 360 Spatial Sound experience, like you are in the scene
Surrounded on all sides by multiple phantom speakers within an optimized sound field, you'll hear every flap of wing and gust of wind with incredible intensity. It's like you and your living room are inside the movie.
Flexible layout for any situation
Reduce clutter and enjoy a simple setup without a need for extra cables. HT-A9's speakers wirelessly connect to the control box, allowing you to place them anywhere in the room. Sound Field Optimization allows you to have the speakers at different heights and distances and will measure the position of each speaker to create the best sound for your room.
Connect wirelessly
Place the control box near the TV and link up via HDMI. The four speakers connect wirelessly to the control box so there's no cables across your living space.
Sound Field Optimization
Activate Sound Field Optimization any time by performing Easy Setup from the home menu on the TV screen. The HT-A9 Home Theater System intelligently measures the distance between speakers and ceiling for smart and easy set up.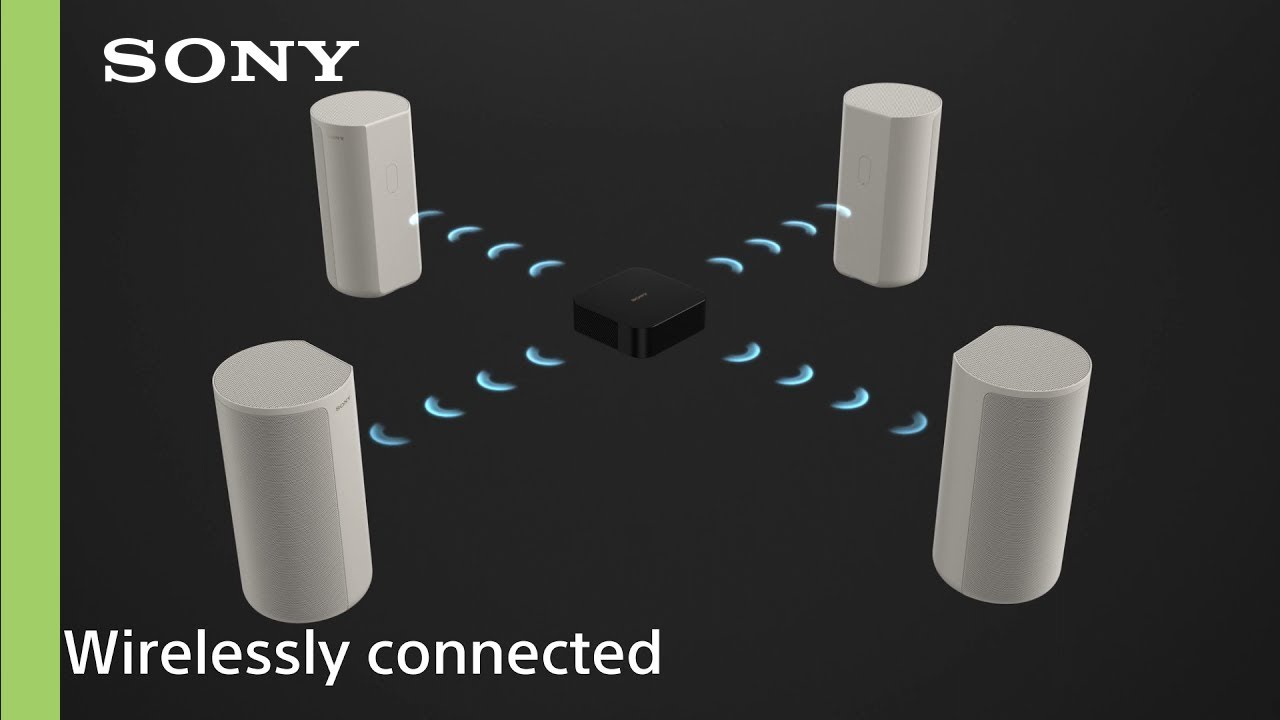 Innovative speaker design
Our speakers are designed with leading-edge technologies to deliver the supreme sound quality and wide directivity required for 360 Spatial Sound Mapping.
Technology inside
1 - Up-firing speaker (X-Balanced Speaker Unit)
2 - Soft Dome Type Tweeter
3 - Wide Directivity Woofer (X-Balanced Speaker Unit)
4 - Dual microphones
X-Balanced Speaker Unit
The unique rectangular shape of these speakers maximizes the diaphragm area for richer bass. It also reduces driver excursion while maintaining sound pressure, resulting in less distortion and greater vocal clarity.
Movies and games feel so real
Support for 8K2, 4K/1203 passthrough, and Dolby Vision7 brings vivid visuals and quality sound to shows, movies, and fast paced video game play.
Enjoy an immersive gaming and movie experience
Enjoy immersive gaming and movie watching with optimized picture settings by Auto HDR Tone Mapping and Auto Genre Picture Mode when connecting BRAVIA XRTM TVs and PlayStaion®512,13 through this product with firmware update released Spring 2022.
Immerse yourself in supreme music quality
Enjoy music the way the artists truly intended with High-Resolution Audio for crystal clear precision. Or discover a new way of listening with 360 Reality Audio1 for a truly immersive live concert or studio session experience. With the HT-A9 Home Theater System, your music comes to life like never before.
Real-time restoration of all your compressed files
Using Edge-AI (Artificial Intelligence), DSEE Extreme™ (Digital Sound Enhancement Engine) upscales compressed digital music files in real time. Dynamically recognising instrumentation, musical genres, and individual elements of each song, such as vocals or interludes, it restores the high-range sound lost in compression for a richer, more complete listening experience.
Hear extra deep bass with an optional subwoofer
Adding an optional subwoofer to your system to handle low frequencies allows the system to reproduce sounds with greater impact and power than before. Two models are available, designed to bring out deeper bass, more voice clarity and extra fidelity in everything you listen to. 
300W of deep, rich bass from a 180mm driver with passive radiator.
200W of sound from a compact bass reflex subwoofer with a 160mm driver.
Perfect with Sony TVs
Paired with BRAVIATM TVs, the HT-A9 brings you an immersive audio-visual experience with our best picture and sound quality. It's the perfect soundbar for BRAVIA.
Even more immersion with Acoustic Center Sync
When connected with the supplied cable to a BRAVIA TVs, the TV speaker plays the center channel role in your Home Theater System and part of the 360 Spatial Sound Mapping setup.4 This enables sound to precisely match what's on the screen for a truly immersive experience.
Sound perfectly matches action
With Acoustic Center Sync, you'll hear dialogue from exactly where the character is standing in the scene. Action and sound are precisely aligned so your viewing becomes much more immersive.
Effortless control with BRAVIA TVs
Everything links up perfectly when connected to the new range of BRAVIA XR™ TVs. Control sound settings and volume using only the TV remote and easily check the status of the audio system while watching favorite programs. With an integrated UI, Home Theater System settings automatically appear on the BRAVIA TVs Quick Setting menu.4
Omnidirectional Block Design
The HT-A9 is one of our latest home sound systems, designed using the Omnidirectional Block concept. The cylindrical shape represents a single solid block providing 360 spatial sound. It fits perfectly against the wall with a flat rear surface. The light pearl grey color blends well with walls, shelves and other interior elements.
Enjoy movies like never before with 360 Spatial Sound
A clever algorithm adds overhead, all-encompassing sound to conventional surround soundtracks and even stereo audio, converting everything you listen to into immersive 360 Spatial Sound experiences. Just press the Immersive AE button on the remote to activate.8
Experience 360 Spatial Sound Mapping
Want to try out our 360 Spatial Sound Mapping video on your favorite devices? Just slip on your headphones and watch this video to experience immersive sound.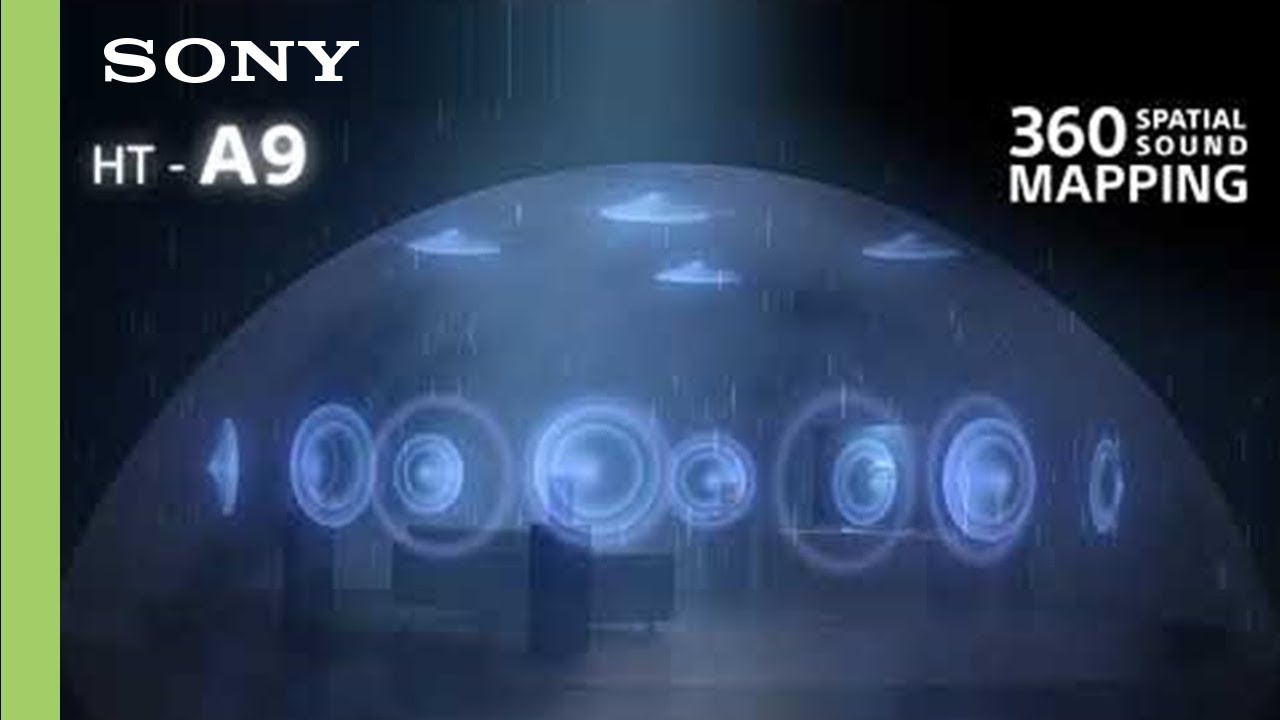 Voice control
Connect to your home's other devices with Google Assistant5 or Amazon Alexa6.
Set up in seconds
The HT-A9 is almost ready to go straight out of the box. Simply plug it in, connect to your TV using HDMI and power on. With LAN, HDMI IN and HDMI OUT (eARC), you're all set to enjoy a new spatial surround sound experience.
Easy Listening
It's never been easier to listen to your favorite tracks. HT-A9 supports audio streaming via Bluetooth9, Wi-Fi, Chromecast built-in10, Spotify Connect, and Apple AirPlay 2.
Designed with the environment in mind
Sony is committed not only to offering products, services and content that deliver exciting experiences but also to working towards our goal of a zero environmental footprint throughout our business activities.
Specifications
Amplifier
Amplifier Type
Digital Amplifier, S-Master HX
Interface
Input and Output Terminals
USB typeA(FW Update only), Ethernet, S-Center Out
IEEE802.11 version
IEEE 802.11 a/b/g/n/ac
Bluetooth
RX(receiver)/TX(transmitter)
HDMI
Number of Input/Output
1 / 1 (eARC/ARC)
Dolby Vision™ Compatible
Yes
HLG (hybrid log gamma)
Yes
Audio Formats
HDMI input
Dolby Digital, Dolby Digital plus, Dolby TrueHD, Dolby Atmos, Dolby Dual mono, DTS, DTS HD High Resolution Audio, DTS HD Master Audio, DTS ES, DTS 96/24, DTS:X, LPCM
8K: 7,680 x 4,320 pixels. Requires HDR compatible content from supported streaming services or HDR compatible content device connected via HDMI input (sold sep).
Game title supporting 4K/120fps and/or VRR required.
Dolby Vision content compatible with streaming services or compatible content device connected via HDMI input (sold sep).
BRAVIA Acoustic Center Sync mode works with the following models: Z9J series, A90J series, A80J series, X95J series. Product availability varies by country. Integrated UI works with the following models: Z9J series, A90J series, A80J series, X95J series, X90J series, X85J series, X80J series.
User must connect to a Google account to use, including voice to activate linked apps.
Amazon Alexa enabled devices (sold separately). Amazon account required. Subscriptions may be required to access certain content. Compatible devices require internet connection.
Download Headphones Connect app at Google Play and the App Store. Network services, content, and operating system and software subject to terms and conditions and may be changed, interrupted or discontinued at any time and may require fees, registration and credit card information. 360 Reality Audio requires subscription to compatible online music service and third party terms, conditions, account and fees may apply. Requires firmware Ver1.1 or above.
Download app at Google Play and the App Store. Network services, content, and operating system and software subject to terms and conditions and may be changed, interrupted or discontinued at any time and may require fees, registration and credit card information.
Interoperability and compatibility among Bluetooth® devices vary.
Apple ID account required. Subscriptions may be required to access certain content.
Chromecast built-in compatibility dependent on app.
Software updates on both PlayStation®5 and BRAVIA are required.
Horizon Forbidden West™: Releasing 02/18/2022. ©2021 Sony Interactive Entertainment Europe. Developed by Guerilla. Horizon Forbidden West is a trademark of Sony Interactive Entertainment LLC.
©2021 Sony Electronics, Inc. All rights reserved. Reproduction in whole or in part without written permission is prohibited. Sony and the Sony logo are trademarks and or registered trademarks of Sony Corporation. Bluetooth and the Bluetooth logo are trademarks of Bluetooth SIG, Inc. All other trademarks are trademarks of their respective owners. Features and specifications are subject to change without notice.