ILCE-7RM2
Alpha 7R II - Full-frame Interchangeable Lens Camera 42.4MP, 5FPS, 4K/30p
Offers
Item is no longer available
Product highlights
World's first1 full-frame back-illuminated Exmor R® CMOS sensor - 42.4MP
5-axis in-body image stabilization optimized for 42.4MP full-frame
4K movie recording with full pixel readout and no pixel binning5
Fast Hybrid AF with 399 focal plane phase-detection AF points
2.4-million dot XGA OLED Tru-Finder™ w/ ZEISS T* coating
Simple connectivity to smartphones via Wi-Fi® and NFC™ w/ camera apps
Fast focal plane phase-detection AF realized with A-mount lenses10
Shutter vibration suppression, first curtain shutter, and silent shutter
Resolution meets sensitivity 42.4MP up to ISO 102,400 / 4K up to 25,600
Durable, reliable and ergonomically enhanced for professional use
Reality realized
Learn More about ILCE7RM2/B
Define the next dimension
With an incomparable new image sensor
Now, even more comprehensive quality enters the picture. With the world's first 2 back-illuminated 35 mm full-frame CMOS image sensor with 42.4 megapixels 3, the Sony α7R II takes image resolution, sensitivity (up to ISO 102,400 4) and speedy response to new heights. The Fast Hybrid AF system's dense extra-wide focal plane phase-detection AF coverage keeps a subject in sharp focus entirely throughout the frame, while 5-axis image stabilization reduces blur which otherwise tends to affect handheld shots. High resolution is further enhanced by 4K movie recording featuring full pixel readout without pixel binning. With so much insight packed into such a compact form, it's clear that there is more to life than meets the naked eye.
World's first 2 back-illuminated full-frame sensor
Higher resolution, sensitivity, and readout speed
As the world's first 2 35 mm full-frame image sensor with back-illuminated structure, this 42.4-megapixel CMOS sensor enhances light collection efficiency, expands circuitry scale, and, with the help of a quick-transmission copper wiring layer, outputs data about 3.5 times faster 5, while minimizing image noise to reveal fine details in every picture.
Faster, smarter, truer processing
The BIONZ X™ image processing engine efficiently and finely tunes the new image sensor's vast 42.4-megapixel data for truer, clearer, more natural, low-noise image depiction.
New 14-bit uncompressed RAW format
Now more format options to choose from, for unbeatable quality and range of tonal nuance.
Clearer, more vibrant images
Advanced features raise resolution even higher
Great performance achieves its full potential accompanied by an array of innovative features. With an outstanding 42.4-megapixel count, the new image sensor in the α7R II lets you explore the world in remarkable detail and the camera employs no optical low-pass filter that can compromise high resolution. To reduce image blur, the camera's newly developed reduced-vibration shutter minimizes and Silent Shooting mode eliminates camera shake caused by shutter movement. And a growing family of FE lenses lets you witness more of the incomparable clarity that the sensor delivers from every perspective.
Make every shot look sharper
Without an optical low-pass filter that can compromise image clarity, the α7R II lets you take full advantage of the high-resolution image sensor and superior resolving power of α lenses.
Take a more steady, assured shot
The new shutter cuts vibration by about 50% 5 and you can use the electronic front curtain for even less vibration and noise, so the shutter is durable enough to have been tested to 500,000 7 cycles.
No camera shake from shutter movement
The Silent Shooting mode features an electronic shutter that is noiseless and causes no curtain vibration, so you can shoot high-resolution images without camera shake.
Full clarity with all lenses in a wide FE lineup
All FE lenses (35 mm full-frame compatible E-mount lenses) are developed for full-frame sensors to employ ever-higher pixel counts, so they make the most of the 42.4-megapixel performance.
Fast Hybrid AF sharpens up
Thanks to an advanced image sensor and AF algorithm, the α7R II's Fast Hybrid AF system delivers far superior AF coverage, speed and tracking performance.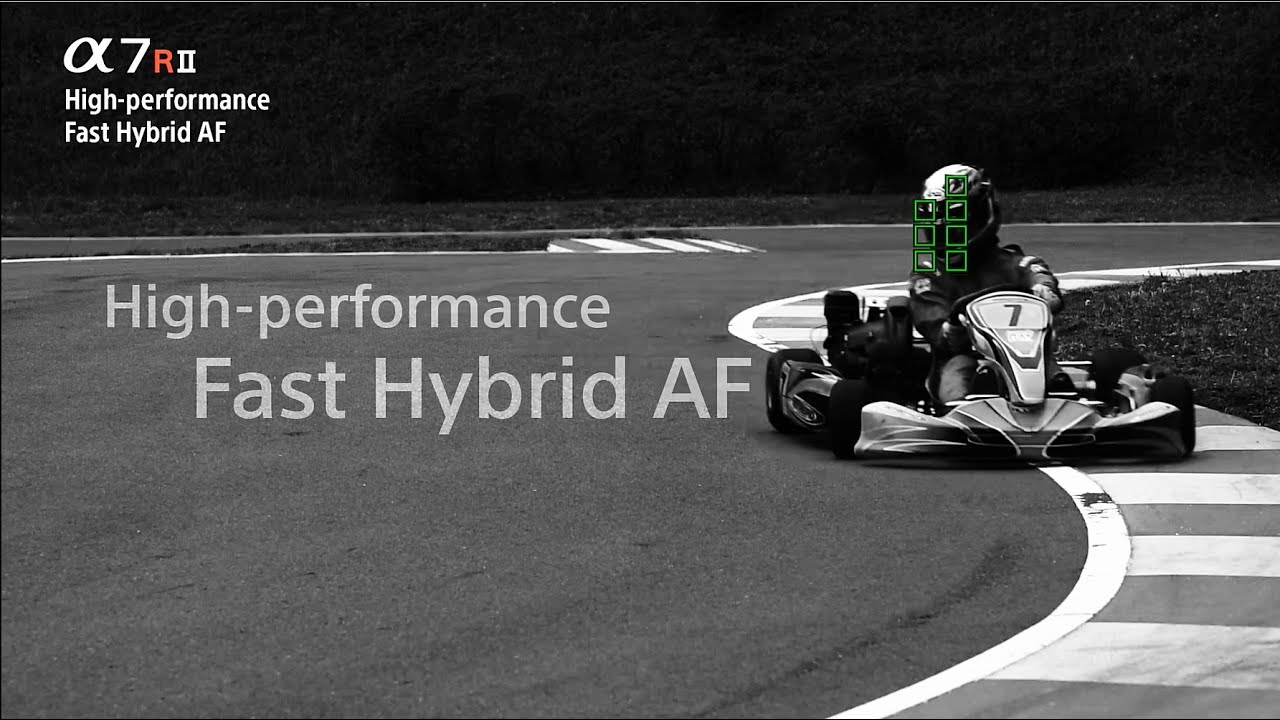 More comprehensive AF coverage
399 AF points cover 45% of the total image area — more 8 than any other digital camera can match.
Accelerated data readout (thanks to back-illuminated sensor) and the Fast Hybrid AF system raise AF speed by 40% 5.
More continuous shooting capability
Fast readout and advanced algorithm make predictive subject tracking extra-precise for 5fps shooting.
Fast Hybrid AF for movies
This system's extra-precise, smooth focusing perfectly suits the higher requirements of 4K movies.
Phase-detection AF with A-mount lens
Advantages of the phase-detection AF are assured even with an A-mount lens mounted 9 via LA-EA3 (LA-EA1 10).
Always keep the eye in focus
Eye AF (available with AF-C) not only shows fast, effective autofocusing performance with eye detection but also keeps steadfast tracking on the eye of a moving subject. Easy maintenance of optimum focus on moving subjects can totally transform your portraiture.
5-axis image stabilization in full-frame glory
Fine-tuned for high-resolution image sensors
To optimize the benefit of the α7R II's amazing high-resolution capability, especially when shooting unpredictable action or while you're in motion, the act of shooting should be as steady as possible—otherwise, even slight camera shake can risk blurring the shot. The 5-axis image stabilization system is carefully fine-tuned to match the 42.4-megapixel performance of the α7R II, so you can zoom in on faraway subjects, shoot close-ups and capture night scenes with minimal camera shake blur to achieve maximum clarity.
Neutralizing all kinds of camera shake
Compensation for five types of camera shake and minimal blur even in night shots show how the α7R II clearly makes the most of the image sensor's 42.4-megapixel 3 resolutio
Use your favorite lenses with minimal camera shake
Gain unparalleled handheld shooting freedom using many of your favorite lenses. The short flange-back distance in the E-mount α7R II contributes to broad lens compatibility.
4K movie quality hits an all-time high
The ultimate high-resolution movie experience
You can see how the α7R II is optimized for recording 4K (QFHD: 3,840 x 2,160) movies, particularly in Super 35 mm format, as it processes readout data from every pixel without pixel binning, to effectively suppress jaggies and more. The resulting footage exhibits visibly sharper, finer, more subtle detail than typical 4K movies. Also, as the first2 full-frame camera that can record movies at 4K resolution in the 35 mm full-frame format, the α7R II extends your power to express qualities of vision that the newly developed, back-illuminated full-frame image sensor makes possible.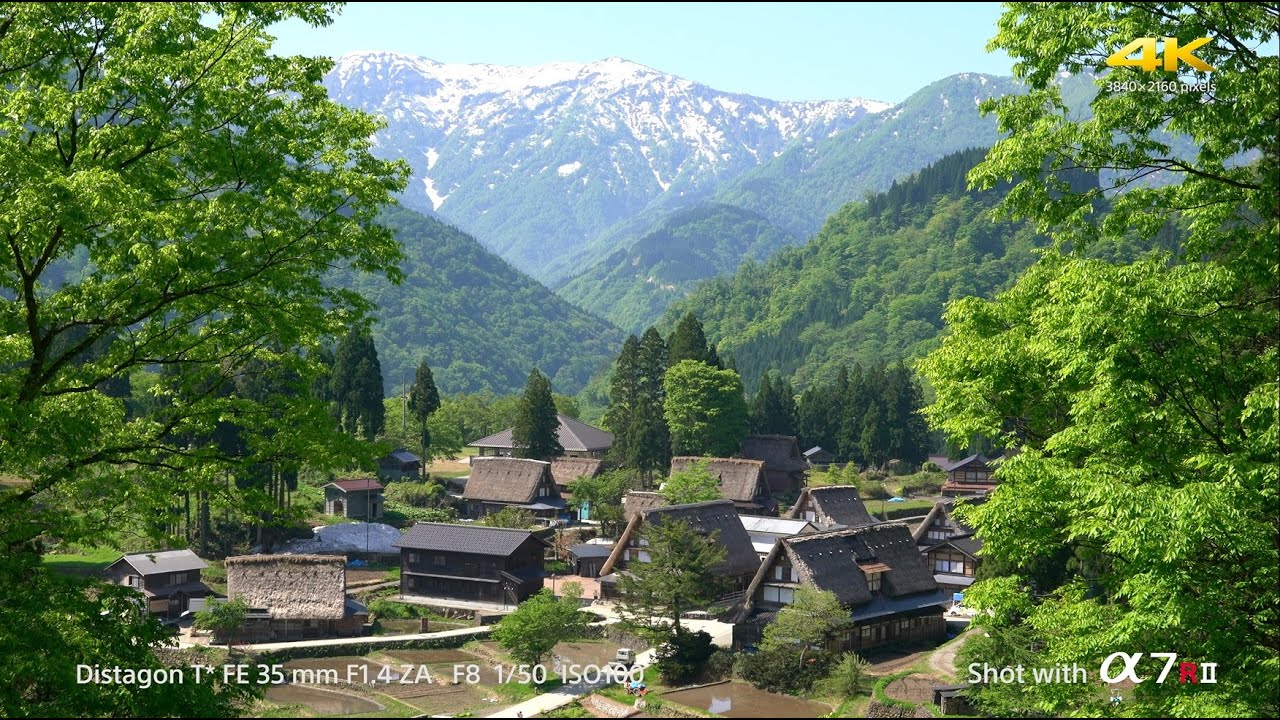 Shoot footage in proper perspective
Select full-frame or Super 35 mm format when shooting in Full HD or 4K resolution, depending on your creative intentions. Either way, everything looks brilliant from edge to edge.
High-bitrate XAVC S format 11
XAVC S format now supports 4K recording at maximum 100 Mbps bitrate as well as Full HD recording at 50 Mbps, so the α7R II can capture movies filled with finely detailed movement.
Focus on strength, smarts and reliability
The α7R II is the toughest, most durable α camera ever made, solidly engineered for action under all conditions, even with large lenses attached. It's also designed with sophistication, integrating advanced functions that seamlessly complement the image sensor's extraordinary 42.4-megapixel high resolution.
XGA OLED with ZEISS® T* Coating
An EVF with ZEISS® T* Coating to reduce surface reflection and the world's highest viewfinder magnification 12 at 0.78x shows how settings affect images and maximizes α7R II high-resolution performance.
Wide-ranging accessories meet every need
Professional level options open up new possibilities
Further expand your shooting pleasure and give your photography a professional edge with accessories 15 specially designed for the α7R II.
Easily back up your photos to the cloud
All your memories in one place
PlayMemories Online is Sony's cloud-based photo and video service. Back up your amazing photos taken with your camera to the cloud and access them easily from your smartphone or other devices.
*Note: Service availability depends on region.
Imaging Edge™ Remote, Viewer, and Edit
Elevate your photography with Imaging Edge desktop applications. Use 'Remote' to control and monitor shooting live on your PC screen
Capture One Express (for Sony) is a free award-winning editing software that provides RAW development, easy management and powerful editing tools. Capture One Pro (for Sony) can be bought for even more editing tools and tethered shooting capability.
The Imaging Edge Webcam application makes it easy to use your Sony camera as a high-quality webcam, with wide compatibility, for impressive live-streaming and conferencing.
Works with iMovie and Final Cut Pro X
This product is compatible with Final Cut Pro X and iMovie 18.
Designed with the environment in mind
Sony is committed not only to offering products, services and content that deliver exciting experiences but also to working towards our goal of a zero environmental footprint throughout our business activities.
Specifications
At a Glance
Maximum Photo Resolution and Frame Rates
42.4 MP up to 5 fps
Maximum Movie Resolution and Frame Rates
HD / 60p
Maximum ISO Sensitivity
Photo: ISO 100–25600 (expandable: ISO 50-102400) Movie: IISO 100–25600
Clean HDMI Output
Clean HDMI output
NTSC: 3,840 x 2,160 (30p/24p)/1,920 x 1,080 (60p/24p)/1,920 x 1,080 (60i), YCbCr 4:2:2 8 bit/RGB 8 bit PAL: 3,840 x 2,160 (25p)/1,920 x 1,080 (50p)/1,920 x 1,080 (50i), YCbCr 4:2:2 8 bit/RGB 8 bit
Drive
Self-timer
10 sec. delay/5 sec. delay/2 sec. delay/Continuous self-timer (3 frames after 10 sec. delay/5 frames after 10 sec. delay/3 frames after 5 sec. delay/5 frames after 5 sec. delay/3 frames after 2 sec. delay/5 frames after 2 sec. delay)/Bracketing self-timer (Off/2 sec. delay/5 sec. delay/10 sec. delay)
DRIVE MODES
Single shooting, Continuous shooting, Self-timer, Self-timer (Continuous), Bracketing (Continuous, Single, White Balance, DRO)
No. of recordable frames (approx.)
Continuous shooting Hi : 24 frames (JPEG Extra Fine L), 30 frames (JPEG Fine L), 37 frames (JPEG Standard L), 23 frames (RAW), 22 frames (RAW & JPEG), 9 frames (RAW (Uncompressed)), 9 frames (RAW (Uncompressed) & JPEG)
Speed (approx. max.)
Continuous shooting Hi: Max. 5fps, Continuous shooting Lo: Max. 2.5fps
Exposure
Exposure Compensation
+/- 5.0 EV (1/3 EV, 1/2 EV steps selectable) (with exposure compensation dial: +/- 3 EV [1/3 EV or 1/2 EV steps])
AE Lock
Locked when shutter button is pressed halfway. Available with AE lock button. (On/Off/Auto) Can be disabled from the Menu.
Auto (AE) Bracketing
Bracket: Cont., Bracket: Single, 3/5/9 frames selectable. With 3 or 5 frames, in 1/3, 1/2, 2/3, 1.0, 2.0, or 3.0 EV increments, with 9 frames, in 1/3, 1/2, 2/3, or 1.0 EV increments.
EXPOSURE MODES
AUTO (iAUTO, Superior Auto), Programmed AE (P), Aperture priority (A), Shutter-speed priority (S), Manual (M), Movie, Sweep Panorama, Scene Selection
ISO Sensitivity (Recommended Exposure Index)
Still images: ISO 100–25600 (expandable to ISO 50–102400 for shooting still images), AUTO (ISO 100–6400, selectable lower limit and upper limit), Movies: ISO 100–25600 equivalent, AUTO (ISO 100–6400 equivalent, selectable lower limit and upper limit)
Metering Mode
Multi-segment, Center-weighted, Spot
METERING SENSITIVITY
EV -3 to EV 20 (at ISO100 equivalent with F2.0 lens attached)
Metering Sensor
Exmor R® CMOS sensor