Xperia PRO
Xperia PRO 512GB, HDMI input, 360° antenna, 6.5" 4K 120Hz HDR OLED, 5G
Product highlights
HDMI connectivity
5G mmWave and 5G Sub-6 technology provides unrivalled transfer speeds and low latency
360° antenna design and low dielectric constant material optimizes signal strength
6.5" 21:9 4K HDR OLED display
Qualcomm® Snapdragon™ 865 Mobile Platform
Supported Major U.S. Carriers: Verizon (5G), T-Mobile (4G), AT&T (4G)*
*As of 9/27/2021, please consult with your network operator to ensure compatibility with their network.
Tailor-made for professionals in the field
Learn More about XQAQ62/B
Tailor-made for professionals in the field
The Xperia PRO enables broadcast and photographic professionals to work faster and smarter than ever before. It's the world's first smartphone with dedicated HDMI input2, and USB or Ethernet3 tethering with an Alpha camera. It gives professionals a variety of new possibilities.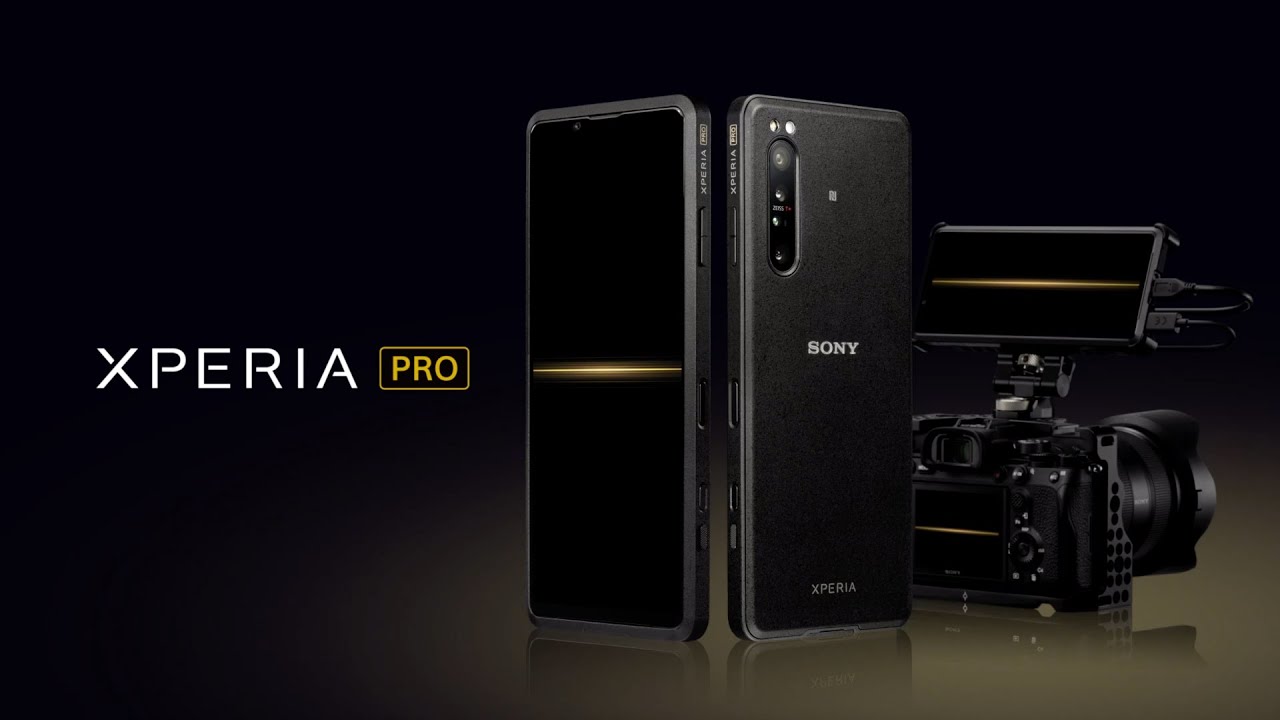 Enhance your workflow with HDMI connectivity
Thanks to HDMI connectivity, you can connect the Xperia PRO to your camera, making a range of tasks easier—from monitoring images to live video streaming using the speed of 5G4. Your workflow has never run so smoothly.
Live streaming5
Using a third-party live streaming application5, the Xperia PRO can stream video content from the camera or camcorder that is connected to the HDMI input terminal.
Expert view: Jason Vong & Vivienne Lee on live streaming
Jason:
My name is Jason Vong and together with Vivienne, we run a YouTube channel on photography and videography education.

Vivienne:
With Xperia PRO and our cameras, we found that this combination allows us to share our enthusiasm right away via a higher quality livestream. I recommend Xperia PRO for content creators who are looking for something that fits into their arsenal that's mobile, easy to use, but also the 5G speeds allow them to connect with their audience.
Use Xperia PRO as a high-quality 4K monitor
Use Xperia PRO as a high-quality external monitor or viewfinder with a range of useful settings such as brightness, zoom and grid lines. Simply connect it to a camera supporting HDMI or USB video class (UVC).6,7
The precision of 4K OLED
With 4K resolution, the OLED display with Creator Mode "powered by CineAlta", and specially calibrated D65 white point, offers the image accuracy you need when you're working on location.
Brightness adjustment
Easy and intuitive to use, the External monitor feature lets you adjust brightness levels to suit different shooting environments and conditions.
Screen zoom
This handy function lets you pinch to zoom in or out of images on the screen.
Grid lines
Optional on-screen grid lines and frame lines make it easier to compose your shots.
Expert view: Jason Vong & Darren Carroll on the External monitor feature
Jason:
Xperia PRO has an HDMI port on the bottom, which allows us to get a clean video feed from our Alpha cameras, which turns it into a high quality external monitor. It's also a great form factor, and it doesn't require an external battery or power supply, so it's incredibly easy to rig up and use.

Darren:
My name is Darren Carroll, I've been a professional photographer for 25 years now. For me, the advantage is that you can turn the monitor so that your subject can see exactly what you're seeing in the viewfinder, and I can see the correct white balance, I can see the correct exposure – it's tremendously helpful.
Fast, easy file transfers
Connect your Alpha camera to the Xperia PRO using the USB or wired Ethernet tethering8 and your images will be automatically transferred from the Alpha to the FTP server. Fast and reliable, the transfer happens seamlessly in the background – so you can concentrate on capturing the best shots. You can also transfer from an Alpha camera to the Xperia PRO using the Transfer & Tagging add-on9, edit the pictures and send to the FTP server.
Expert view: Darren Carroll talks faster workflows
Darren:
Clients need access to images quickly for a number of reasons. If it's an editorial client, they want to update their website with fresh imagery as soon as possible. If it's a commercial client, art directors and creative directors want to see in near real time what we're shooting if they can't be on set.

When I'm out in the field, I can connect the Alpha 7s III to the Xperia PRO via tethered USB-C connection and then the Xperia PRO transmits those images via FTP, over the 5G network back to the client. I don't need an ethernet connection, I can just send my images right to the client.
Network visualiser feature10
Invaluable for camera operators on location, the Network visualizer feature shows your data transfer status, as well as providing communication throughput.
Endurance Mode for longer 5G for usage
Created to support efficient data transfer, Endurance Mode is another feature unique to Xperia PRO. With Endurance Mode turned on, users can continue to transfer data at maximum performance while tethering Xperia PRO with a camera device.11
Shortcut key
The Xperia PRO has a shortcut button which you can assign to launch specific apps12.
Robust and reliable
The Xperia PRO is a tool you can rely on when you're out in the field. Robust and durable, it combines IP65/68 rating13 water and dust resistance with Corning® Gorilla® Glass 6 on the front for protection.
Professional technology from Alpha cameras
There's never been a smartphone camera that can capture shots like the Xperia PRO. It was co-developed with the engineers behind the latest Alpha 9 series cameras for industry-leading autofocus. Real-time Eye AF works on both humans and animals, and the interface is designed to meet the demands of professional photographers with new manual controls and RAW support.
Outstanding ZEISS quality in your Xperia
ZEISS optics calibrated specifically for your Xperia smartphone. The ZEISS® T* coating contributes to exquisite rendering and contrast by reducing reflections. For true creative freedom, the Xperia PRO has three lenses in versatile focal lengths: 16mm, 24mm, and 70mm.
Continuous burst shooting up to 20fps AF/AE14
The Xperia PRO can capture moments that no other smartphone can. With up to 20fps continuous burst shooting14, complete with autofocus and auto exposure, you can capture hundreds of moments in seconds and upload them straight away with 5G, without having to worry about making a selection first.
Outstanding ZEISS quality in your Xperia
ZEISS optics calibrated specifically for your Xperia smartphone. The ZEISS® T* coating contributes to exquisite rendering and contrast by reducing reflections. For true creative freedom, the Xperia PRO has three lenses in versatile focal lengths: 16mm, 24mm, and 70mm.
3D iToF sensor
Our 3D iToF sensor instantly calculates the distance between the camera and your subject for fast, accurate autofocus in any scene.16
BIONZ X™ for mobile engine
The BIONZ X™ for mobile engine has a unique algorithm developed by Sony, for increased light sensitivity and images with less noise.
Large sensor and pixels
Our 1/1.7" Exmor RS image sensor is 50% larger than on the previous model and has larger pixels, which receive more light for better image quality.17
21:9 6.5" 4K HDR OLED display18
The 6.5" 4K HDR OLED display features a 21:9 aspect ratio and support for BT.2020 color space19. With Creator mode "powered by CineAlta", and a specially calibrated D65 white point, it references the color reproduction of Sony professional color monitors.
Smoother colors on screen
The Xperia PRO has a 10 bit equivalent display (8 bit with 2 bit smoothing) that can display a myriad of colors without banding.
Professional-grade display
With a high contrast ratio of 1,000,000:1, the Xperia PRO can present deeper levels of black, while colors appear more natural. The screen also supports professional level reproduction standards with wide color space ITU-R BT.2020 as well as DCI-P3 with Illuminant D65.
Record movies with parameters and color settings similar to the professionals
Now you can record films that the pros would be proud of. Drawing on expertise from our Digital Cinema Camera engineers, the Xperia PRO offers a range of tools to enhance your movie-making. Get creative with Look color management pre-sets, 21:9 movie recording, 4K HDR in 24, 30, 60 and 120fps slow-motion20, and Intelligent wind filter.
Professional Look color management pre-sets
With eight different color settings you can bring the mood of different cinema styles to your videos.
An interface designed to give you creative control
The improved Cinematography Pro "powered by CineAlta" user interface has easy to control features like framing guides, shutter speed (angle), touch autofocus, auto exposure, manual white balance, and more.
Record videos with better audio with Intelligent wind filter
The Xperia PRO includes our industry-leading audio separation technology, for highly effective wind filtering.

Intelligent wind filter [1] OFF [2] ON.
3.5mm audio jack for wired listening
Plug your favorite headphones into the 3.5mm audio jack for a superior sound, with clearer left and right audio separation, reducing signal noise to an imperceptible 20dB.
Upscale everything you listen to with DSEE Ultimate
DSEE Ultimate was created to improve the quality of all digital music, utilising AI to automatically improve audio frequency and dynamic range in real-time. Both high and low ranges are improved to elevate each track to near High-Resolution Audio quality. It works with wired or wireless headphones, on local files and even streaming services.
Better than CD quality sound
With High-Resolution Audio or High-Resolution Audio Wireless21 and LDAC you can hear music with dynamics and detail that beat even CD quality. It reproduces the full range of sound, so you hear it just as the artists intended.
5G – a new era for the professional production industry
The Xperia PRO can connect to fast 5G networks, offering faster transfer speeds and higher bandwidth, 5G technology heralds a new era for professional usage.
Experience the Qualcomm® Snapdragon™ 865 5G Mobile Platform22
The Qualcomm® Snapdragon™ 865 5G Mobile Platform and the Snapdragon X55 5G Modem-RF system empowers you to game, capture, cross-task, and connect like you never thought possible, with staggering multi-gigabit 5G speeds and improved performance from a 25% faster CPU and GPU than on the previous Qualcomm® Snapdragon™ Mobile Platform.
With Wi-Fi 623 you get a better connection – with higher speed, lower latency and improved connectivity management when multiple devices are on the same network.
Smart connectivity takes Xperia's deep learning technology that utilises Sony's Neural Network Libraries and analyses Wi-Fi signals and predicts near-future connectivity issues. The Xperia PRO determines the quality of the network you're currently on and automatically switches to cellular when it predicts any compromise in connection quality. With Xperia, you're always on the best network available.
A battery you can rely on
When you're working on location you need a battery you can rely on – and the Xperia PRO doesn't disappoint.
Powerful battery and fast charging
With a long-lasting 4.000mAh battery, the Xperia PRO gives you the power you need to get the job done, and it's compatible with the optional UCH32C Fast Charger, so you can quickly top-up when you're running low.
A healthy battery for the long term
Our charging technologies keep your battery healthy for longer. Battery care keeps your phone from overcharging, while Xperia Adaptive Charging monitors your phone as it charges, to make sure the battery isn't overworked.

1. Battery capacity
2. Battery lifespan
3. Normal charging
Designed with the environment in mind
Sony is committed not only to offering products, services and content that deliver exciting experiences but also to working towards our goal of a zero environmental footprint throughout our business activities.
Specifications
Accessibility
Accessibility
Hearing Aid Compatibility (HAC), Teletypewriter (TTY), Volume key shortcut/Screen readers: Select-to-Speak, TalkBack, Text-to-speech output/Display: Font size, Display size, Magnification, Color correction, Color inversion, Large mouse cursor, Remove animations/Interaction controls: Accessibility Menu, Switch Access, Click after mouse pointer stops moving, Power button ends call, Auto-rotate screen, Touch & hold delay, Vibration/Audio & on-screen text: Mono audio, Captions/Experimental: High-contrast text
Camera Features
features
ZEISS® quality lenses calibrated specifically for Xperia PRO, ZEISS® T* Coating, Up to 20 fps AF/AE, Up to 60 times per second continuous AF / AE calculation, Real-time Eye AF for humans and animals, Dual photo diode, 3D iToF sensor, RGB-IR, OIS photo, Photo flash, Photo light, Optical zoom 3x (70mm lens equivalent), 3x Digital zoom (16, 24, and 70mm lens), HDR (High Dynamic Range) photo
IMAGE CAPTURE FORMAT
JPEG, RAW
Connectivity
Bluetooth
Bluetooth® 5.1 wireless technology
LOCATION
A-GNSS (GPS + GLONASS)
Other Features
Smart connectivity, Google Cast, NFC, Output video/image via Display Port support Type-C Cable or USB-C to HDMI Adapter Cable (Display Port 4K 60fps), Endurance mode
USB TYPE
Type-C USB 3.1 Gen1
USB VERSION
Ver. 3.1 Gen 2
WIFI
IEEE802.11a / b / g / n (2.4 GHz) / n (5 GHz) / ac / ax / Wi-Fi MIMO 2x2
HDMI
HDMI micro port (Type D) input: (YCbCr 4:2:2 8bit / RGB 8bit), 3840x2160 (60p/30p/24p), 1920x1080 (60p/30p) , 1280x720 (60p), 720x480 (60p), 640x480 (60p)
Front Camera (1)
features
HDR (High Dynamic Range) photo, SteadyShot™ with Intelligent Active Mode (5-axis stabilization), Portrait selfie, Display flash, Hand and Smile Shutter