Single-channel Wireless microphone ECM-W3S
Model: ECM-W3S
Earn
350 Sony Rewards Points
About This Item
Single-channel wireless microphone for high-quality digital recording
Communication is possible at up to 492 ft (150 m)2
High signal-to-noise ratio (S/N) microphone units
Offers
Features
Single-channel wireless microphone for high-quality digital recording
The ECM-W3S comprises a microphone-transmitter featuring high signal-to-noise (S/N) ratio microphone unit, and a single-channel receiver. The transmitter and receiver process audio digitally and transmit it wirelessly, allowing the capture and recording of one speaker's voice with superb clarity and low noise.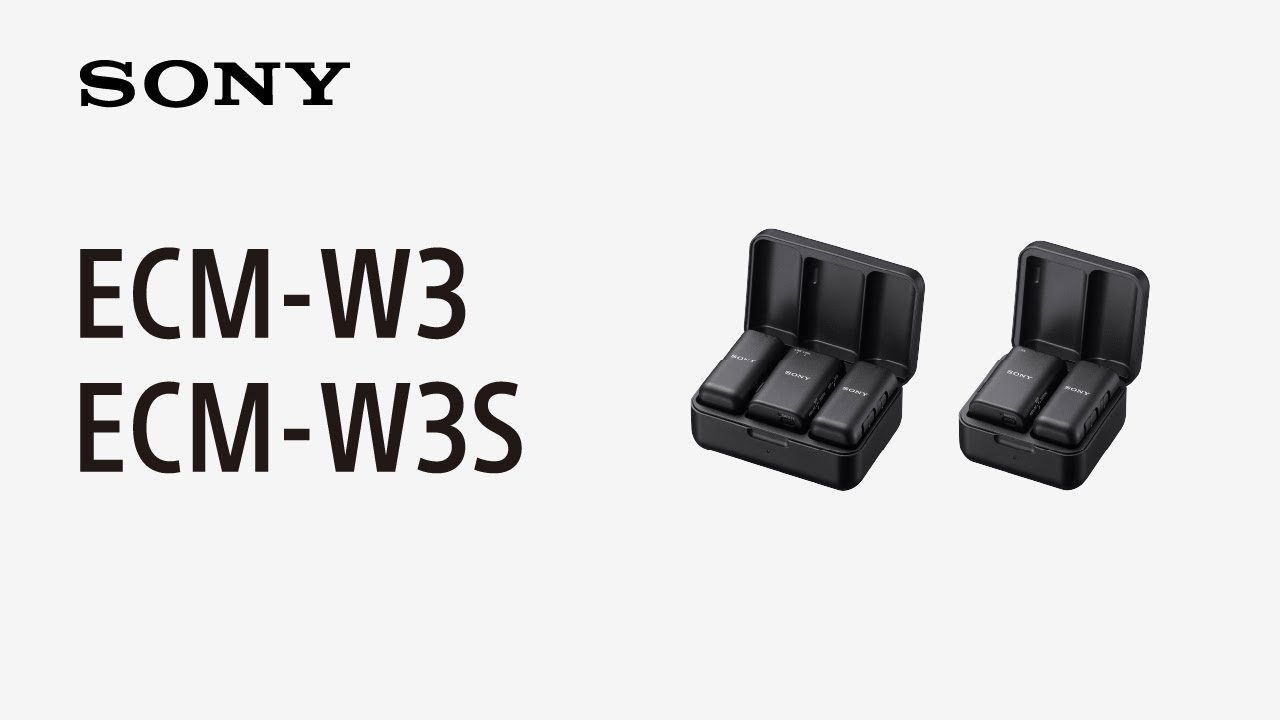 Digital sound recording with superb quality
High-quality digital sound recording
High signal-to-noise ratio (S/N) microphone units are integrated into the microphone-transmitter, enabling clear voice recording with low noise.
High-quality digital transmission
Connecting the single-channel receiver to a camera1 from Sony that supports the Multi Interface (MI) Shoe, such as one of the α™ series digital interchangeable-lens cameras or vlog cameras, allows the digital audio signal output from the receiver to be recorded directly by the camera, enabling high-quality sound recording with minimal noise contamination.
Noise-suppressing filter functions
A noise cut filter using digital signal processing to effectively remove noise, and a low cut filter that reduces noise in the low-frequency range, are provided on the microphone side. Less noise removal is needed post-production, making workflow more efficient.
Frequently Bought Together
Recently Viewed
Some models that support the Multi Interface (MI) Shoe, such as the RX1R II and ZV-1, do not provide power via the MI Shoe.
Approximate distance when the microphone is visible from the receiver. This varies depending on the surroundings and radio wave conditions, such as the presence of metal, people, or other obstacles or reflective surfaces.
LC3plus is the supported audio format in ECM-W3S.
Available only when connected to a USB Audio Class 1.0 compatible device. Even if the device is USB Audio Class 1.0 compliant, a separate conversion adaptor may be required for connection depending on the device.
Not guaranteed to be 100% dust and moisture proof. Performance may vary depending on the body to which the unit is attached.
Power may not be supplied depending on the camera used. Please check the following website for compatible models. https://www.sony.net/dics/ecmw3/
Features and specifications are subject to change without prior notice.
© 2023 Sony Electronics Inc. All rights reserved. Reproduction in whole or in part without written permission is prohibited. Sony is not responsible for typographical and photographic errors. Features and specifications are subject to change without notice. Sony, G Master, the Alpha logo and the Sony logo are trademark of Sony Corporation. All other trademarks are trademarks of their respective owners.