HVL-F60RM2
GN601 Wireless Radio Control External Flash
Offers
Product highlights
High-output Guide Number for compact mirrorless cameras (GN60)1
Per-frame P-TTL flash control instantly adapts to changing light
Up to 200 frames4 in high-speed bursts at up to 10 fps2
240 flashes with fast recycle time of 1.7 second3
White balance and flash control linked to camera face detection2
Light output optimized for focal length (14mm w/ wide panel to 200mm)
Conveniently controllable from compatible camera2 body menu
Quick Shift Bounce for horizontal and vertical camera bounce positions
High Speed Sync, Rear-Sync, Slow-sync, and Multi-flash settings
Operates as on-camera flash, radio wireless commander or receiver
Stable ratio wireless communication up to 98.4 ft (30m )7
Wirelessly control up to 15 flash units in up to 5 groups9
Resistance to overheating for continuous performance
Durable dust and moisture resistant design8
Metal MI foot and side frame protects shoe connection
Memory and MR settings to access frequently used settings
Optional FA-EBA1 battery adapter provides 0.6 sec.3 recycle time
Bundle Items
GN601 Wireless Radio Control External Flash
$549.99
Alpha 7 IV - Full-frame Mirrorless Interchangeable Lens Camera

Hybrid 33MP up to 10FPS, up to 4K 60p, 7k oversmpled for 4K 30p, 5-axis stabilization
$2,499.99
GN601 High-output flash supports the latest camera technology
This durable high-output GN601 flash unit delivers levels of sophistication and camera communication that only Sony can offer, achieving reliable flash at high continuous shooting speeds and sync at shutter speeds up to 1/400 sec2. Intuitive operation via the camera interface2, quick shift bounce, and wireless radio communication add refined control and versatility.
Professional GN601 wireless radio flash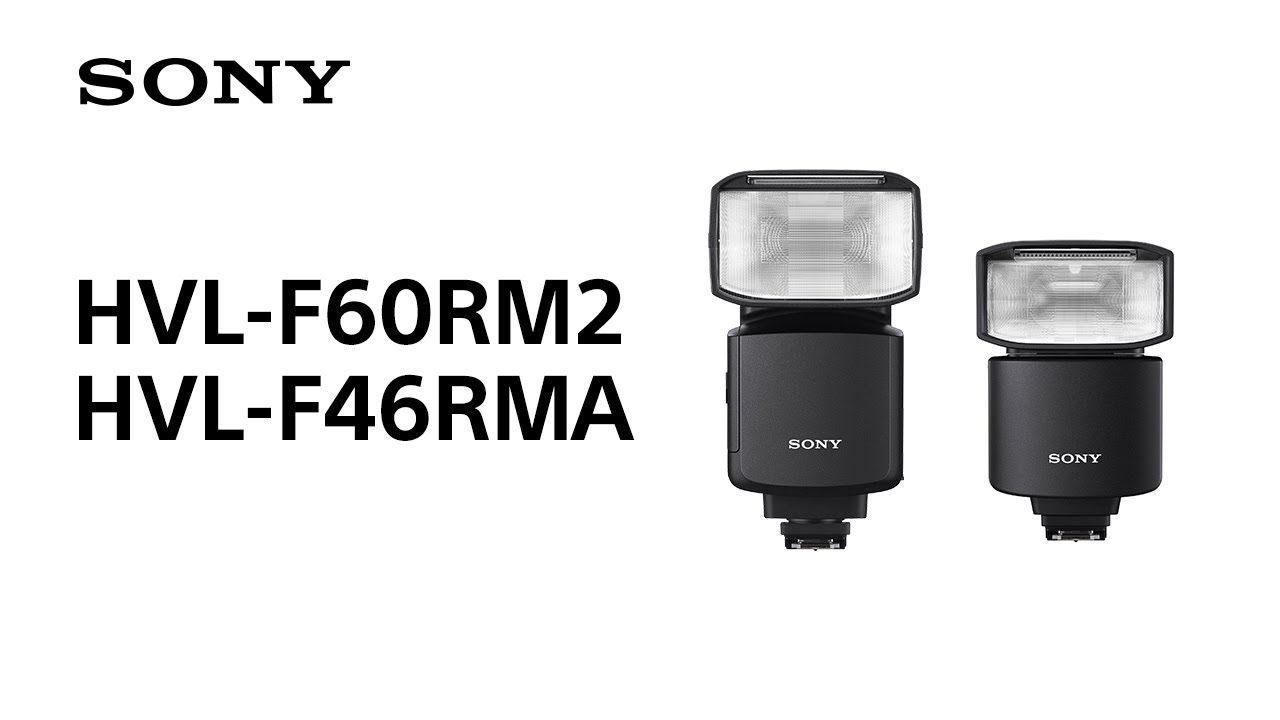 Intelligent communication with the latest α bodies
α Lighting System has evolved in parallel with α camera bodies to give creators optimum illumination in a wide range of applications. A level of integration that is only possible with original Sony products achieves detailed communication with compatible camera bodies for reliable and precise light control.

[1] Flash processor [2] Multi Interface Shoe [3] Image sensor [4] Image processor
Intelligent communication maximises image quality
Stable high-power GN601 output that satisfies professional needs
Because the HVL-F60RM2 is designed and manufactured by Sony, it can communicate with α camera bodies to deliver consistent GN60 light output at every flash. The HVL-F60RM2 supports focal lengths from 20mm (14mm with the wide panel) to 200mm.
Flash control linked to camera face detection2
With a compatible camera3, white balance is automatically adjusted so that the subject's face is rendered with natural color. The HVL-F60RM2 works with a compatible camera3 face detection to provide ideal lighting for the main subject, even in groups.
Auto white balance accuracy that only original equipment can achieve
Thanks to in-house design, this advanced flash unit transfers color temperature data to the camera where that data is used to precisely adjust white balance so that colors are rendered naturally in any situation.
Light output optimised for focal length and image size
Flash illumination angle is automatically adjusted to match the focal length of the lens used over a 20-200mm range. Light distribution is also adjusted for optimum illumination with full-frame or APS-C format.
Fast recycle and dependable high-speed continuous flash
Advanced electronics and construction contribute to fast recycle times and allow continuous flash shooting for extended periods of time. A set of four batteries can provide power for more than 240 flashes with 1.7 second recycle time4. The optional FA-EBA1 external flash battery adapter can be used to provide recycle times as fast as 0.6 seconds4.
Innovative overheating prevention for longer shooting sessions
The use of heat resistant materials plus an optimised flash algorithm provides higher resistance to overheating that allows longer flash shooting sessions.
Intelligent communication boosts speed
Stable high-speed continuous flash shooting
With a compatible camera3 the HVL-F60RM2 can continuously provide flash for up to 200 frames5 in high-speed bursts at up to 10 fps. Missed frames dues to flash sync failure are avoided, providing stable continuous shooting support.
Up to 20 flashes per second
With the electronic shutter on a compatible camera3, up to approx. 20 flashes per second can be produced continuously for more than 1 second6. The FA-EBA1 external flash battery allows approx. 20 flashes per second for more than 10 seconds.
Up to 1/400 sec. shutter sync with a compatible camera3 for new expression
Used with a compatible camera3 body the HVL-F60RM2 allows flash sync up to 1/400 sec. This makes it possible to deemphasise the background while using flash to illuminate the main subject, illuminate moving subjects against a bright background, and more.
Per-frame P-TTL flash control adapts to changing light
Used with a compatible camera3, high-speed control sequencing in the camera uses pre-flash to control each individual flash7 during continuous bursts, even when tracking fast-moving subjects in scenes where the light changes dramatically.
Minimal flash trigger time lag8
When using the HVL-F60RM2 in combination with a compatible camera3, time lag between pressing the shutter button and flash output is significantly reduced8 so that fleeting moments can be captured with confidence.
Intelligent communication enhances operability
Fast angle adjustment with Quick Shift Bounce
Quickly angle the flash head 90 degrees to the left or right, 150 degrees up, or 8 degrees down, and rapidly switch between horizontal and vertical orientation. A revised mechanism is more compact and convenient.
Comprehensive control from compatible cameras
Flash compensation, ratio, and other parameters can be controlled directly from a compatible camera2. A camera custom key can be used to call up the flash display for easy adjustment while looking through the viewfinder.
Fast, intuitive direct light level controls
Dedicated + and – LEVEL buttons allow direct, speedy light output and flash compensation control, and can also be used to control the same parameters on other wirelessly paired flash units for smooth, efficient workflow.
Efficient TTL light level memory
TTL flash level can be memorised and later recalled for manual adjustment. This can greatly reduce the time required to manually set up flash parameters in a wide range of situations.
Higher reliability and operability
Metal shoe foot with rugged side frame
A metal shoe foot with rugged side frame significantly increases the strength and durability of the Multi Interface Shoe and its electrical contacts.
Enhanced dust and moisture resistance
A dust and moisture resistant design9 contributes to high reliability in outdoor conditions. Shoe sealing achieves even greater dust and moisture resistance with certain a series bodies.
Versatile radio wireless communication
Stable wireless radio communication is ensured at distances up to 30 m/98.4 ft8. Reliable, error-free communication is achieved even around reflectors and obstacles. Slow sync, rear-curtain sync, and multi flash are supported2.
Wireless radio control for up to 15 flash units
Control up to 15 flash and/or receiver units in 5 groups10. The HVL-F60RM2 can communicate with flash units that do not feature wireless radio communication via the optional FA-WRC1M commander and/or FA-WRR1 receiver.
[1] Commander Function [2] Receiver Function
Other features for enhanced expression
Auto AWB with color filters
When one of the supplied color filters is attached to the flash unit, the camera's white balance is automatically adjusted for a natural mix between flash and ambient light.
Flash control with bounce adaptor
When the supplied bounce adaptor is used the flash unit communicates with the camera to achieve optimum flash distribution for soft, even lighting. The wide panel enhances this effect.
Wired IN/OUT sync terminal
A single sync terminal provides in and out sync connections. IN can be used to receive trigger signals from a flash meter, while OUT can be used to trigger additional flash units.
Camera/Flash compatibility
Follow the link below for lens/body compatibility details.
Guide Number*
*200mm at ISO 100 in meters /STD flash distribution.
Guide number changes according to zoom position. See the table below.
[1] Flash coverage setting (35mm format) [2] Normal flash (1/1 power level)
[3] Hi-speed sync (HSS) (shutter speed: sec.) [4] When the wide panel is attached
Designed with the environment in mind
Sony is committed not only to offering products, services and content that deliver exciting experiences but also to working towards our goal of a zero environmental footprint throughout our business activities.
Specifications
Type
type
Auto electronic flash (clip-on type) with pre-flash metering
Shoe type
Multi Interface Shoe.
Supplied Accessory
Name / Model (Count)
Connector protect cap(1) Mini-stand(1) Case(1) Bounce adaptor (1) Color filter (amber) (1) Color filter (green) (1) Carrying pouch (1)
Radio Control Wireless Function
Channels
14 Channels(Auto/manual)
Groups
3 groups(TTL/MANUAL),5 groups(group flash photography)
Maximum flash units
15 units
Lighting ratio control
3 groups(TTL)
Radio control wireless flash
Yes(commander/receiver) 5
Communication distance (Approx.) 6
30m7
Power source
Power Source
Four AA-size alkaline or Ni-MH batteries
External Battery Adaptor
Yes
Other functions
Auto zoom control optimized for image sensor size
Yes 8
Flash distribution setting
Yes