SEL2470GM2
FE 24-70mm F2.8 GM II Full-frame constant-aperture standard zoom G Master lens (SEL2470GM2)
Product highlights
Superb image quality throughout the entire zoom range at all focusing distances
Smallest and lightest F2.8 24-70mm zoom in its class2 - 24.6 oz (695 g)
Beautiful F2.8 bokeh throughout the zoom range from advanced optics & 11-blade aperture
Four XD Linear Motors and floating focus achieve fast, precise, quiet AF and excellent response
Minimum focusing distance is just 8.3" at 24mm and 11.8" at 70 mm, 0.32 max magnification
Nano AR coating II effectively suppresses reflections, flare and ghosting
Advanced design reduces focus breathing, focus shift and axial shift when zooming
Aperture ring, click/de-click switch and iris lock for professional aperture control
Two customizable focus hold buttons, zoom smoothness switch
Dust and moisture resistant for robust reliability5
ED aspherical lens elements correct spherical and chromatic aberrations
Linear Response MF for precise, repeatable manual focus control
Instant auto/manual focus selection via AF/MF switch
Front fluorine coating prevents fingerprints, dust, water and oil
Petal shaped, bayonet mount lens hood with filter control window
Next-generation
G Master standard zoom
The FE 24-70mm F2.8 GM II is an updated "holy trinity" standard zoom, packing evolved optics and AF performance into a convenient, compact, lightweight zoom design that offers maximum mobility for both stills and movies. It is an ideal match for high-performance compact α system bodies, and will cover a wide range of shooting situations.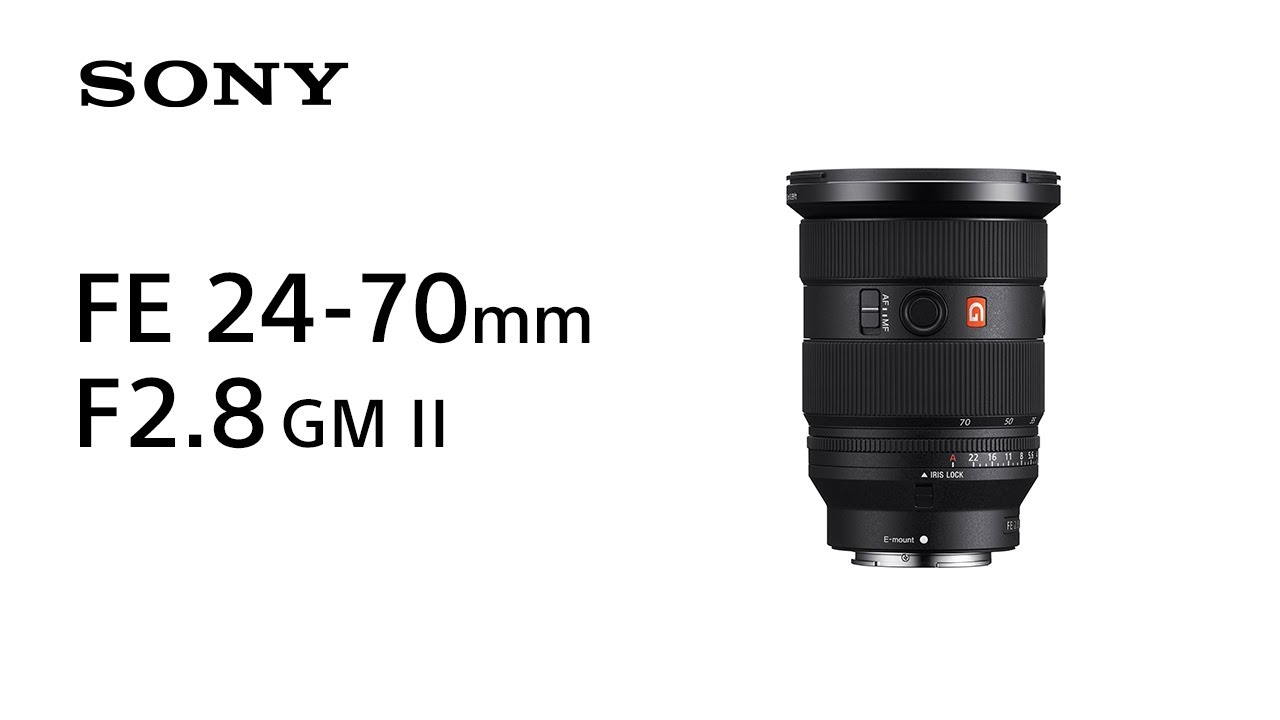 High resolution that rivals the best primes1
Excellent contrast at high spatial frequencies means superb resolution even at F2.8. Two high-precision XA (extreme aspherical) elements, two ED (Extra-low dispersion) glass elements, two Super ED glass elements, and a floating focus mechanism control chromatic aberration, astigmatism, distortion, and coma at all zoom and aperture settings. Nano AR Coating II subdues flare and ghosting for outstanding clarity.
Stunning G Master bokeh
Exquisite F2.8 bokeh extends throughout the zoom range thanks to advanced optical design and a new 11-blade aperture unit. Bokeh is enhanced by precise control of spherical aberration during design and for each lens during manufacture. Two XA elements with 0.01-micron precision suppress onion ring bokeh. Minimum focusing distance is 8.27" (0.21 meters) and 11.8" (0.30 meters), with max. magnification of 0.32x.
The most compact, lightweight2, and versatile in its class
The smallest and lightest2 24-70mm F2.8 zoom in its class, this lens offers unprecedented flexibility and freedom. It weighs just 23.5 oz. (695 grams), 6.7 oz. (191 grams) less than the previous model. Its length has been reduced by 0.63" (16mm), and overall volume has been reduced by approximately 18%. Impressive portability and mobility make it a good choice for professional or enthusiast still or movie use in a wide range of situations.
Fast, precise AF and excellent response
Four of Sony's original XD (Extreme Dynamic) Linear Motors, a floating focus mechanism and advanced lens control achieve high AF precision and approximately 2x better tracking performance while zooming than the previous model.3 With a compatible body it can shoot at up to 30 frames per second.4 The new aperture unit also contributes to high speed, enabling full AF tracking performance even when shooting with the aperture stopped down.5
Movie features refined for visual creators
The latest lens design technology reduces unwanted image shifts and angle of view variations for smooth, expressive movie imagery. XD Linear Motors enhance AF and tracking performance, enabling high frame rate recording for exquisite detail. Independent focus and aperture rings are provided. Linear response MF ensures direct, repeatable manual focus adjustment when focusing manually.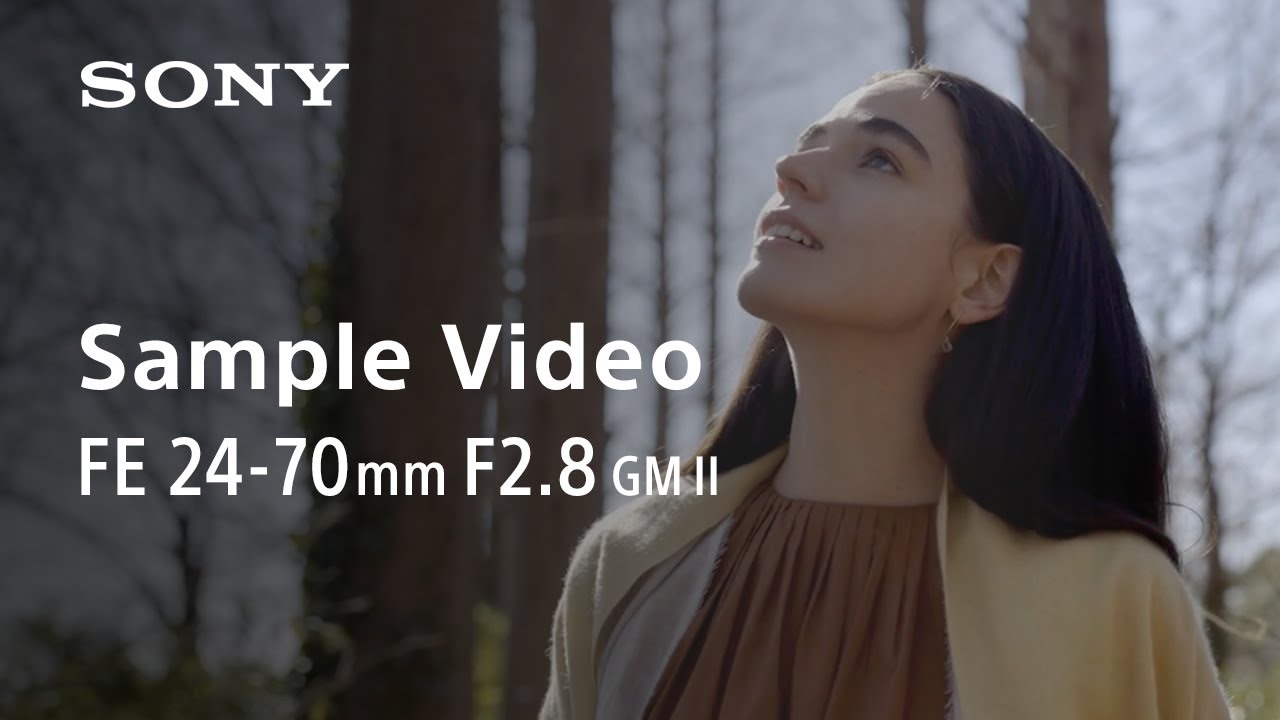 Excellent control and reliability in any environment
An updated dust and moisture resistant design6 provides extra reliability for outdoor use in challenging conditions, and a fluorine coating keeps the front element clean. Convenient operation of circular polarizing and variable ND filters (optional) is provided by a special opening in the supplied lens hood. Two customizable focus hold buttons are provided for easy access and convenient control when shooting in any orientation.
G Master series lenses take imaging and expression to previously unattainable levels with a stunning blend of extremely high resolution and softly dissolving background bokeh.

[1] Extreme aspherical lens (XA) lens [2] Aspherical lens [3] Super ED glass [4] ED (extra-low dispersion) glass
MTF (Modulation Transfer Function) describes how well a lens can reproduce fine details, measured as the degree of contrast achieved between finely spaced lines.

[1] Contrast (%) [2] Distance from optical center of lens (mm) [3] Max. aperture [4] F8 aperture [5] Spatial frequency [6] 10 lines pairs / mm [7] 30 line pairs / mm [8] Radial values [9] Tangential values
Advantages of Sony's lenses for video shooting
Learn the four unique advantages of using Sony's E-mount lens for video shooting. The combination of Sony's lenses and cameras will enhance your video creation experience.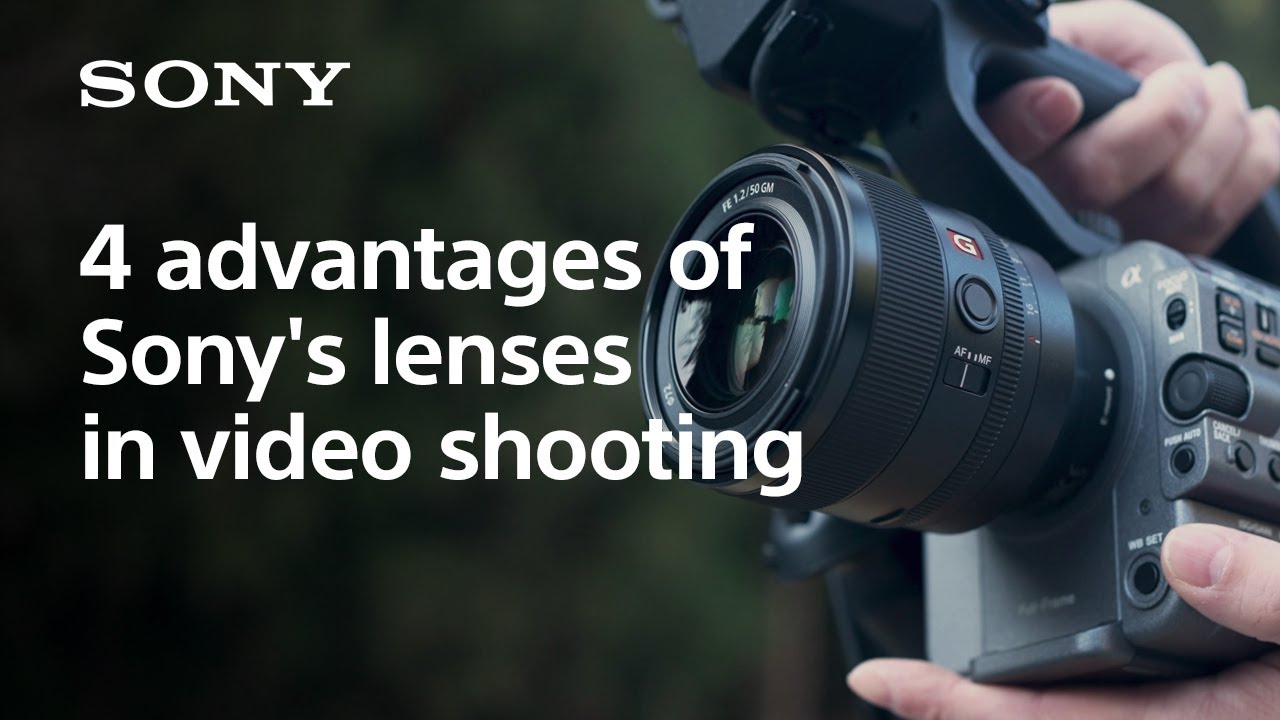 1. Focusing ring / 2. Focus hold button / 3. Zooming ring / 4. Aperture ring / 5. Focus mode switch / 6. Iris switch / 7. Aperture click switch / 8. Zoom smoothness switch
FE 24-70mm F2.8 GM II compatibility
Follow the link below for lens/body compatibility details.
Designed with the environment in mind
Sony is committed not only to offering products, services and content that deliver exciting experiences but also to working towards our goal of a zero environmental footprint throughout our business activities.
Specifications
Lens Specifications
Product name
FE 24-70mm F2.8 GM II
Maximum Magnification ratio (x)
0.32 x
Dimensions dia. x length (mm)
87.8 x 119.9
Dimensions dia. x length (in.)
3-1/2 x 4-3/4
Weight (approx.) (oz.)
24,6
35mm equivalent focal-length (APS-C) (mm)
36-105
Lens construction (groups-elements)
15-20
Angle of view (35mm)
84°-34°
Number of aperture blade
11
Minimum focus distance (m)
0.21(W)-0.3(T)
Minimum focus distance (ft)
0.69(W)-0.99(T)
Sony survey
As of the April 2022 product announcement, compared to full-frame autofocus 24-70mm F2.8 standard zoom lenses. Sony survey.
"Hi+" continuous shooting mode with ILCE-1. Effective at 1/125 sec. or higher shutter speed. In AF-C mode at shutter speeds of 1/250 sec. or higher the maximum continuous frame rate will depend on the shooting mode.
With a compatible camera and the camera's [Aperture Drive in AF] parameter set to [Focus Priority]. See Sony's support page on the web for camera compatibility info.
Not guaranteed to be 100% dust and moisture proof.
Features and specifications are subject to change without prior notice.
© 2022 Sony Electronics Inc. All rights reserved. Reproduction in whole or in part without written permission is prohibited. Sony is not responsible for typographical and photographic errors. Features and specifications are subject to change without notice.
Sony, the Sony logo, the Alpha logo and G Master Lens are trademarks of Sony Corporation. All other trademarks are trademarks of their respective owners.