Xperia PRO 512GB, HDMI input, 360° antenna, 6.5" 4K 120Hz HDR OLED, 5G
Model: Xperia PRO
Earn
2000 Sony Rewards Points
About This Item
5G mmWave and 5G Sub-6 technology provides unrivalled transfer speeds and low latency
360° antenna design and low dielectric constant material optimizes signal strength
Offers
Features
Official Factory Unlocked Smartphone
Compatible with all major U.S. carriers (Verizon, AT&T/Cricket, T-Mobile)
Tailor-made for professionals in the field
The Xperia PRO enables broadcast and photographic professionals to work faster and smarter than ever before. It's the world's first smartphone with dedicated HDMI input2, and USB or Ethernet3 tethering with an Alpha camera. It gives professionals a variety of new possibilities.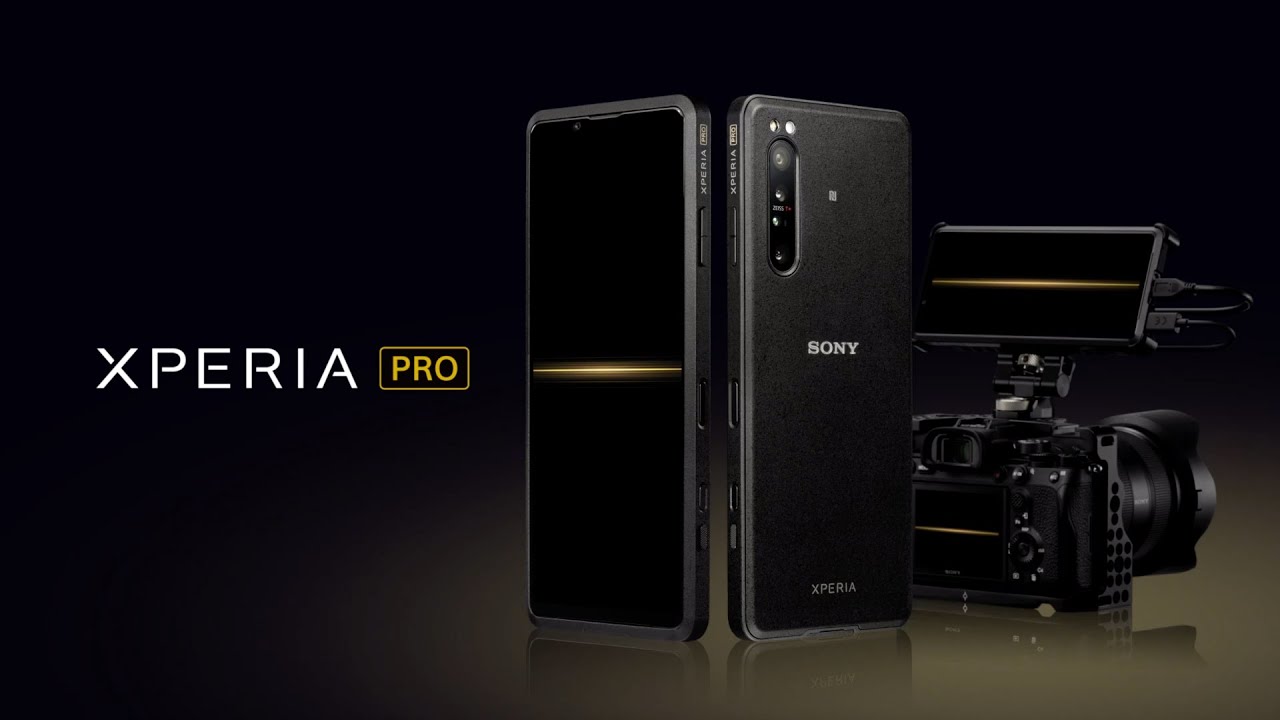 Enhance your workflow with HDMI connectivity
Thanks to HDMI connectivity, you can connect the Xperia PRO to your camera, making a range of tasks easier—from monitoring images to live video streaming using the speed of 5G4. Your workflow has never run so smoothly.
Live streaming via External monitor feature1
Enjoy live streaming with ILC camera image quality through the External monitor feature. Simply connect your Xperia PRO with an HDMI compatible camera.3 4

[1] Alpha [2] Xperia [3] Live streaming [4] Viewers
Reseller price may vary.
HDMI Micro connector (Type-D) cable sold separately. Camera compatibility may vary.
5G network and availability may vary depending on country, carrier, and user environment.
Third-party terms and conditions may apply.
HDMI and USB video class resolution may vary.
When using Xperia PRO as an external monitor or viewfinder, contents are recorded on the connected camera only.
The Xperia PRO does not cover the BT.2020 color space in full.
USB Tethering is compatible with Alpha 7S III.
USB or wired Ethernet connection is supported by versions 1.3 and above of the Transfer & Tagging add-on.
5G network and availability may vary depending on country, carrier, and user environment. 5G mmW signal indication will require a software update.
We recommend using a holder or mount as Endurance Mode raises heat mitigation level, which may cause the device to become hot.
imitations may apply.This products is water resistant and protected against dust. All ports and attached covers should be firmly closed. Do not put the device completely underwater or expose it to seawater, salt water, chlorinated water, or liquids such as drinks. Abuse and improper use of device will invalidate warranty. The device has been tested under Ingress Protection rating IP65/68. Sony devices that are tested for their water resistant abilities are placed gently inside a container filled with tap water and lowered to a depth of 1.5 meters. After 30 minutes in the container, the device is gently taken out and its functions and features are tested. Note this module has a capless USB port to connect and charge. The USB port needs to be completely dry before charging.
Maximum fps will depend on shooting environment and settings.
Up to 20 fps continuous shooting with AF/AE are available for 24 mm camera. 16 mm and 70 mm cameras can shoot up to 10 fps AF/AE.
Accurate focus may not be achieved with certain subjects in certain situations and this does not work with all types of animals.
For photos, 3D iToF sensor works at up to 5 m distance. For videos, 3D iToF sensor works for 70 mm cameras only.
Large image sensor for 24 mm camera.
Display ratios may vary based on content formatting.
Recording time restrictions apply. 4K HDR 120 fps available on Cinematography Pro on the 24 mm camera.
High-Resolution Audio and High-Resolution Audio Wireless require compatible headset.
5G Sub-6 feature will be available through a software update.
Qualcomm is a trademark of Qualcomm Incorporated, registered in the United States and other countries, used with permission.
Dependent on market availability, compatible equipment and network.
One Nano SIM card slot and one hybrid slot (Nano SIM card or microSD card). Dual SIM is not available in all variants and markets. When using 2 SIM cards at the same time both SIM cards can't work on 5G networks.
This product is also known as XQA62/B
Xperia PRO and Alpha camera should be connected through micro-HDMI cable and USB-C cable. Cables sold separately.
Alpha 1, Alpha 7S III, and Alpha 7 IV, which is equipped with HDMI Type-A connector, are supported.
USB Tethering is compatible with Alpha 1 and Alpha 7S III. Wired ethernet tethering is compatible with Alpha 1, Alpha 9 II, and Alpha 9. To establish wired ethernet tethering with Alpha camera and Xperia PRO, it will require 3rd party Ethernet-USB adaptor.
© 2021 Sony Electronics Inc. All rights reserved. Reproduction in whole or in part without written permission is prohibited. Sony is not responsible for typographical and photographic errors. Facts and features may vary depending on local variant. Some colors may not be available in all markets. Services described herein may require separate registration and be subject to additional terms, conditions and fees.
Sony is a trademark or registered trademark of Sony Corporation. Xperia is a trademark or registered trademark of Sony Mobile Communications Inc. Android is a trademark of Google Inc. Other product and company names mentioned herein may be the trademarks of their respective owners. Any rights not expressly granted herein are reserved. All terms are subject to change without prior notice.