Xperia PRO-I
Xperia PRO-I 512GB, 1" (1.0-type) image sensor camera w/ 4K 120fps and dual aperture, 5G
Product highlights
World's first47 smartphone with 1-inch image sensor34 and phase detection AF47
World´s first native 4K 120fps40 high frame rate recording in a smartphone48
Eye AF and Object tracking keeps subjects in focus for videos and stills8
Videography Pro interface for creative control in video capture
Triple camera array w/ ZEISS optics (16mm/24mm/50mm) and 3D iToF sensor
Anti-distortion shutter helps suppress the rolling-shutter effect
12bit RAW11 for smooth color gradation and high dynamic range
Dual aperture of F2.0 / F4.0 for exposure and depth of field control34
Ultimate smartphone vlogging w/ vlog monitor38 and Bluetooth grip38
5G41 sub-6; Qualcomm® Snapdragon™ 888 5G Mobile Platform21; 4500mAh battery
Supported Major U.S. Carriers: Verizon (5G), T-Mobile (5G), AT&T (4G)*
*As of 12/10/2021, please consult with your network operator to ensure compatibility with their network.
Frequently Bought Together
GPVPT2BT
Wireless Bluetooth® Shooting Grip and Tripod
XQZIV01
Vlog Monitor for select Xperia phones w/ cable and mount
XQZCLBE/B
Custom leather cover to protect your Xperia PRO-I
The 'I' stands for Imaging. The Xperia PRO-I redefines the camera, combining professional imaging quality with smartphone communication capabilities. So you can be creative, wherever, whenever.
An exciting addition to Sony's camera line-up
The Sony camera range already offers creators an array of benefits including market-leading imaging quality and high-speed performance. Now the Xperia PRO-I brings something new to the line-up, offering photographers, videographers and cinematographers the ability to shoot, edit and send with a single device.
1-inch image sensor and Sony camera's high-speed performance for professional imaging quality
The Xperia PRO-I features a genuine 1-inch sensor, enabling you to capture photos and videos with exceptional imaging quality. The large sensor is supported by Sony's original image signal processor, giving the camera high-speed performance for unlimited creativity.
Introducing the Xperia PRO-I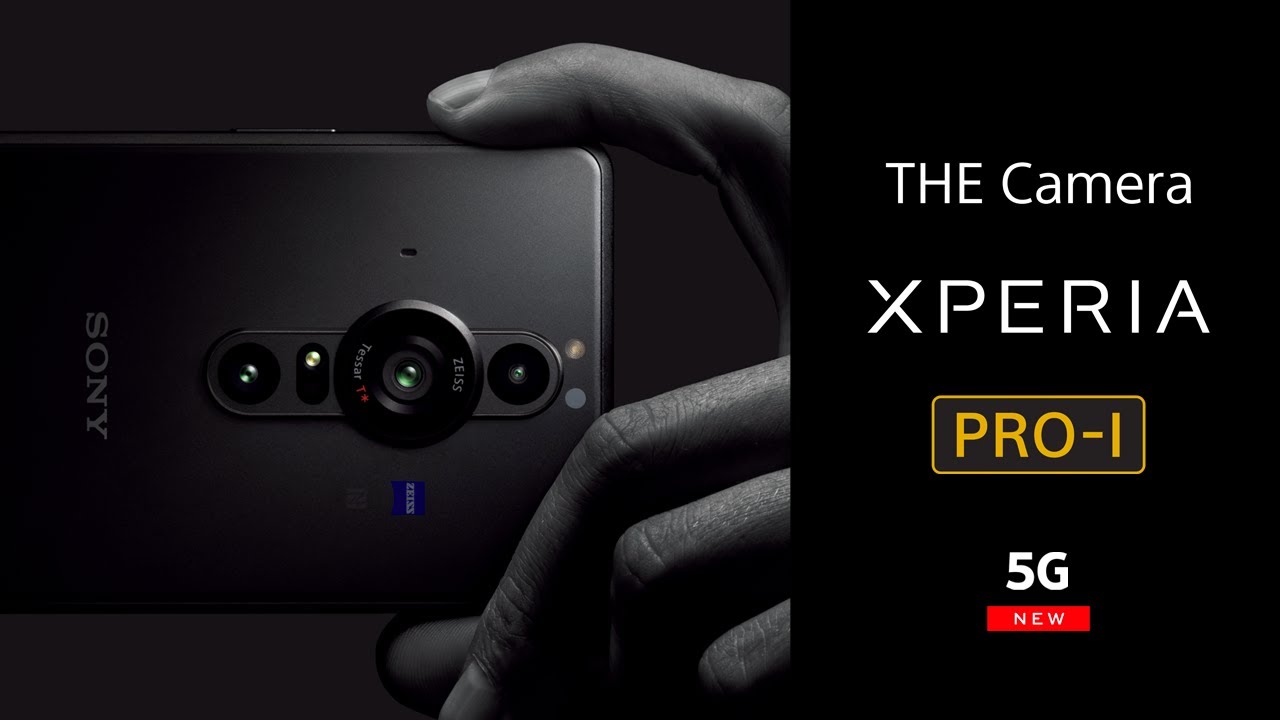 Photography | Capture unforgettable photos
Videography | Take your videos to the next level
Cinematography | Make films the pros would be proud of
Post-shooting | Edit and send with the Xperia PRO-I
Enjoy powerful performance and effortless style
No compromise for movies, music and games
Featuring Sony's dedicated camera technologies

Combining a 1-inch image sensor, sophisticated glass lens, and Sony's advanced image signal processors, the Xperia PRO-I achieves professional imaging quality to satisfy even the most demanding photographer.
Large 1-inch Exmor RS CMOS image sensor with phase-detection AF sensor 33
Based on the RX100 VII's sensor but developed and tuned exclusively for the Xperia PRO-I, the large 1-inch sensor offers high levels of image resolution and less noise. The result is superb imaging quality with realistic textures and remarkable detail.
Highly sensitive 2.4μm pixel pitch
The 1-inch image sensor's impressive 2.4μm pixel pitch offers high sensitivity and contributes to outstanding texture reproduction, even when shooting in low light.

[1] Conventional
[2] New Xperia
Thanks to the high-sensitivity 1-inch image sensor, the Xperia PRO-I can achieve photos with less noise in low-light conditions.
Clear details in high dynamic range conditions
In high dynamic range situations, the 1-inch image sensor enables the Xperia PRO-I to bring out the detail, both in the dark areas and the bright parts of the image.
Artistic natural bokeh effects
Another advantage of the large image sensor, the Xperia PRO-I is able to capture beautiful shots with naturally deep bokeh.
Outstanding ZEISS quality in your Xperia
Enjoy all the benefits of ZEISS optics calibrated specifically for the Xperia PRO-I.
ZEISS Tessar optics featuring a glass aspherical lens
The ZEISS Tessar optics adapted for the Xperia PRO-I delivers high-resolution images with less peripheral image distortion and more intense contrast and sharpness.
Reducing reflection for superior results
The optical elements of ZEISS optics feature T* anti-reflective coating on all surfaces and an optical design that guarantees images of superior brilliance at all times, even in unfavourable lighting conditions.
Dual aperture gives you more variety34
The dual aperture of F2.0 / 4.0 lets you experiment with depth of field and portray your subject in a variety of ways.
Triple lens and 3D iToF sensor for total creative freedom49
The Xperia PRO-I's 24mm lens with 1-inch image sensor is complemented by two further lens options, a 16mm and a 50mm, enabling you to get creative with composition. A 3D iToF sensor instantly calculates the distance between the camera and your subject, ensuring fast, accurate autofocus in any scene. All 3 lenses support phase-detection AF.
Enjoy a world of possibilities
With its three lens options – 16mm Ultra-Wide, 24mm Wide, and 50mm Standard – the Xperia PRO-I puts a huge range of shots within your reach.
Processing for high-speed performance and impeccable imaging quality
The latest BIONZ X™ for mobile image processor, Sony's unique front-end LSI and 1-inch image sensor, and Sony's original image-processing algorithms, ensure accurate imaging, even with quick-moving subjects.
AF that covers more of the frame
On the Xperia PRO-I, 315 (21x15) phase-detection AF points cover 90% of the frame. So AF works pretty much wherever your subject is, and is able to lock on to your subject incredibly fast.
Real-time Eye AF – for humans and animals34
Real-time Eye AF lets you take stunning portraits, whether you're photographing people or animals. Even if your subject is on the move or one eye is obscured, you'll capture memorable images full of energy and expression.
Real-time Tracking keeps fast-moving subjects in focus35
Using AI and a 3D iToF sensor to measure distance, Real-time Tracking can accurately detect and focus on a fast-moving subject, then keep on tracking it even if it temporarily moves out of sight. To specify your subject, simply touch it on the Xperia PRO-I display.
20fps burst shooting36 with less noise
The fast image sensor offers continuous burst shooting at up to 20fps, and the camera tracks subjects with AF/AE calculations at up to 60 times per second, even when they're moving erratically or at high speed. Even in low-light conditions, burst shooting with the Xperia PRO-I produces sharp images with less noise, thanks to the unique processing engine.

[1] AF/AE calculation
The 1-inch image sensor's fast readout helps suppress the rolling-shutter effect that can distort images when photographing fast-moving subjects.
Optical image stabalization for shots with less blur37
If your hand is unsteady when you're taking the shot, Optical Image stabalization technology helps deliver images with less blur, even in dark conditions.
Multi frame noise reduction
In low light or high dynamic range situations, the Xperia PRO-I can utilize multi frame noise reduction. It automatically shoots more than 10 images continuously, combines them, reduces the noise, and records them as one image to further enhance the high imaging quality.
12bit RAW for smooth color gradation34
When shooting in RAW format, the Xperia PRO-I supports 12bit which creates smooth and rich tonal gradation of the color without banding.
Controls and settings inspired by Alpha
With Photography Pro on the Xperia PRO-I, you'll find controls usually found on professional cameras. Using an interface inspired by Alpha cameras, you can choose manual controls or automatic settings and shoot in RAW. Photography Pro also offers Basic mode for fast access to a range of easy-to-use photography features including a touch shutter button.
Shutter button gives you that true camera feel
With its dedicated shutter button, using the Xperia PRO-I feels a lot like using the Sony RX100 series. It even features the same shutter switch module and requires similar button strokes to operate AF and shutter release. You can also long-press the shutter button to quickly launch Photography Pro and start shooting immediately.
Fit a camera strap for peace of mind
The Xperia PRO-I features a built-in strap-hole, so you can easily attach a wrist or neck strap38 for added peace of mind when you're out and about taking photos.
The perfect companion for your Sony Alpha camera
With the Imaging Edge™ Mobile app, you can use your Xperia PRO-I to transfer RAW files and files that use lossless compression from your Alpha camera, and remotely control Touch Tracking and Touch Focus for convenient AF operation.
High quality video with an authentic shooting experience

With its 1-inch image sensor, the Xperia PRO-I takes the quality of your videos to another level, while Sony's unique UI helps you fully realize your creative vision, achieving shots just as you intended.
Videography Pro gives you creative control
Videography Pro on the Xperia PRO-I puts all the creative settings you need in the palm of your hand. Drawing on Sony's expertize across a range of video and movie cameras, the Videography Pro interface lets you tailor manual controls to suit your needs, or rely on auto mode for total convenience.
Eye AF for stills and videos50
Sony's advanced eye-detection and tracking performance are not only the secret to beautiful still portraits: they also help you capture stunning video footage. By recognizing the human or animal eye and maintaining focus on it as your subject moves, Eye AF brings videos to life as never before.
Stay focused with Object Tracking for videos50
Object Tracking can automatically track a moving subject and keep it in sharp focus, even when it doesn't have eyes or its eyes are obscured from view.
Shoot video in 4K HDR 120fps34
For greater creative flexibility, the Xperia PRO-I lets you shoot high quality video in 4K HDR 120fps, and select playback frame rates from 24fps up to 120fps.
Capture smooth, shake-free video
The Xperia PRO-I features the very latest Optical SteadyShot™ with FlawlessEye™34, which couples the image sensor's increased reading speed with Sony's original algorithm for optical image stabalization. The result is supremely smooth, shake-free video footage.
Record voices loud and clear
Normally when shooting video on an Xperia camera, sound is recorded through stereo microphones to reproduce multi-dimensional sound. But the Xperia PRO-I also features a built-in monaural microphone next to the main camera, enabling you to focus on recording speech clearly while other sounds remain in the background.
Filter out wind noise for clearer sound
The Xperia PRO-I includes our industry-leading audio separation technology for highly-effective wind filtering, both for stereo and monaural microphone.
Intelligent wind filter [1] OFF [2] ON.
Assign Videography Pro to the Xperia PRO-I's built-in shortcut key and you'll be able to launch it as soon as you want to start shooting – even when the screen is off or occupied with another app. You can also assign other applications or features to the shortcut key.
Film yourself in exceptional quality with the Vlog Monitor for Xperia PRO-I38,51
Whether you're a vlogger, a YouTuber or just sharing with friends, the Xperia PRO-I's 1-inch image sensor lets you film yourself with outstanding imaging quality. And by attaching the Vlog Monitor for Xperia PRO-I, you can see exactly what you're recording and create truly memorable content.
When shooting with the Vlog Monitor for Xperia PRO-I, you can easily connect a Bluetooth shooting grip, such as the GP-VPT2BT38. This lets you start/stop recording without touching any buttons on the Xperia PRO-I itself. The Vlog Monitor features a 1/4-20 UNC type mounting point on the bottom of the holder, which the shooting grip's screw fits into.
The Vlog Monitor for Xperia PRO-I features a 3.5mm 3-pole microphone jack,43 enabling you to connect your own external microphone38 and record even better sound. Simply mount your microphone on the accessory shoe mount in the top of the holder.
Simply fit the metal holder to the Xperia PRO-I and attach the Vlog Monitor to the holder using the built-in magnet. Then connect the two devices using the USB-C cable and you're ready to shoot.

When connected, the Vlog Monitor draws its power from the Xperia PRO-I but it also features an external power port. So if you're recording for a long time, you can supply power to both devices simultaneously using a power-charging USB-C cable.
Make more of your Xperia with the External monitor feature
Use your Xperia PRO-I as an external monitor or viewfinder for your Alpha camera, with a range of useful settings such as brightness, zoom and grid lines. Simply connect to a camera supporting USB video class (UVC).44
Enjoy 21:9 movie recording with Cinematography Pro "powered by CineAlta"39

Record movies with similar parameters and color settings to the professionals. Expertize from our Digital Cinema Camera engineers, Look color management pre-sets, 21:9 ratio, 4K HDR, 120fps high frame rate, and 24, 25, 30 and 60fps give you all the tools you need.
Maximize creativity with 1-inch image sensor and dual aperture
The creative freedom of Cinematography Pro is further enhanced by the Xperia PRO-I's 1-inch sensor, which improves imaging in low light or high dynamic-range situations. And the F2.0 / 4.0 dual aperture, which offers filmmakers a richer range of visual expression.
Realize your vision with cinematic color settings
Eight different color settings let you bring the mood of different cinema styles to your videos. These include VENICE CS, inspired by our professional camera CineAlta VENICE, which features smooth color gradation and a softer, lower contrast curve for a classic cinematic look that's perfect for drama productions.
Shoot stunning slow motion in 4K HDR 120fps40
Capture high-quality slow-motion footage in 4K HDR 120fps to create dramatic and expressive moments.
Shoot, edit, send: do it all, with the Xperia PRO-I

With most cameras once the shooting is over, you head home to your laptop or PC to edit and share your work. But the Xperia PRO-I lets you do it all from one device, wherever and whenever you choose.
Faithful color reproduction on Creator mode
The XPERIA PRO-I features Creator mode "powered by CineAlta", which enables you to see photos and movies with accurate color reproduction. In the case of photos made by sRGB, it automatically changes the color gamut and gamma to sRGB.

[1] Brilliant color reproduction on Standard mode
[2] Faithful color reproduction on Creator mode
Accurate white balance setting
The display not only enables you to see accurate colors as intended and photographed but also lets you adjust color settings to suit your needs. So you can align the display settings with your own monitor, or set the white point as D50 or D55 which are suitable for checking photo printing.
Deliver your images, fast
When you're out on location, you can immediately deliver the images you've just shot using the 5G network.41 Or connect your Xperia PRO-I to your computer by USB 3.2 Gen 2 (10Gbps) and send them from there.
With the Xperia PRO-I, you can shoot in locations and conditions that other cameras can't, thanks to IP65/685 water resistance and protection against dust.
The Xperia PRO-I display uses Corning® Gorilla® Glass Victus™, the toughest Gorilla® Glass yet – with improvement in both drop and scratch resistance.
Powerful 4.500mAh battery and fast charging
With a 4.500mAh battery on board, the Xperia PRO-I offers plenty of power to keep you going through the day. When you need to give your battery a boost, you can fast charge up to 50% in just 30 minutes with the included 30W charger XZQ-UC1.
A healthy battery, even after 3 years of use45
Our charging technologies keep your battery healthy for longer. Battery care keeps your phone from overcharging, while Xperia Adaptive Charging monitors your phone as it charges, to make sure the battery isn't overworked.

[A] Conventional [B] New Xperia
[1] At the start of use [2] After 3 years of use
Experience the Qualcomm® Snapdragon™ 888 5G Mobile Platform21
The Xperia PRO-I is powered by the Qualcomm® Snapdragon™ 888 5G Mobile Platform to deliver the premium experiences you deserve. Make the most of the Xperia PRO-I as a professional-quality camera with post-shooting capabilities, and a mobile entertainment hub – all connected with truly global 5G multi-gigabit speeds.
Large, easily expandable memory
The Xperia PRO-I has a large internal memory, with 12GB RAM for handling intensive computing tasks and 512GB ROM offering ample storage for photos, films and other files. Storage memory is easily expandable, with support for microSD cards up to 1TB, and fast transfer to and from the SD card. For convenience, no tool is needed to insert or remove SD cards or SIM cards.
Optimized connectivity with the latest 5G or Wi-Fi 6
Whether you're downloading or uploading data-heavy files, you can do it fast with 5G11 or Wi-Fi 628. Meanwhile, smart connectivity continually analyses and assesses Wi-Fi signal quality. If it predicts any compromise in Wi-Fi connection, it uses your mobile data instead – so you're always on the best connection available.
Fast data transfer with USB 3.2 Gen 2
Compared to its Gen 1 predecessor, the USB 3.2 Gen 2 (10Gbps) connection lets you transfer data twice as fast from your Xperia PRO-I to your PC.
Authentic camera look and feel
With its characteristic 24mm lens and dedicated shutter button, the Xperia PRO-I echoes authentic compact camera styling. The distinctive waved-edge frame offers high grip performance and makes the body more robust.
Frosted black finish evokes iconic camera style
The frosted glass back panel and matt finish enhance the Xperia PRO-I's authentic camera feel, while the blast-treated metal frame adds a sense of strength and style.
Take a closer look at the Xperia PRO-I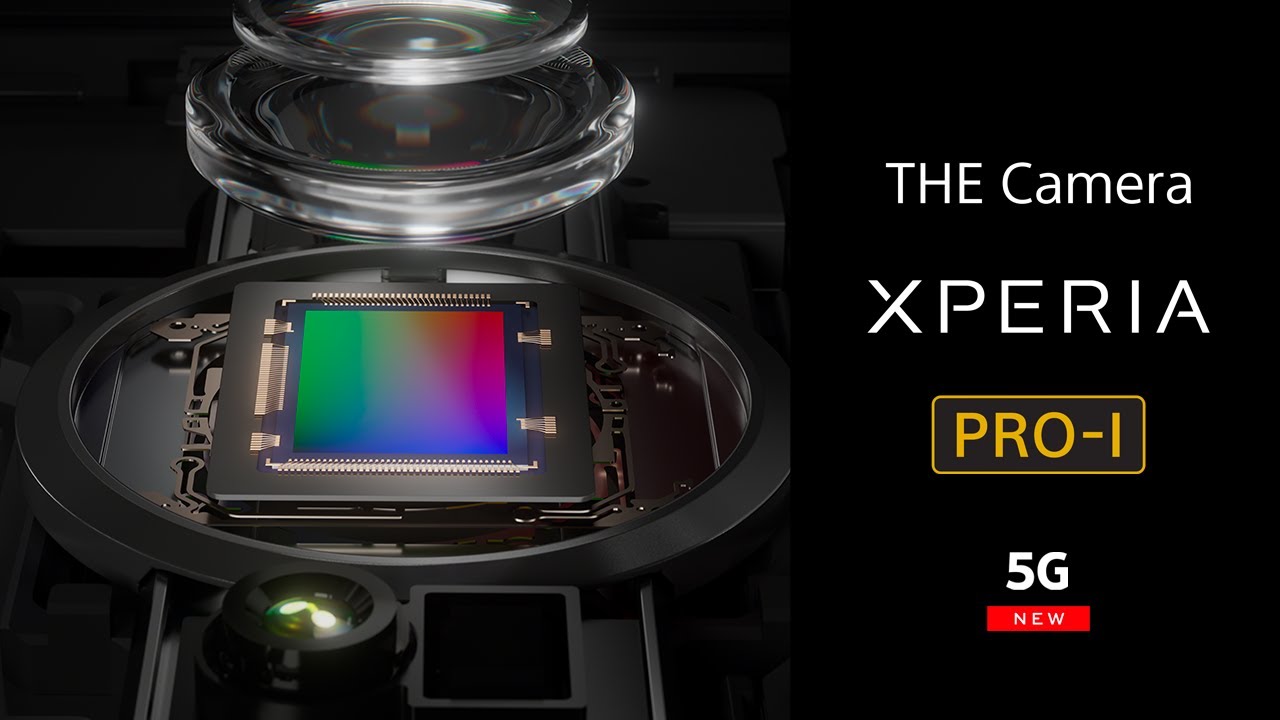 Perfect for watching movies and TV shows

When you're not using your Xperia PRO-I to capture great content, you can use it to watch great content instead.
Immerse yourself in a 4K HDR OLED 120Hz Refresh rate display
Boasting a stunning 4K HDR OLED 120Hz Refresh rate16 display, the Xperia PRO-I offers a uniquely immersive viewing experience. And with no notches to interrupt your view on the 6.5" 21:9 wide display1, losing yourself in your favorite movies or TV shows has never been easier.
Smoother colors on screen
The Xperia PRO-I features a 10 bit equivalent display (8 bit with 2 bit smoothing) that can display a wide range of colors without banding.
Everything you watch, remastered to perfection
The X1™ for mobile engine brings BRAVIA HDR Remaster technology to everything you watch. Even streaming content will have more contrast, color and clarity.
Multi-dimensional, cinematic sound
Watching a movie with Dolby Atmos is an immersive experience, with multi-dimensional sound flowing above and around you. Now you can experience Dolby Atmos sound tuned in collaboration with Sony Pictures Entertainment with headphones or the built-in stereo speakers.
Hear music as it was meant to be heard
If you're into music, the Xperia PRO-I boasts a wealth of audio features to maximize your listening pleasure.
3.5mm audio jack for ultimate sound quality
The 3.5mm audio jack on the Xperia PRO-I18 offers both convenience and high fidelity sound quality, with reduced distortion and a more realistic listening experience. In addition, audio volume through the 3.5mm audio jack has been improved by approximately 40% in comparison with the Xperia 1 II19.
Full-stage stereo speakers for more powerful sound
The Full-stage stereo speakers in the Xperia PRO-I are placed at the front of the phone, for powerful, balanced true stereo sound. Whether you're watching videos or playing music you'll enjoy immersive, high-quality sound.
Experience 360 Reality Audio17 – like you're there with the artist
Immerse yourself in sound all around you, as real as if you are there at a live concert of with the artist recording in a studio. With 360 Reality Audio, music has never been so immersive and so real. And with the Xperia PRO-I, you can enjoy the experience through wired or wireless headphones or the built-in stereo speakers.18
Get 3 months of TIDAL free with the Xperia PRO-I
The Xperia PRO-I is designed for 360 Reality Audio with unique hardware decoding to optimise sound quality when listening to music on TIDAL.18 And new TIDAL subscribers will get 3 months of TIDAL Hi-Fi free when they buy an Xperia PRO-I, including the 360 Reality Audio experience.
Enjoy exceptional sound quality
The Xperia PRO-I supports High-Resolution Audio and High-Resolution Audio Wireless16 via LDAC, enabling you to hear music that reproduces the full range of sound, with dynamics and detail just as the artists intended. It also features DSEE Ultimate, which uses AI to enhance the quality of all your digital music in real-time, taking each track close to High-Resolution Audio quality.49
After a long day shooting on location, mobile gaming on the Xperia PRO-I is a perfect way to unwind.
Game enhancer gives you the edge
Improve gameplay with superior touch response2, speed and frame rate. Share screenshots or video clips of key moments. Block notifications to focus fully on the action. Search for online tips while you play. With Game enhancer on your Xperia PRO-I, the advantage is all yours.
On the native 120Hz Refresh rate display2, fast-moving objects are rendered clearly for seriously smooth gameplay.
Prevents overheating during mobile gaming
When using a charging cable for gaming, Heat Suppression power control powers the phone systems directly rather than charging the battery. This reduces thermal stress, helping to maintain gaming performance and keep your battery healthy for longer.

[A] OFF = high temperature
[B] ON = low temperature
Optimized performance for gaming
The Xperia PRO-I is optimized with Qualcomm® Snapdragon Elite Gaming™50 for superior gaming performance.
With a range of handy multi-window features, the Xperia PRO-I is tailor-made for multi-tasking.
Suppose you're playing a game or browsing the web but want to quickly reply to a message? With the Pop-up window feature on the Xperia PRO-I, you can easily handle the new task, then get right back to what you were doing.
Side sense and Sony | Headphones Connect
When the Xperia PRO-I is paired with Sony headphones, you can easily access the Sony | Headphones Connect app using the Side sense menu.
See more and do more with Multi-window
The 21:9 screen easily divides into two sections – perfect for browsing the web and watching a video at the same time.
In Multi-window mode you can quickly switch between your last used and recommended apps – making it faster to find the app you want in the top and bottom window.
Easy content transfer from your old iPhone or Android device
The Xperia Transfer 2 app lets you transfer the content that matters from your old Android or iOS smartphone to your new Xperia PRO-I.51 From photos, videos and music to your contacts, calendar, call history, and messages (SMS/MMS) – transfer them quickly, safely and easily.
No plastic in the packaging
As part of Sony's sustainability drive, the packaging for the Xperia PRO-I uses no plastic, with plastic components either eliminated or replaced with paper materials.
The Xperia PRO-I includes visual, hearing and action assist technology.
All on-screen images are for illustrative purposes only.

5G network and availability may vary depending on country, carrier, software version and user environment.

Lens expression is equivalent to 35mm focal length.
Designed with the environment in mind
Sony is committed not only to offering products, services and content that deliver exciting experiences but also to working towards our goal of a zero environmental footprint throughout our business activities.
Specifications
Video Recording
features
Cinematography Pro "powered by CineAlta", Videography Pro, 4K HDR Video recording 24, 25, 30, 60 and 120fps12, OIS and EIS Video13, Optical SteadyShot™with FlawlessEye™14, SteadyShot™ with Intelligent Active Mode (5-axis stabilization)15, Slowmotion(720p 120fps), Intelligent wind filter
VIDEO RECORDING FORMAT
.mp4(H.264, H.265)
Size
DIMENSIONS
166 x 72 x 8.9 mm
Sensors
Sensor Type
Fingerprint sensor
SIM Capability
NUMBER OF SIM
Dual SIM hybrid26
Rear camera (3)
Size
1/2.5" Exmor RS for mobile sensor
Rear camera (2)
Size
1/2.9" Exmor RS for mobile sensor