WF-C500
WF-C500 Truly Wireless In-ear Headphones
Offers
Product highlights
DSEE™ restores high frequency sounds lost in compression
Up to 10hr battery life2, total up to 20hr with charging case2
Splash-proof and sweat-proof with an IPX4 rating3
Easier, clearer hands-free calling
Small and light for a great fit and all day wear
Ergonomic Surface Design conforms to most ear shapes
Fine-tune your sound using the Sony | Headphones Connect app4
Optional use of one earbud only
Easy button operation to take control without your phone5
Experience 360 Reality Audio for a truly immersive experience6
Small size, uncompromising sound
Discover the freedom of Bluetooth® connectivity with the compact WF-C500 truly wireless earbuds, 1 combining uncompromising sound with great battery life 2, personalization, and IPX4 water resistance for music that goes anywhere. 3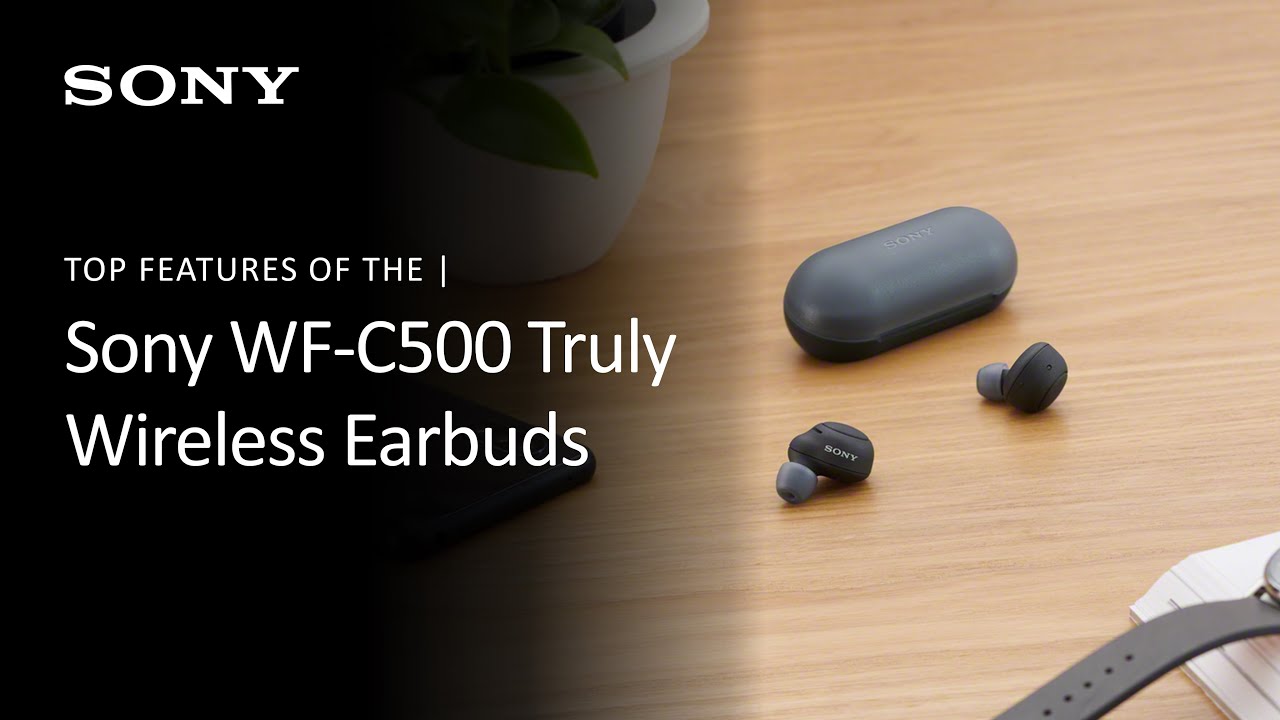 Since introducing the world's first in-ear headphones in 1982 (MDR-E252), we've surveyed huge amounts of data relating to ear shapes from around the world. The WF-C500 headphones are the product of that research, combining a shape that matches the ear cavity with a new ergonomic surface design for a more stable fit.
With our Digital Sound Enhancement Engine (DSEE), high frequency sound and fine fade-out sound are restored to the track for a more authentic listening experience. You can also tailor music to your own taste using the EQ setting on the Sony | Headphones Connect app. 4
When an original music source is compressed, it loses the high-frequency elements that add detail and richness to a track. Our Digital Sound Enhancement Engine (DSEE) faithfully restores these to produce high-quality sound that's closer to the original recording.

[A] Restoration [B] Fine sound restoration
Your sound, just how you like it
Tailor sound to your personal preference. Choose from a variety of presets to match sound quality with the genre of music you're listening to. Or create and save your own presets using the EQ Custom feature on the Sony│Headphones Connect app. 4
Listen for hours, charge in minutes
Enjoy up to 20 hours of listening thanks to the handy charging case. And if you need to top up in a hurry, 10 minute quick charging gives you up to an hour of extra play time. 2
Splashes and sweat, no problem
With an IPX4 3 water resistance rating, splashes and sweat won't stop these headphones – so you can keep on moving to the music.
One earbud, ideal for multitasking
If you want to listen to your music while still being able to have a conversation, remove one earbud only from the charging case and use as normal.
Small and light, a great fit
Designed small, these buds fit securely and comfortably in your ears. The rounded shape without edges makes them a pleasure to wear, leaving you free to focus on what matters – your music.
Go anywhere, pocket-sized case
The cylindrical charging case is extremely small and easy to carry around in a pocket or bag so you can take your earbuds everywhere you go. Its translucent lid with a texture like frosted glass gives the case a stylish, luxurious look and feel. 1
The buttons on the WF-C500 headphones not only let you play, stop, or skip through tracks and adjust the volume – they also offer an easy way to access your smartphone's voice assistant and make and receive calls hands-free. 5
Easier, clearer hands-free calling
Voice Assistant compatible
Conversation flows freely with easy hands-free calling, now clearer than ever with a high-quality built-in microphone. You won't even have to take your phone out of your pocket.
One simple button press connects you instantly to your smartphone's voice assistant so you can find directions, play music, communicate with contacts and so much more. 2
Find your headphones easily with Fast Pair
Connect to your PC easily with Swift Pair
Fast Pair makes it easy to pair your headphones with your Android™ devices. In one tap of pop-up guidance, the WF-C500 enables quick, effortless Bluetooth® pairing with your Android™ devices. Also, you can easily locate where you left your headphones by ringing them or checking their last known location on your smartphone.
Swift Pair makes it quick and easy to pair your WF-C500 headphones with your Windows 10 computer via Bluetooth®. Pop-up pairing guidance appears on nearby Windows 10 devices when pairing mode is selected.
Stable, reliable Bluetooth® connectivity
A Bluetooth® chip, which transmits sound to left and right ears simultaneously, coupled with optimised antenna design, ensures a stable connection and outstanding listening. Low audio latency makes for enjoyable viewing too.

(A) Conventional L to R Relay BT Transmission. (B) WF-C500 L/R Simultaneous BT Transmission.
Immerse yourself in sound all around you. As real as if you are there at a live concert or with the artist recording in a studio. With 360 Reality Audio, music has never been so immersive and so real. These headphones let you enjoy 360 Reality Audio. 6
Our products are not only designed to be stylish but also with the environment in mind. No plastic is included in the packaging material for the WF-C500, reflecting Sony's commitment to reducing the environmental impact of our products and practices. 10
Designed with the environment in mind
Learn more about energy-saving features and our commitment to the environment for a more sustainable future.
Specifications
General Features(Headphone)
Headphone Style
Truly Wireless
Headphone Type
Closed, dynamic
Weights (Approx.) *excl.cable erights
Approx. 5.4 g x 2
Weights (Approx. oz) *excl.cable erights
Approx. 0.2 oz x 2
Number of Charge Cycle for Headphones
1
Weight (oz)
Approx. 1.24 oz
Dimension (mm)
Approx. 80.0 x 34.9 x 30.9 mm
Dimension (inch)
Approx. 3.15 x 1.38 x 1.22 inch
General Features(Microphone)
Direction of Microphone
Omni directional
General Features(Active Headphones)
Interoperability and compatibility among Bluetooth® devices vary.
1x charging with charging case is needed. Up to 10hr (earbuds) + up to 10hr (charging case), total up to 20hr when DSEE and EQ custom is turned off. Actual performance varies based on settings, environmental conditions, and usage. Battery capacity decreases over time and use.
IPX4 rating. Protection assured against water splashing from any angle, excluding the sound tube (sound outlet) of the headphones. The charging case is not water resistant.
Download app at Google Play and the App Store. Network services, content, and operating system and software subject to terms and conditions and may be changed, interrupted or discontinued at any time and may require fees, registration and credit card information.
Voice assist function compatible with Android smartphone (Google App) or iPhone (Siri). Bluetooth® connection required. Requires download of Sony | Headphones Connect app for iPhone from the App Store or for Android from Google Play. User must link compatible devices in order to control operation. Subject to app terms and conditions.
Download Headphones Connect app at Google Play and the App Store. Network services, content, and operating system and software subject to terms and conditions and may be changed, interrupted or discontinued at any time and may require fees, registration and credit card information. 360 Reality Audio requires subscription to compatible online music service and third party terms, conditions, account and fees may apply.
©2021 Sony Electronics, Inc. All rights reserved. Reproduction in whole or in part without written permission is prohibited. Sony and the Sony logo are trademarks and or registered trademarks of Sony Corporation. Bluetooth and the Bluetooth logo are trademarks of Bluetooth SIG, Inc. All other trademarks are trademarks of their respective owners. Features and specifications are subject to change without notice.