SRS-XB33
EXTRA BASS™ Portable Bluetooth® Wireless Speaker
Product highlights
Play it loud with EXTRA BASS™1 sound and LIVE SOUND mode
Built to last with a IP67 waterproof2, rustproof7, dustproof2 and shockproof design
Lasts all day long with up to 24 hours of battery life.1
Boost your music with two speaker lights and multi-colored line lights, and turn the lights on or off via the Fiestable App4
Get things booming with Party Connect6 and sync up to 100 speakers6
X-Balanced Speaker Unit enhances sound quality and power
Efficiently charge with USB Type-C™ and use the XB33 to charge your smartphone or other small devices via USB connection
Convenient Hands-free calling8
Control the party with the Sony | Music Center app5 and the Fiestable app4
Wireless with BLUETOOTH® technology and NFC™,3
Stand the XB33 vertically or horizontally to fit any space without design compromise
Powerful party sound that goes with you
Waterproof, dustproof, and shockproof, the SRS-XB33 combines tough design with a long-lasting battery, so there are no more limits to enjoying music festival sound.
Explore some of the features and technologies that make the SRS-XB33 so special.
Enjoy powerful sound anywhere
Enjoy deep, punchy sound wherever you like with your EXTRA BASS™ 2 speaker. Dual passive radiators work together with full-range speakers to enhance low-end tones, giving bass a boost.
With its rugged design and long battery life, the SRS-XB33 won't let you down.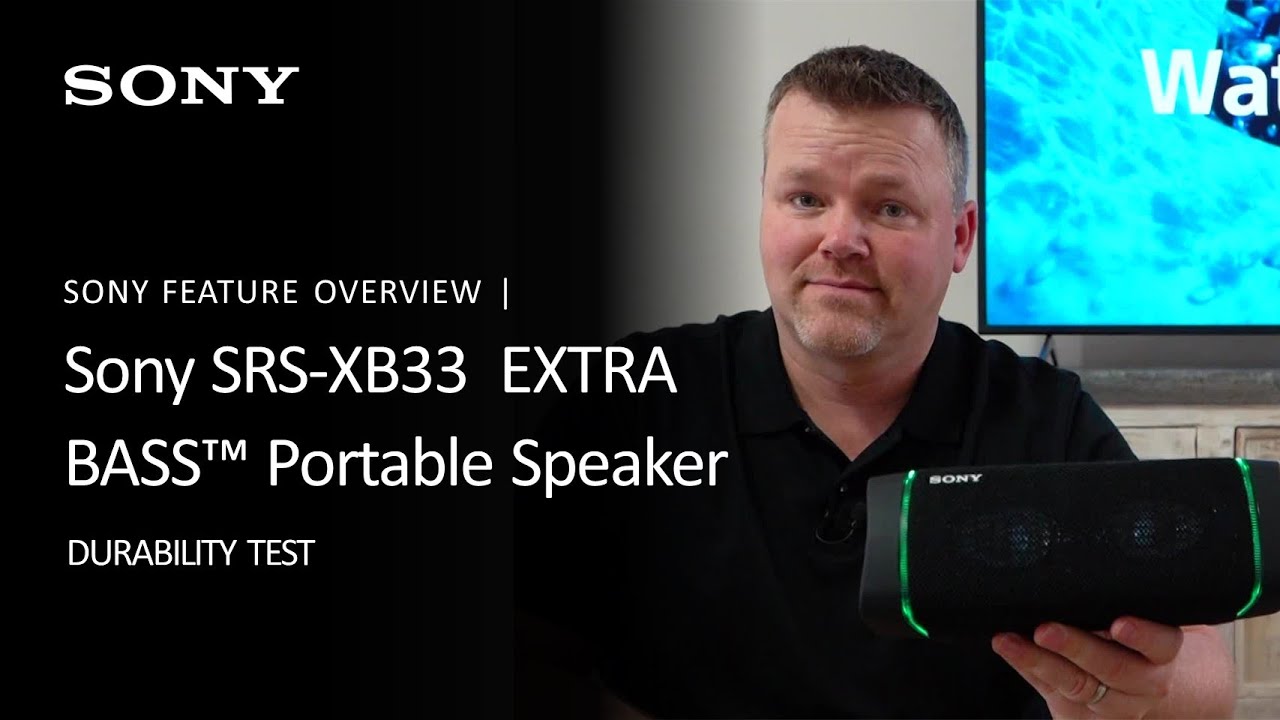 The SRS-XB33 is seriously tough, giving you the freedom to party wherever and whenever you like.
Totally washable and waterproof
With an IP67 rating 3, your speaker is waterproof and salt-water resistant—so you've no worries using it by the sea or the pool—and there's no problem washing it either 4.
Thanks to the IP6 7 rating 3, you can take your speaker to the beach, the forest, the desert, or wherever you like—the SRS-XB33 will keep on playing, no matter how dusty the surface.
The SRS-XB33 has undergone extensive shock testing to make sure it can withstand the inevitable knocks, bumps and scrapes that come with everyday use. Even if you drop it, the SRS-XB33 will keep on working. 5
Up to 24 hours of battery life 6 means the SRS-XB33 can party even longer than you can. Even with the lighting on in EXTRA BASS™ mode, you can party for up to 14 hours. 7
Developed by Sony, the X-Balanced Speaker Unit achieves high sound quality and powerful sound pressure for a richer, deeper, more rewarding listening experience.
What is the X-Balanced Speaker Unit?
Unlike the circular diaphragm in a conventional speaker unit, the newly developed X-Balanced Speaker Unit in the XB33 features a non-circular diaphragm.
Increasing sound pressure and reducing distortion
The unit's non-circular shape not only maximizes the area of speaker diaphragm, increasing sound pressure for more punchy bass—it also reduces driver excursion while maintaining the same sound pressure, resulting in less distortion.
Greater clarity and a wider sound stage
In addition, the unit's off-center design and optimized weight balance help to enhance clarity and widen the sound stage.
Mica Reinforced Cellular speaker cone and dust cap
The rigid and lightweight Mica Reinforced Cellular (MRC) speaker cone and dust cap contributes to the sound quality.
The layout of the side passive radiators has been optimized to reproduce clear bass sound.
Hit the LIVE SOUND button and hear your music in a whole new way. Bring your party to life with a unique three-dimensional sound experience — creating festival vibes wherever you go.
How LIVE SOUND mode works
The speakers of the SRS-XB33 are carefully designed to give you a real three-dimensional experience. Our angled speakers with DSP technology send your music to a wider area, creating a festival vibe, wherever you are.
[A]: LIVE SOUND mode ON
[B]: LIVE SOUND mode OFF
There's no fun without party lights. The SRS-XB33 features a speaker light and a multi-color line light that flash in sync with the beat. You can even change the color of the line light to suit your mood.
Get things booming with Party Connect
Enjoy the same song, multiplied, with Party Connect. Connect up to 100 compatible wireless speakers 8 with BLUETOOTH® technology and the music and lights sync-up so everyone dances to the same beat. Set a random pattern or set the lights to blink in a circle. 9
The speakerphone function offers a convenient way to talk hands-free, whether it's a conference call for work or a chat with friends. 10
The SRS-XB33 has been designed with convenience in mind, so you can enjoy music when and where you want to, no fuss.
Stand it up or on its side
Whether you place it horizontally or vertically the SRS-XB33 sits securely so you can always find space for it, wherever you're partying.
Stream music with BLUETOOTH® technology and NFC™
Near Field Communication (NFC) and Bluetooth® technology 11 remove the need for wired connections and complex set-up sequences. Simply touch your NFC-enabled device to the speaker for a quick, seamless connection, then start streaming your music collection. No NFC? No problem. Connect via Bluetooth and you're ready to go.
USB Type-C® and USB charging ports
Use a USB Type-C® cable to charge the SRS-XB33 and if your smartphone's running low on power, just plug it into the speaker's USB port to charge up the battery.
Special Offers & Promotions
Learn about wireless speakers
Watch a variety of videos and learn about Sony's wireless speakers through how-tos, unboxing videos, and more.
Control the party with the Sony | Music Center app
Control the party from the dancefloor, with the Sony | Music Center app—select your favorite playlists, cue the next song, or change lighting patterns and sound modes.
Download the Fiestable app and you'll be able to control the lighting on the SRS-XB33, and you can also use motion control gestures on your smartphone screen.
Designed with the environment in mind
Sony is committed not only to offering products, services and content that deliver exciting experiences but also to working towards our goal of a zero environmental footprint throughout our business activities.
Specifications
Application
Android Application
Sony Music Center/Fiestable
COMPATIBLE SMARTPHONE APPS
Sony | Music Center / Fiestable
iPhone Application
Sony Music Center/Fiestable
Bluetooth
Communication System
Version 5.0
Compatible Profiles
A2DP/AVRCP/HSP/HFP
FREQUENCY RANGE
2.4 GHz band
Frequency Transmission Range
20 Hz–20,000 Hz (44.1 kHz sampling)
Supported Codecs
SBC, AAC, LDAC
Bluetooth Spec
Bluetooth® Technology
Version 5.0
FREQUENCY RANGE
2.4GHz band
Frequency Range(A2DP)
20 Hz - 20,000 Hz(44.1 kHz sampling)
Interface(A2DP)
A2DP/AVRCP/HSP/HFP/SPP