DSC-RX100M7G
RX100 VII Compact Camera, Unrivalled AF
Offers
Product highlights
ZEISS® Vario-Sonnar T* 24–200 mm F2.8–4.5 high-resolution zoom lens
0.02-sec. AF, 357 focal-plane phase-detection and 425 contrast-detection AF points
Real-time Tracking and Real-time Eye AF
Up to 20fps Blackout-free Shooting with AF/AE tracking
4K HDR (HLG) recording, mic input, 180-degree flip touch screen
Pro features in a to-go package
Learn More about DSCRX100M7G
Broad zoom range and superior speed performance
Inside its compact body the RX100 VII is packed with everything it takes to deliver gorgeous images. The 24–200 mm 2 zoom lens is complemented by 0.02-sec. 3 super fast AF, new Real-time Tracking and Real-time Eye AF, plus enhanced image stabilization and an external microphone jack for high-quality movie shooting.
Broad zoom range and fast shooting
Reliable AF and subject tracking
Serious movie-making features
Easy operation sets your creativity free
Broad zoom range and fast shooting
Broad zoom capability in a compact body
The high-magnification 24–200 mm2 zoom lens delivers superb image quality. Engineered to achieve maximum resolution and clarity across the entire zoom range, it brings remarkable telephoto capability to a pocket-size package, vastly expanding your options for creative expression.
The ZEISS® Vario-Sonnar T* 24–200 mm 2 F2.8-4.5 zoom lens covers a broad span of zoom ranges equivalent to two standard zoom lenses (24–70 mm and 70–200 mm), all in a very compact configuration.
The camera's lens elements include four AA (advanced aspherical) lenses and two ED (Extra-low Dispersion) glass elements. These work together to achieve superb resolution right out to the periphery of the image and throughout the telephoto range.
A new image sensor designed for speed
The newly developed, 1.0-type stacked CMOS image sensor and the latest BIONZ X™ image-processing engine open new dimensions in speed and image quality.
Fast, 20fps continuous shooting with highly accurate AF/AE tracking
The fast new image sensor offers continuous shooting at up to 20fps 4 and the camera tracks subjects with AF/AE calculations at up to 60 times per second 4, even when they're moving erratically or at high speed.
Blackout-free Shooting to keep you on track
Blackout-free Shooting 5 lets you track your subject's movement without interruption on the camera's LCD display or viewfinder screen, with display updates performed at 60fps to minimize time lag.
(A) Blackout-free Shooting (B) Shooting with blackouts
New Single Burst Shooting function
The newly developed Single Burst Shooting 6 function will capture even very fast-moving action, such as the precise instant a tennis racket hits the ball, taking seven shots in rapid succession with selectable speeds of 90fps, 60fps or 30fps. It allows you to capture decisive moments that might otherwise be very difficult and it can be used with the self-timer. Both JPEG and RAW image formats are supported.
Reliable AF and subject tracking
Broad AF coverage and fast AF speed
The RX100 VII features a category-leading 7 total of 357 focal-plane phase-detection AF points, covering a total of 68% of the frame. These are complemented by 425 contrast-detection AF points, and AF acquisition is achieved in just 0.02 seconds, 3 the world's fastest speed. 7
Real-time Tracking for moving subjects
Real-time Tracking uses subject-recognition algorithms (AI) 8 that draw on color, pattern (brightness), subject distance (depth) and face/eye information to track your subjects wherever they move. Maintaining a constant, steady focus on a moving subject helps you capture every important moment of action as it happens, whether you're taking stills or movies.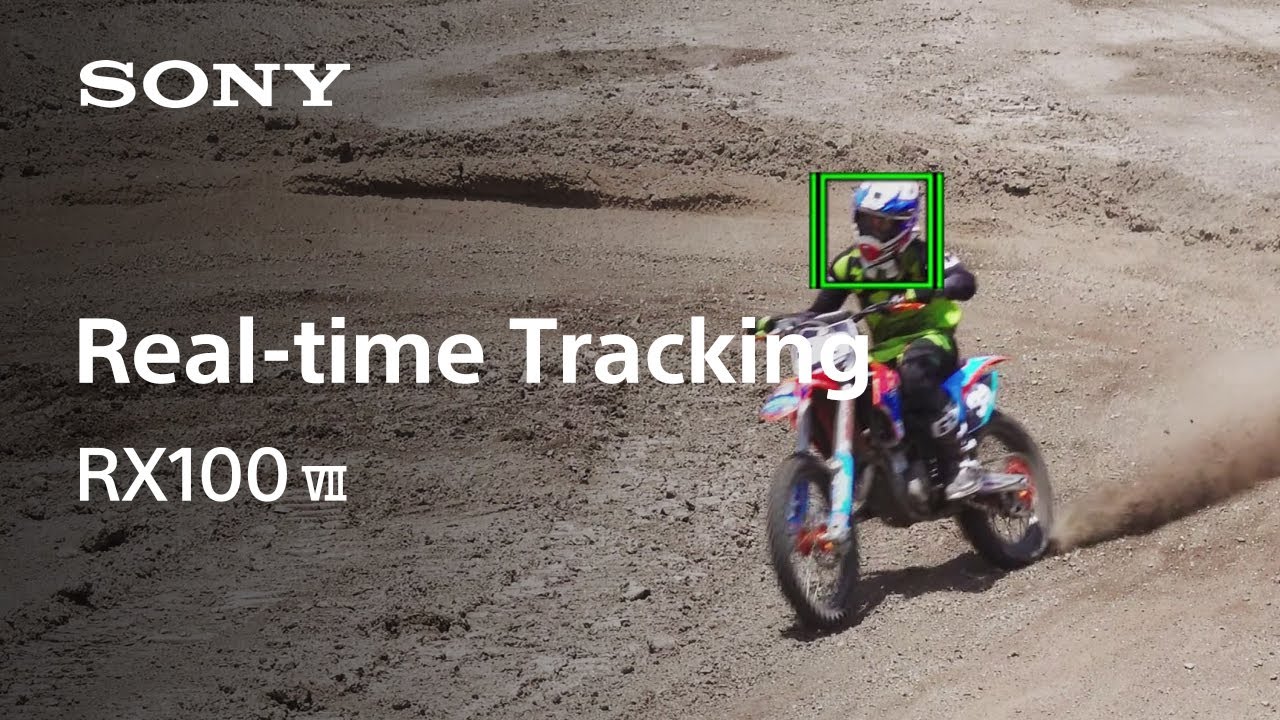 Real-time Eye AF for both stills and movies
Sony's advanced eye-detection and tracking performance are the secret ingredients for beautiful portraits. Real-time Eye AF detects human eyes and maintains focus as the subject moves, leaving you free to compose your shot. It's even possible to focus on either the left or the right eye of your subject.
Real-time Eye AF for Animals
Real-time Eye AF is available for animals 9 as well as people. Great portrait shots of pets are easier than ever.
High resolution and exceptional low-light shooting
The large 1.0-type image sensor has a resolution of 20.1 megapixels, 10 with back-illuminated technology and an improved standard ISO range of 100-12800. High levels of perceived image resolution and low noise contribute to superb image quality with realistic-looking textures.
Excellent color and texture reproduction
The newly developed image sensor, and the camera's image-processing algorithms, achieve more realistic textures and colors. In particular, human skin tones look natural, while the vivid colors of flowers are more accurately reproduced.
Optical image stabilization for steadier still shots
Capture high-quality images with compensation for handheld camera shake, even in dim lighting and at telephoto range. The image-stabilization algorithm delivers a level of stabilization equivalent to a 4.0-stop 11 faster shutter speed at 200 mm. 2
[1] Without Optical SteadyShot™ ( Simulated )
[2] With Optical SteadyShot
Anti-distortion electronic shutter with silent shooting
The RX100 VII achieves shutter speeds of up to 1/32000 sec., while the sensor's fast readout helps suppress the rolling-shutter effect that can occur when photographing quickly moving subjects. Silent shooting 12 is also possible.
Soft Skin Effect and other effects
The Soft Skin Effect reduces facial wrinkles and skin dullness, for better portraits. Creative Style and Picture Effect options let you make fine adjustments to capture distinctive images.
Serious movie-making features
High-resolution 4K HDR (HLG) recording and stable AF
The camera supports internal 4K (QFHD:3840×2160) movie recording 13 14 with full pixel readout and no pixel binning. Smooth, stable AF is the result of enhanced AF algorithms, and Real-time Tracking and Real-time Eye AF (human) are also now available for movies. With HLG (Hybrid Log-Gamma) capability you can enjoy HDR images simply by connecting the camera to an HDR (HLG) compatible Sony TV via a USB cable.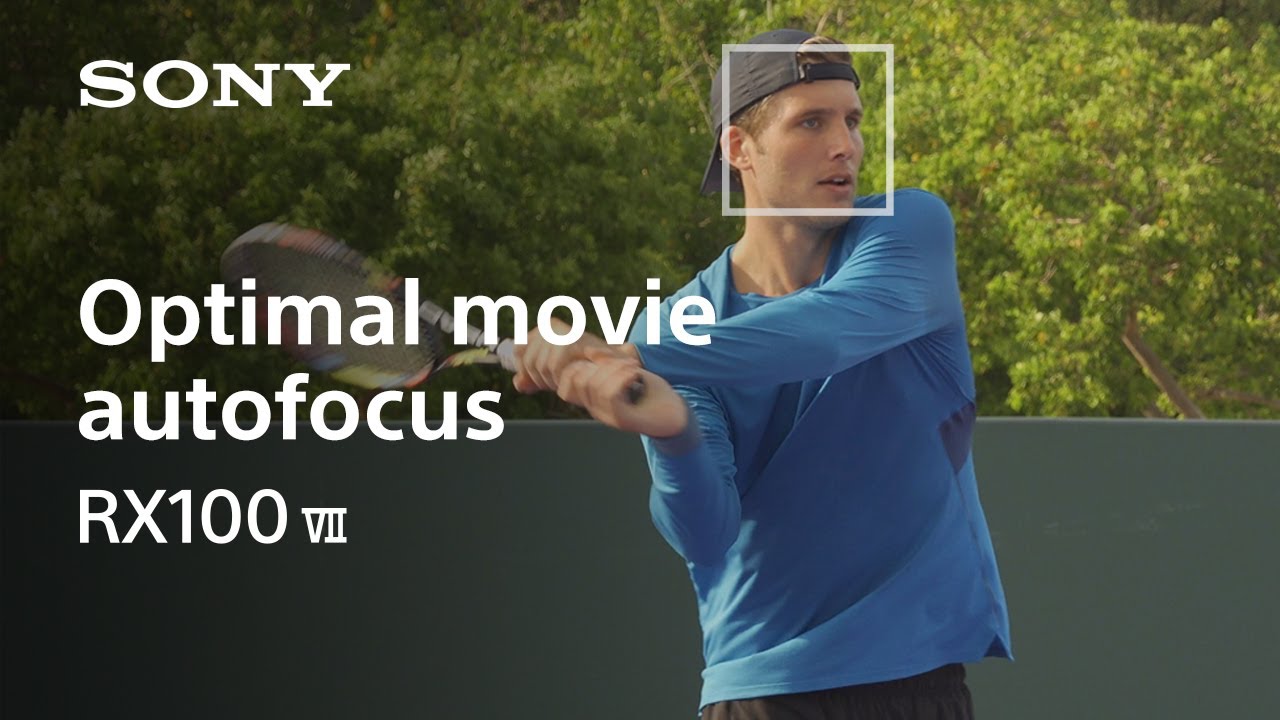 Advanced features for creators and vloggers
Step up your vlogging with the go-anywhere RX100 VII. New Touch Tracking for movies gives you fast, easy autofocus you can rely on, while Real-time Eye AF (human) ensures precise focus. Even when you're walking, image stabilization "Active" mode produces smooth 4K video and, with a tilting selfie screen and external mic input, both framing and audio are stress-free.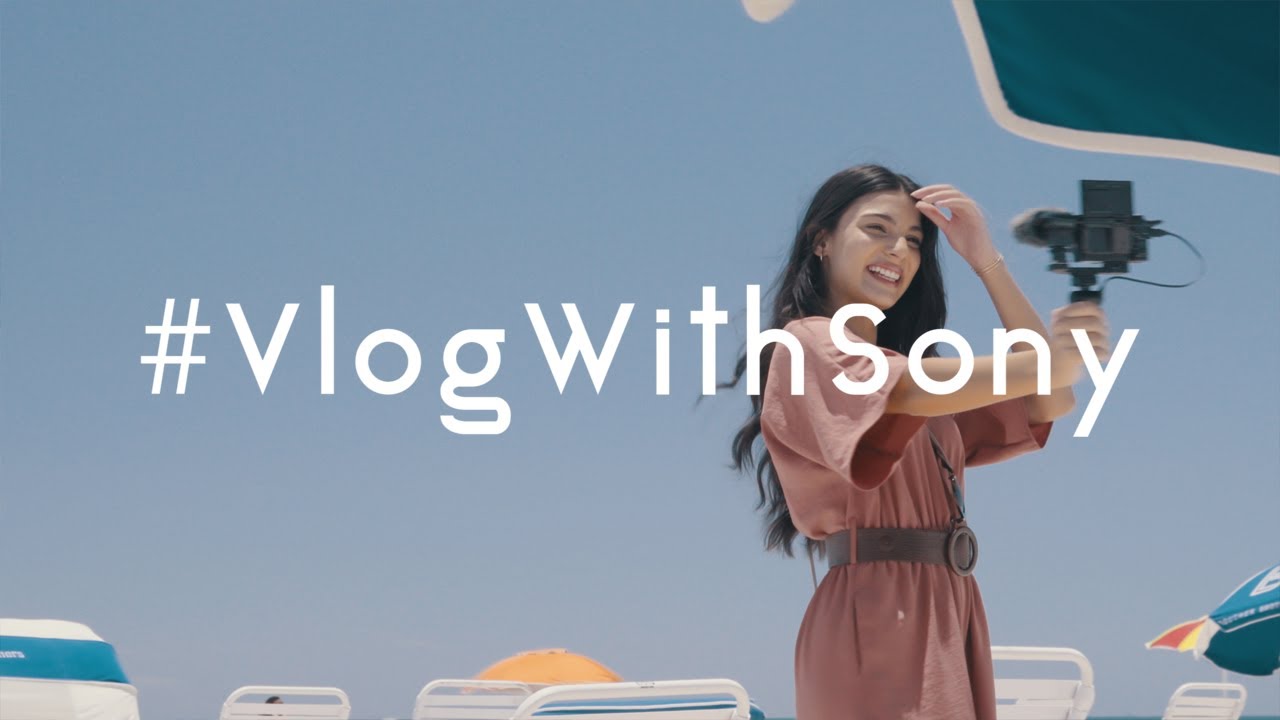 External mic input, for higher-quality sound
Despite its compact size, the RX100 VII includes a microphone input 15. Highly appreciated by vloggers and professionals alike, the standard 3.5-mm input enables professional audio capture for all your movies and vlogs.
Enhanced image stabilization during 4K movie recording
Capture smooth 4K video even while walking with newly supported "Active" mode image stabilization. And for even smoother, gimbal-like stabilization, 16 simple movie editing is available in the Imaging Edge™ Movie Edit add-on app 17.
Vertical movie recording with metadata, for smartphone viewing
Movies shot with the camera held vertically can now be viewed in the same orientation on PCs and smartphones thanks to metadata added by the camera. 18
S-Log support for enhanced creative expression
The RX100 VII supports S-Log3 and S-Log2 Picture Profiles. Whether you need high dynamic range and wide color space images for post-production or a unique look right out of the camera, the RX100 VII has you covered.
Interval Shooting for time-lapse movies
The Interval Shooting 19 function performs continuous shooting with a set interval of 1 to 60 seconds with AE tracking. The resulting time-lapse images can be previewed on the camera or assembled into a movie on your PC.
Easy operation sets your creativity free
One-push Access electronic viewfinder
The XGA OLED Tru-Finder™ has a resolution of approx. 2.35 million dots for bright, detailed and high-contrast viewing. It can be accessed quickly using the pop-up switch and retracted just as quickly when not in use.
Tiltable display monitor for convenient framing
The high-resolution, 921k-dot 3.0-type LCD monitor tilts upward by 180° and downward by around 90°, making it easy to frame selfie shots or shoot from high and low angles.
Touch operation for smooth shooting
Simply tap the screen to initiate Real-time Tracking for either stills or movies. Touch Focus, Touch Pad and Touch Shutter are also available.
Still images can be rated or protected from deletion in playback mode, with optional custom-key assignment for these functions. Continuously shot images can be displayed in the groups in which they were shot and groups can be deleted or protected with one operation.
Camera functions that are activated from the Fn buttons can now have separate assignments for still and movie shooting. Frequently used functions and menu items can be easily and comfortably accessed when they're assigned using the My Menu and My Dial features.
The Imaging Edge Webcam application makes it easy to use your Sony camera as a high-quality webcam, with wide compatibility, for impressive live-streaming and conferencing.
Designed with the environment in mind
Sony is committed not only to offering products, services and content that deliver exciting experiences but also to working towards our goal of a zero environmental footprint throughout our business activities.
Specifications
Camera
Aperture
iAuto (F2.8/F11 [W])/Program Auto (F2.8/F11 [W])/Manual (F2.8/F11 [W])/Shutter Priority (F2.8/F11 [W])/Aperture Priority (F2.8/F11 [W])
Continuous Shooting Speed (maximum) (with max. recording pixels)
[AUTO/Electronic Shutter] Continuous Shooting Hi: approx. 20fps, Continuous Shooting Mid: approx. 10fps, Continuous Shooting: approx. 5.0fps, Single Burst Shooting Hi: approx. 90fps, Single Burst Shooting Mid: approx. 60fps, Single Burst Shooting Low: approx. 30fps [Mechanical Shutter] Continuous Shooting Hi: -, Continuous Shooting Mid: approx. 10fps, Continuous Shooting: approx. 3.0fps
Creative Style
Standard, Vivid, Neutral, Clear, Deep, Light, Portrait, Landscape, Sunset, Night Scene, Autumn Leaves, Black & White, Sepia, Style Box
DRIVE MODES
Single, Continuous shooting, Single Burst Shooting, Self-timer, Self-timer(cont.), Cont.-bracketing, Single-bracketing, White balance bracketing, DRO bracketing
Dynamic Range Functions
Off, Dynamic Range Optimizer (Auto/Level 1–5), Auto High Dynamic Range (Auto Exposure Difference, Exposure difference Level (1.0–6.0EV, 1.0EV step)
EYE AF
[Still images] Human (Right/Left Eye Select)/Animal; [Movie] Human (Right/Left Eye Select)
Electronic Shutter
[Single Shooting] iAuto (4" — 1/32000)/Program Auto(30" — 1/32000)/Manual(30" — 1/32000)/Aperture Priority(30" — 1/32000)/Shutter Priority(30" — 1/32000);, [Continuous Shooting/Single Burst Shooting] 1/8 — 1/32000
Exposure Compensation
+/- 3.0EV, 1/3EV step
Focus Area
Wide (357 points [phase-detection AF], 425 points[contrast-detection AF]), Zone, Center, Flexible Spot (S/M/L), Expanded Flexible Spot, Tracking (Wide/Zone/Center/Flexible Spot[S/M/L]/Expanded Flexible Spot)
Focus Mode
Single-shot AF, Automatic AF, Continuous AF, DMF, Manual Focus
Focus Type
Fast Hybrid AF (phase-detection AF/contrast-detection AF)
INTERVAL REC
Yes (1–60 sec. interval, 1–9999 shots, AE lock/AE tracking(High/Mid/Low))
ISO Sensitivity (Movie)
Auto: (ISO100–ISO12800 Level, selectable with upper/lower limit), 100/125/160/200/250/320/400/500/640/800/1000/1250/1600/2000/2500/3200/4000/5000/6400/8000/10000/12800
ISO Sensitivity (Still Image)(Recommended Exposure Index)
Auto (ISO100-12800, selectable with upper/lower limit), 100/125/160/200/250/320/400/500/640/800/1000/1250/1600/2000/2500/3200/4000/5000/6400/8000/10000/12800 (extendable to ISO64/80), Multi-Frame NR:Auto (ISO100-12800), 100/200/400/800/1600/3200/6400/12800/25600
Image Control
Contrast, Saturation, Sharpness, Creative Style, Color Space (sRGB/Adobe RGB), Quality (RAW/RAW&JPEG [Extra fine, Fine, Standard]/JPEG [Extra fine, Fine, Standard])
Image Processing Engine
Yes (BIONZ X)
Light Metering Mode
Multi Pattern, Center-Weighted, Spot, Entire Screen Avg, Highlight
Noise Reduction
Long exposure NR: On/Off, available of shutter speeds longer than 1/3 sec., high ISO NR: Normal/Low/Off, Multi Frame NR: Auto, ISO 100–25600
Number of Recognized Scenes
[Still Image]: Superior Auto: 44 / iAuto: 33, [Movie]: 44
Angle of view (35mm format equivalent).
A Class 10 or higher SDHC/SDXC card is required for XAVC S format movie recording. UHS speed Class 3 or higher is required for 100 Mbps recording. 4K continuous recording is available for approx. 5 minutes (Auto Power OFF Temp. Standard), but can be extended (Auto Power OFF Temp. High)
Employing AI (artificial intelligence) technology, including machine learning
When using the electronic shutter with "Continuous shooting mode: Hi". Effective when the shutter speed is 1/60 or above.
Approximate effective megapixels
CIPA standard, internal measurement, at f=9.0mm (wide-end), EV6.6, Program Auto, Focus mode: AF-A, Focus area: Center.
Among fixed lens digital cameras with 1" (1.0-type) sensor. As of July 2019 press release, based on Sony research.
Real-time Eye AF for Animals supports still images only and cannot be used in combination with tracking. Does not work with some types of animal. Focusing may not perform well depending on scene and subject conditions.
Image compensation angle at wide-end (comparison with 4K standard mode).
Please use Movie Edit add-on mobile app latest version.
© 2019 Sony Electronics Inc. All rights reserved. Reproduction in whole or in part without written permission is prohibited. Sony is not responsible for typographical and photographic errors. Features and specifications are subject to change without notice. Sony, G Master, the Alpha logo and the Sony logo are trademark of Sony Corporation. All other trademarks are trademarks of their respective owners.