NEW
Alpha 9 III - Full-frame Mirrorless Interchangeable Lens Camera
Model: ILCE-9M3
Earn
6000 Sony Rewards Points
About This Item
Unprecedented imagery from the world's first1 camera with global shutter full-frame image sensor
Blackout-free, 120 fps continuous shooting with full AF/AE tracking
Preserve split-second moments with maximum shutter speed of 1/80,000 second4
Offers
Features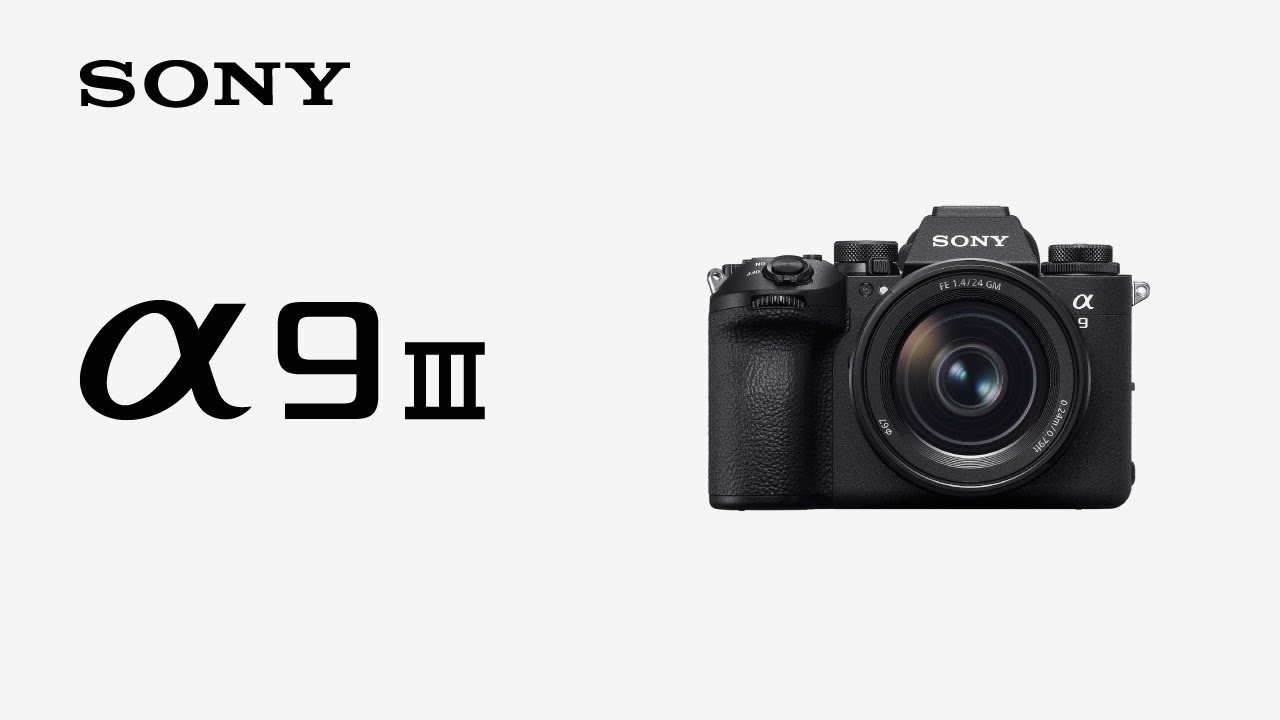 Featuring the world's first1 full-frame image sensor with a global shutter system, the Alpha 9 III is a game changer, capturing fast-moving subjects with absolutely no image distortion and preserving split-second moments in stunning detail.
Frequently Bought Together
Recently Viewed
Among interchangeable-lens digital cameras. As of the November 2023 product announcement. Sony survey.
Approximate, effective
Sony test conditions. Maximum continuous frame rate may be lower in some shooting conditions. Continuous shooting speed may vary depending on the lens used in AF-C focus modes. Visit Sony's support web page for lens compatibility information.
Maximum shutter speed is 1/16,000 second when F1.8 or larger aperture is used. 1/80,000 sec. speed not available when shooting movies, when using the Var. Shutter function, or when no lens is mounted.
Refer to the support page for information on flash units capable of synchronizing up to 1/80,000 second. https://www.sony.net/dics/ilce9m3/ See the Help Guide of the HVL-F60RM2 and HVL-F46RM for the relationship between GN and shutter speed.
Compared to the BIONZ X™ image processing engine. Sony tests
The latest version of the Imaging Edge Desktop™ applications is required for compositing. The lowest allowable shutter speed for Composite RAW is 1/30 second. The flash mode is fixed at Off and some functions such as Pre-Capture and Continuous Speed Shooting Boost are not available.
CIPA standards. Pitch/yaw shake only. FE 50mm F1.2 GM lens. Long exposure NR off.
See Sony's support web page for information on compatible lenses. https://www.sony.net/dics/fnc1002/ A software update may be required for some lenses. Stabilization may vary according to the lens used.
At shutter speeds of 1/160 second or higher. The exact number will depend on the shooting mode lens used.
The temperature of the camera can rise at high continuous shooting speeds. Pre-Capture may be stopped to protect the camera when the ambient temperature is high.
Pre-Capture time may be reduced in some conditions.
Continuous shooting may be interrupted when Continuous Shooting Speed Boost is used to switch from a low shooting speed to a shooting speed higher than 60 fps, or when switching from a high shooting speed to a shooting speed lower than 30 fps.
Available subject settings are: Human, Animal/Bird, Animal, Bird, Insect, Car/Train, and Airplane. Subject types other than the type specified may be erroneously recognized in some cases.
The number of points used varies according to the shooting mode.
Only 100 Hz and 120 Hz flicker is detected. Continuous shooting speed may decrease. Flicker-free shooting is not available during BULB exposure, Pre-Capture shooting or movie recording.
Recording frame rates are indicated as the closest integer values. The actual corresponding frame rates are as follows: 24p: 23.98 fps, 30p: 29.97 fps, 60p: 59.94 fps, and 120p: 119.88 fps.
Compatible lenses are listed at: https://support.d-imaging.sony.co.jp/support/ilc/breathing/en/ Angle of view and image quality may change slightly when this function is turned ON. Full compensation may not be possible with some lenses. This function is not available when shooting movies at 120p (100p), when using the S&Q mode at 120p (100p), or when shooting stills.
Dynamic active Mode reduces angle of view more than Active Mode. Clear Image Zoom is not available when shooting 4K movies using Dynamic active Mode.
Sony internal tests.
Only available for movies. Framing is cropped from 4K images, resulting in reduced angle of view.
Do not apply excessive force when opening or rotating the monitor.
50 mm lens, infinity, -1m-1 diopter
Distance from the last optical element, -1m-1 diopter (CIPA standard).
Diagonal angle of view fixed at 33° at 240 fps. UXGA resolution. Display quality cannot be selected when finder frame rate is set to 240 fps.
Not guaranteed to be 100% dust- and moisture-proof.
When using Imaging Edge Desktop. Please refer to each manual for other editing software
5 GHz communication may be restricted in some countries and regions
When Google service is available. Download app at Google Play and the App Store. Network services, content, and operating system and software subject to terms and conditions and may be changed, interrupted or discontinued at any time and may require fees, registration and credit card information.
QFHD (3840 x 2160)
Your PC or smartphone OS must be compatible with UVC/UAC to use this functionality. A commercially available USB cable and/or terminal adaptor may be used to connect to equipment with a USB Type-C® port.
Resolution is limited to 1280 x 720 when connecting via the USB Type-C® connector or Multi/Micro USB connector using a USB 2.0 cable.
Features and specifications are subject to change without prior notice.
© 2023 Sony Electronics Inc. All rights reserved. Reproduction in whole or in part without written permission is prohibited. Sony is not responsible for typographical and photographic errors. Features and specifications are subject to change without notice.
Sony, the Sony logo, the Alpha logo, Exmor R, BIONZ XR and S-Cinetone are trademarks of Sony Corporation. All other trademarks are trademarks of their respective owners.