ILCE-6600M
Alpha 6600 - APS-C Mirrorless Interchangeable Lens Camera and Lens Kit
Compact 24.2MP up to 11FPS with AF/AE, 4K HDR, 5-axis In-body Stabilization
Offers
Product highlights
World's fastest1 AF at 0.02 sec. w/ Real-time AF & object tracking
Up to 11fps continuous shooting3 at 24.2MP RAW w/ AF/AE tracking
Wide 425-phase/425-contrast detection AF points over 84% of sensor
24.2MP APS-C Exmor® sensor w/ front end LSI and ISO up to 102,400
4K movie2 w/ 2.4x oversampling, full pixel readout, no pixel binning
XAVC S video, HLG, S-log2&3, slow/quick frame rates9, 4:2:2 HDMI out
180-degree fully tiltable LCD touch screen for self-recording
Interval recording for time-lapse videos
Rugged magnesium alloy body w/ 200,000+ cycle shutter
Wi-Fi®/NFC™/QR code for easy file transfer and remote control5
Frequently Bought Together
SEL70350G
E 70–350 mm F4.5–6.3 G OSS
APS-Ce Telephoto Zoom G Lens with Optical SteadyShot
SEL1655G
E 16–55mm F2.8 G
APS-C Wide-angle Zoom G Lens
SEL18135
E 18-135mm F3.5-5.6 OSS
APS-C Telephoto Zoom Lens with Optical SteadyShot
SEL24F18Z
Sonnar E 24mm F1.8 ZA
APS-C Wide-angle Prime ZEISS Lens
Bundle Items
Alpha 6600 - APS-C Mirrorless Interchangeable Lens Camera and Lens Kit
Compact 24.2MP up to 11FPS with AF/AE, 4K HDR, 5-axis In-body Stabilization
$1,799.99
SF-G series TOUGH specification
$59.99
Power in your hands
Learn More about ILCE6600M/B
A full-fledged toolkit for your imagination
The α6600 packs in the features, to deliver what you need for just about any situation you encounter – fast AF, steady image stabilization and stunning image quality, a high-capacity battery and serious 4K HDR (HLG) movie shooting.
Ultra-fast AF and continuous shooting
Real-time Tracking and Real-time Eye AF
5-axis optical image stabilization
True-to-life 4K HDR (HLG) movie recording
Powerful, reliable, versatile
Ultra-fast AF and continuous shooting
Fast continuous shooting with AF/AE at up to 11fps
Shoot at up to 11 fps with minimal display lag, and 8 fps with live view, in bursts of up to 116 shots in JPEG (Standard) at one time. With your settings clearly previewed in the electronic viewfinder, and the virtually real-time display, it will elevate your action shooting to a whole new level.
Silent continuous shooting won't disturb the peace
When the situation calls for absolute quiet, silent shooting with no shutter noise is possible at up to 8 fps, even in AF-C mode. Used with Real-time Eye AF or with Real-time Tracking it dramatically expands your range of shooting options.
Initiate tracking in an instant
Initiate Real-time Tracking by half-pressing the shutter, or simply select the subject by touch, to start tracking. You can also assign "Tracking On" to a custom key, and press it to start tracking.
AI-based subject tracking
The camera's tracking systems rely on unique AI-based subject recognition algorithms. These process spatial information consisting of color, pattern (brightness), and distance (depth) data, as well as tracking the subject's eye and face, all in real time at high speeds. (1) Face [AI] (2) Eye [AI] (3) Color (4) Pattern (5) Distance (6) Subject recognition algorithm (AI)
Real-time Eye AF for human
Even when your portrait subject is on the move, Real-time Eye AF provides continuous, stable eye detection and tracking to keep your scene in focus. It also works when the subject's face is partially hidden, backlit, or facing downward.
Real-time Eye AF for animal
The same eye-detection algorithms that make great portraits of people have been adapted to animals as well, to help you get beautiful pet portraits and wildlife shots.
Right/left eye AF selection by touch
Not only can you prioritize the subject's left or right eye in settings, you can even do it with a simple touch to the camera's monitor screen.
Smooth focus transition
Depending on the condition of the subject you're tracking, the focus area will automatically and seamlessly switch between the subject's face and eyes.
Real-time Tracking activation with Touch Tracking
With the Touch Tracking function you can simply touch the monitor to initiate Real-time Tracking for either stills or movies.
5-axis optical image stabilization
Pitch and yaw control
Compensate for angular shake, also known as pitch and yaw shake, especially evident when shooting at longer focal lengths.
Horizontal and vertical axes
Compensate for camera shake in the horizontal and vertical directions, most apparent at high magnifications such as macro shooting.
Roll compensation
Compensate for roll, or rotational shake, most obvious in hand-held, long-duration movie shooting.
How optical image stabilization works
The 5-axis in-body optical image stabilization mechanism used on our acclaimed full-frame cameras has been adapted as the stabilization unit for the APS-C sensor on the α6600. Relying on a highly accurate gyro sensor, it detects and compensates for camera shake along five different axes, including angular (pitch and yaw), horizontal, vertical and rotational, for stabilization equivalent to a 5-step faster shutter setting.
High image quality by design
APS-C image sensor is optimized for highly efficient light collection, a wide sensitivity range and low-noise performance even at high ISO settings. In conjunction with the latest-generation BIONZ X image processing engine, it delivers superb image clarity and outstanding textural reproduction.
Low-noise performance for high ISO sensitivity
Across a wide sensitivity range of ISO 100–32000 (expanded to ISO 50–102400), the α6600 delivers excellent low-noise performance for high-quality images even in dimly lit settings.
Improved color reproduction
Algorithms inherited from our highly regarded full-frame cameras are responsible for the α6600's faithful color reproduction. Depiction of human skin tones has been significantly improved, as have the vibrant colors of flowers. Jaggies and false colors are also suppressed.
True-to-life 4K HDR (HLG) movie recording
Versatile movie-making capabilities
Full-pixel readout with no pixel binning enables high-resolution 4K movie recording, while a new HLG (Hybrid Log-Gamma) picture profile supports instant HDR delivery. Sophisticated image stabilization completes the picture.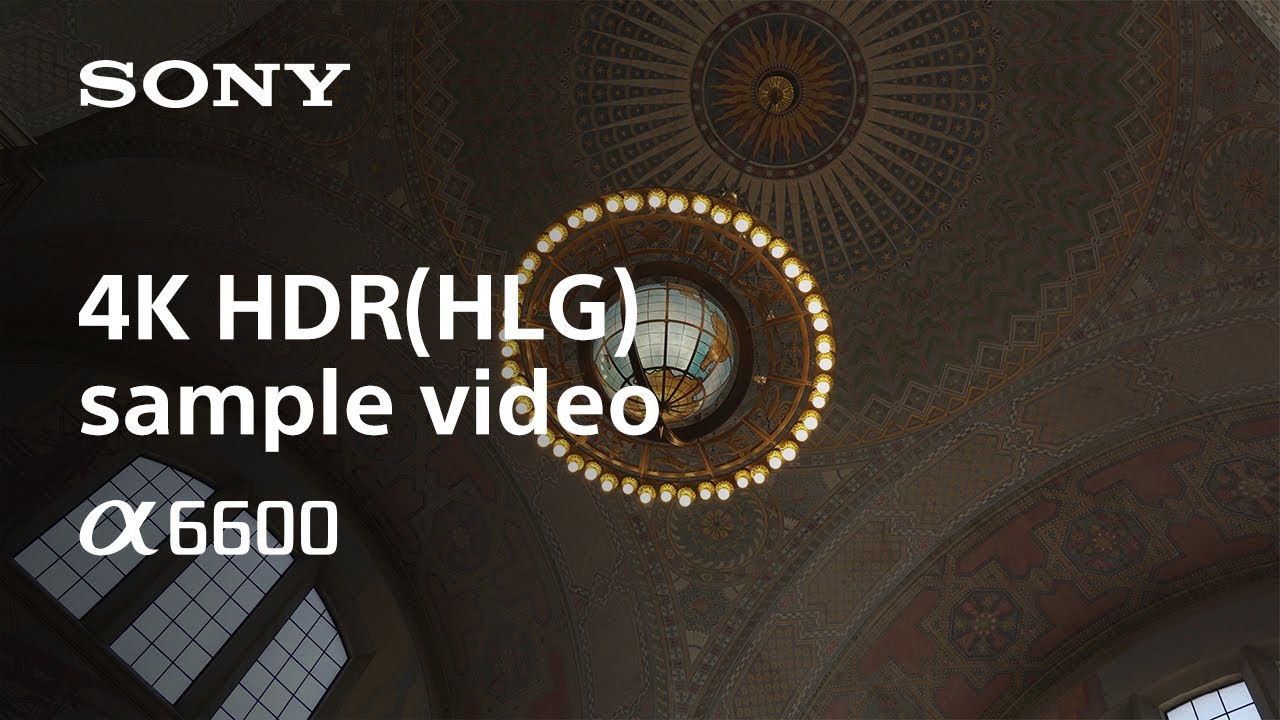 Keep the focus on your subject
Working together, the camera's Fast Hybrid AF system, Real-time Tracking and Real-time Eye AF maintain steady and dependable focus on your subject, so you can enjoy the more creative aspects of movie-making.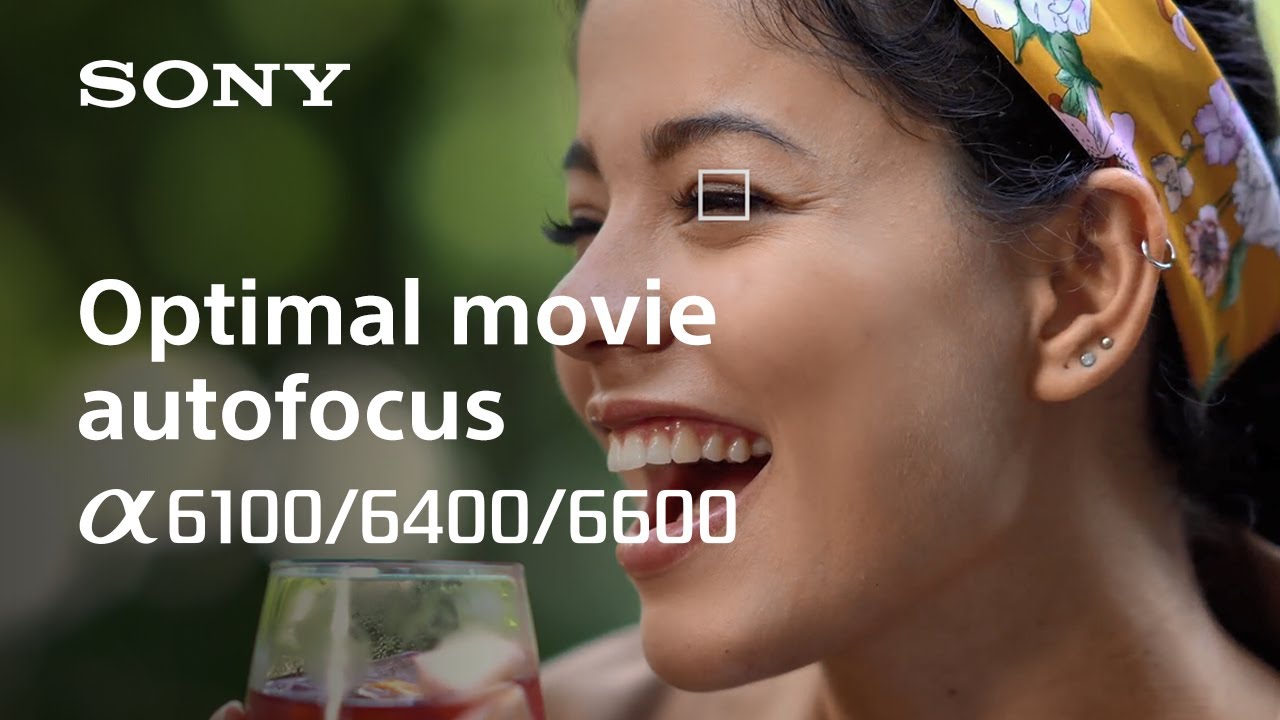 Interval Shooting to create time-lapse movies
The camera's capabilities include built-in Interval Shooting, for time-lapse videos with a selectable shot interval of 1–60 seconds. Resulting images can be combined in high resolution on a PC, and viewed with a simple variable-speed preview function on the camera.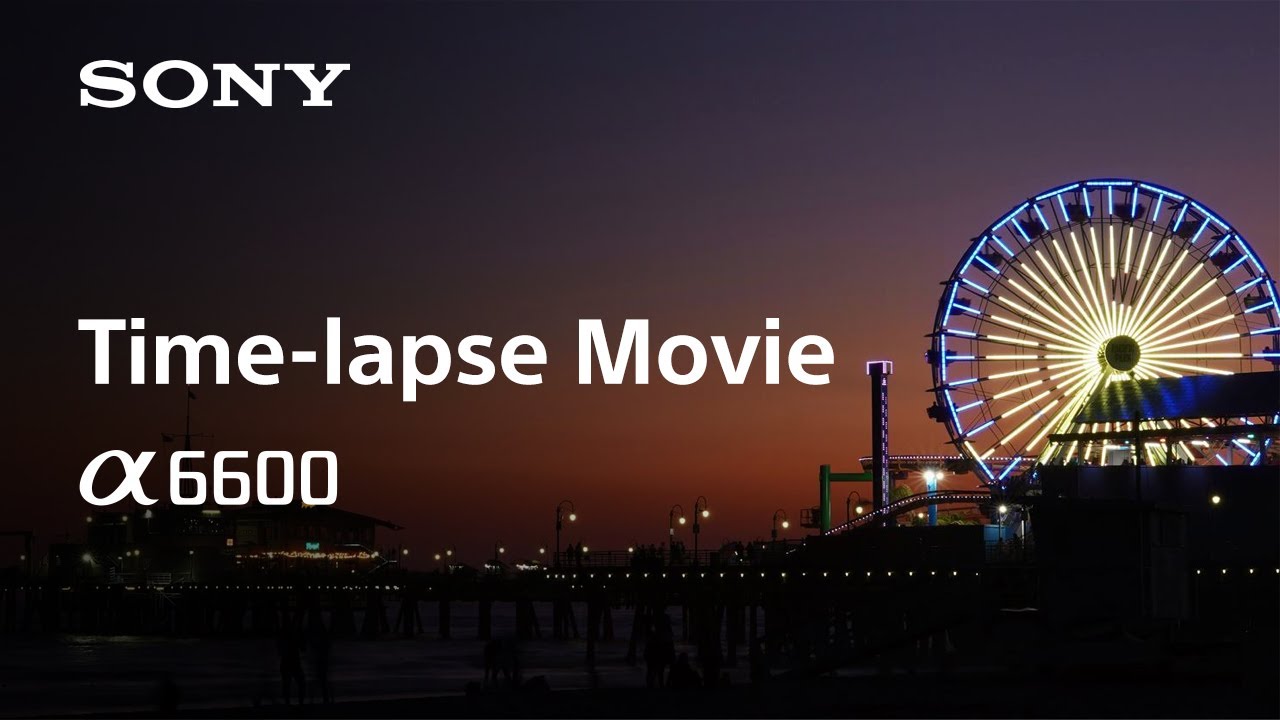 S-Log shooting support
The S-Log3 and S-Log2 Gamma curves feature wide dynamic range (up to 1,300% of Rec. 709) to minimize whiteout and blackout and allow a wider scope for color grading in post-production
Slow & Quick Motion recording
You can record movies in slow motion (up to 5x) and quick motion (up to 60x) directly in the camera, or use 120fps Full HD video to create high-quality slow-motion footage in post-production
Extend your reach with external touch operations
Convenient touch operations such as Touch Focus and Touch Tracking, that are available on the α6600's monitor, can still be accessed even when external monitors are connected to the camera.
Tell your stories in your own way
The α6600 is designed for powerful film-making, so pros and enthusiasts alike can share their stories with the world. The 180°-tiltable display makes self-framing easy for vlogging or challenging shooting angles. Professional audio is also covered with an external mic jack and headphone jack for monitoring. And the improved grip ensures rock-solid, comfortable shooting for hours at a time.
Powerful, reliable, versatile
High-capacity Z battery supports long-duration shooting
To support longer shooting sessions, the α6600 comes equipped with the same high-capacity battery introduced with many of our full-frame cameras, while maintaining the camera's slim form.
Dust- and moisture-resistant magnesium-alloy body
The camera is resistant to dust and moisture, with a top cover, front cover, internal frame, and rear cover constructed from a lightweight but sturdy magnesium alloy.
Customization features
The camera's 11 buttons can each be assigned to one of 91 different functions, and functions can also be assigned to the control dial and wheel. My Menu lets you register 30 different menu items.
High-contrast OLED viewfinder
Imaging Edge™ Remote, Viewer, and Edit
Elevate your photography with Imaging Edge desktop applications. Use "Remote" to control and monitor shooting live on your PC screen "Viewer" to quickly preview, rate, and select photos from large image libraries and "Edit" to develop RAW data into high-quality photos for delivery. Get the best from Sony RAW files, and manage your productions more efficiently
Imaging Edge™ Webcam
The Imaging Edge Webcam application makes it easy to use your Sony camera as a high-quality webcam, with wide compatibility, for impressive live-streaming and conferencing.
Specifications
Drive
Self-timer
10 sec delay/5 sec delay/2 sec delay/Continuous self-timer (3 frames after 10 sec delay/5 frames after 10 sec delay/3 frames after 5 sec delay/5 frames after 5 sec delay/3 frames after 2 sec delay/5 frames after 2 sec delay)/Bracketing self-timer (Off/2 sec delay/5 sec delay/10sec delay)
Continuous Drive Speed (approx. max.)
Continuous shooting: Hi+: 11 fps, Hi: 8 fps, Mid: 6 fps, Lo: 3 fps
DRIVE MODES
Single Shooting, Continuous shooting (Hi+/Hi/Mid/Lo selectable), Self-timer, Self-timer (Cont.), Bracket: Single, Bracket: Cont., White Balance bracket, DRO bracket
No. of recordable frames (approx.)
JPEG Extra fine L: 99 frames, JPEG Fine L: 115 frames, JPEG Standard L: 116 frames, RAW: 46 frames, RAW & JPEG: 44 frames
Pixel Shift Multi Shooting
-
Exposure
Exposure Compensation
+/- 5.0 EV (1/3 EV, 1/2 EV steps selectable)
AE Lock
Locked when shutter button is pressed halfway. Available with AE lock button. (On/Off/Auto)
Exposure Bracketing
Bracket: Cont., Bracket: Single, 3/5/9 frames selectable. With 3 or 5 frames, in 1/3, 1/2, 2/3, 1.0, 2.0, or 3.0 EV increments, with 9 frames, in 1/3, 1/2, 2/3, or 1.0 EV increments.
EXPOSURE MODES
AUTO (iAuto), Programmed AE (P), Aperture priority (A), Shutter-speed priority (S), Manual (M), Movie (Programmed AE (P) / Aperture priority (A) / Shutter-speed priority (S) / Manual (M) ), Slow & Quick Motion (Programmed AE (P) / Aperture priority (A) / Shutter-speed priority (S) / Manual (M) ), Scene Selection
ISO Sensitivity (Recommended Exposure Index)
Still images: ISO 100-32000 ((ISO numbers up from ISO 50 to ISO 102400 can be set as expanded ISO range.), AUTO (ISO 100-6400, selectable lower limit and upper limit) Movies: ISO 100-32000 equivalent, AUTO (ISO 100-6400, selectable lower limit and upper limit)
Metering Mode
Multi-segment, Center-weighted, Spot, Spot Standard/Large, Entire Screen Avg., Highlight
METERING SENSITIVITY
EV-2 to EV20 (at ISO100 equivalent with F2.0 lens attached)
Metering Sensor
Exmor® CMOS sensor
Metering Type
1200-zone evaluative metering
Scene Selection
Portrait, Sports Action, Macro, Landscape, Sunset, Night Scene, Hand-held Twilight, Night Portrait, Anti Motion Blur
Flash Control
External Flash Compatibility
Sony α System Flash compatible with Multi Interface Shoe, attach the shoe adapter for flash compatible with Auto-lock accessory shoe