BUNDLE SAVINGS
Alpha 6700 – APS-C Interchangeable Lens Hybrid Camera with SELP18135 Kit
Model: ILCE-6700M
Earn
1800 Sony Rewards Points
About This Item
26.0MP1 APS-C format Exmor R™ back-illuminated CMOS sensor
BIONZ XR™ processing power for exceptional image quality
Dedicated AI Processor and Real-time Recognition for accurate subject tracking
Offers
Features
Next generation creativity on the go
The α6700 combines the latest AI technology with Sony's outstanding α-series image quality in a compact APS-C camera body. Offering enhanced subject recognition, the latest technology for capturing stills and movies, and E-mount lens compatibility, the lightweight α6700 is designed for creative adventures, anytime, anywhere.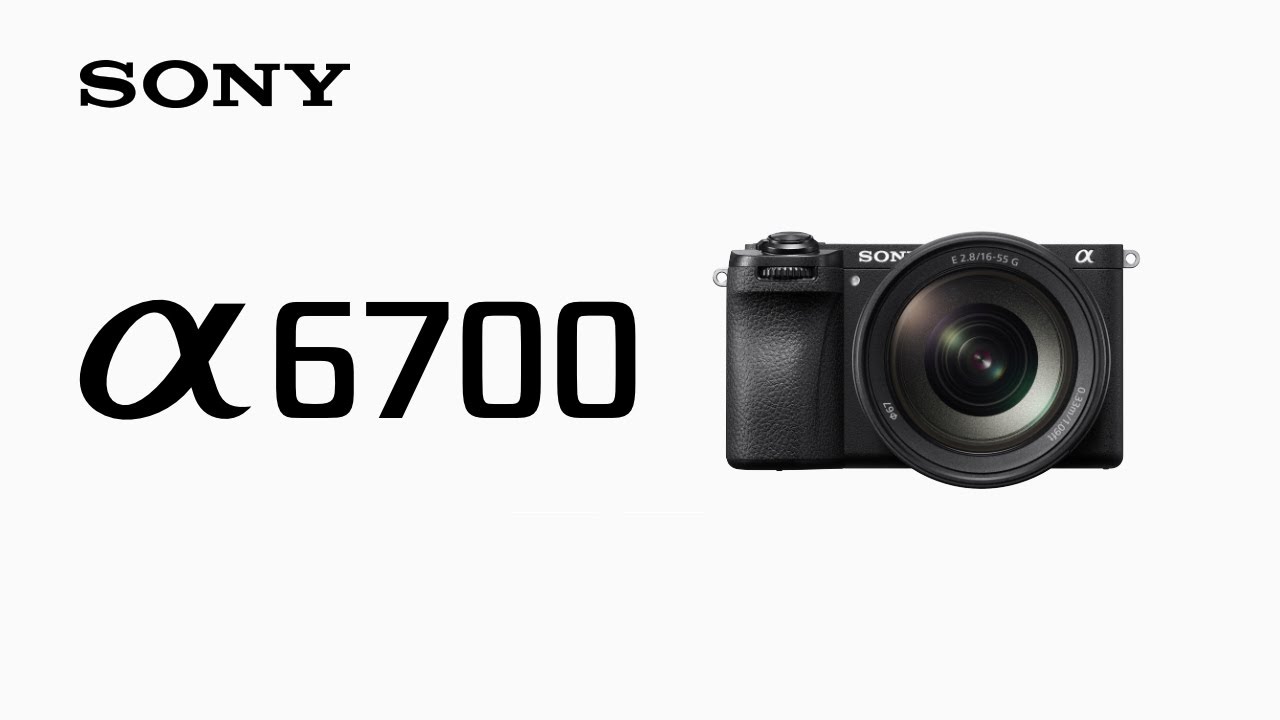 Movie performance inherited from the Cinema Line
Outstanding control and reliability
Frequently Bought Together
Approximate, effective
Compared to the BIONZ X image processing engine in the α6600. Sony tests.
Expandable to ISO 50 - 102400 for stills.
Based on CIPA standard. Pitch/yaw shake only. With FE 50mm F1.2 GM lens mounted. Long-exposure Noise Reduction off.
The latest version of Imaging Edge Desktop (Remote/Viewer/Edit) is required to view and edit HEIF images.
All specified subjects may not be accurately recognized in all conditions. Subject types other than the type specified may be erroneously recognized in some cases.
Sony internal tests
[Tracking] in the menu. Based on advanced artificial intelligence, including machine learning.
Camera operation depends on focus area settings and touch operation. Accurate focus may not be achieved in some situations.
The number of distance measuring points when shooting stills. The number of points used depends on the selected shooting mode.
JPEG FINE format, continuous Hi+ mode. Actual number of images may vary according to shooting conditions.
Not applicable to the E PZ 16-50mm F3.5-5.6 OSS and E 18-200mm F3.5-6.3 OSS LE lenses or any A-mount lens. Full-time DMF is not available when shooting continuously in AF-C or AF-A mode (not including Lo), or when using the FE 70-200mm F2.8 GM II OSS lens in AF-C mode.
A-mount lenses not supported.
Only 100 Hz and 120 Hz flicker are detected. Continuous shooting speed may decrease. Phase-detection AF coverage is reduced. Flicker-free shooting is not available during silent shooting, BULB exposure, or movie recording.
Recording frame rates are indicated as the closest integer values. The actual corresponding frame rates are as follows: 24p: 23.98 fps, 30p: 29.97 fps, 60p: 59.94 fps, and 120p: 119.88 fps.
QFHD (3840 x 2160) with approx. 38 % image crop.
Audio recording not available in the S&Q mode.
S-Log3 movies. Sony internal tests.
When subject recognition is ON during AF shooting. Face, eye, etc. recognition status can be monitored when subject recognition frame display is ON. Accurate focus may not be achieved in some situations.
Slight image crop in Active Mode. "Standard" setting recommended for focal lengths of 200 mm or longer.
Active Mode is not available when recording at frame rates of 120 (100) fps or higher, including S&Q.
Compatible lenses are listed at: https://support.d-imaging.sony.co.jp/support/ilc/breathing/en/ Angle of view and image quality may change slightly when this function is turned ON. Full compensation may not be possible with some lenses. This function is not available when shooting movies at 120p, when using the S&Q mode at 120p, or when shooting stills.
Additional focus breathing compensation is available in post-production using the advanced breathing compensation capabilities of the latest Catalyst Browse/Prepare software application, processing metadata provided by the camera.
Only available for movies. Framing is cropped from 4K images, resulting in a reduced angle of view.
With 50mm lens at infinity, -1m-¹. 35mm camera equivalent: Approx. 0.70x.
Download app at Google Play and the App Store. Network services, content, and operating system and software subject to terms and conditions and may be changed, interrupted or discontinued at any time and may require fees, registration and credit card information.Check regional availability of services and applications via the URL https://www.sony.net/cca/
Transfer may be interrupted when a different app is launched on some operating systems.
When streaming via USB, maximum image resolution is 3840 x 2160 and maximum frame rate is 30 fps. The OS of the computer or smartphone used must be compatible with UVC/UAC. Use the most up-to-date OS available for your device. A commercially available USB cable and/or terminal adaptor may be used to connect to equipment with a USB Type-C port. When connected via USB 2.0, maximum image resolution is HD (720p) and maximum frame rate is 30p.
5 GHz communication may be restricted in some countries and regions.
Not guaranteed to be 100% dust- and moisture-proof.
Shooting time will vary according to conditions. Use the [Interval Timer] function to shoots sequences at long intervals (e.g. 10 minutes or more). Maximum exposure interval is 6 seconds when shooting 4K.
Maximum exposure interval is 6 seconds when shooting 4K.
The Focus Map function cannot be used in the following conditions: When the Focus Magnifier function is in use, when using digital zoom, during USB streaming, when no lens is mounted, when an A-mount lens is mounted, or when a lens that is not compatible with focal plane phase-detection AF is in use.
Not including materials used in coatings and adhesives.
Not including materials used in coatings and adhesives. Natural non-woven fabric may not be available during some production periods.
Features and specifications are subject to change without prior notice.
Number of effective pixels varies depending on attached lenses and camera settings.
When using accessories that support 4ch output / 24 bits with the Multi Interface Shoe.
Anti-flicker Shooting is not available when the [Shutter Type] setting is set to [Electronic Shutter].
With compatible Sony external flash
Varies according to shooting conditions or memory card used
Supports Micro USB compatible device.
(Configuration method/Access method) WPS or manually /infrastructure mode. When connecting to smartphones, the camera can always work as a base without a wireless access point. (Security: WEP/WPA-PSK/WPA2-PSK/WPA3-SAE)
Models sold in some countries/regions support IEEE 802.11b/g/n (2.4GHz) wireless LAN only.
Sony accessories for the Accessory Shoe can be attached.
When [Resolution] is set to [HD(720p)], [MJPEG] is only available.
The LCD screen is turned on, shot once every 30 seconds, operate zoom alternately between W and T ends, flash strobe once every two times, turn power off and on once every ten times.
Indication recording time, which is defined by repeating the cycle: Power on, start recording, zoom , stand-by and power off.
© 2023 Sony Electronics Inc. All rights reserved. Reproduction in whole or in part without written permission is prohibited. Sony is not responsible for typographical and photographic errors. Features and specifications are subject to change without notice.
Sony, the Sony logo, the Alpha logo, Exmor and BIONZ X are trademarks of Sony Corporation. All other trademarks are trademarks of their respective owners.