ERS-1000/H
aibo Black Sesame Edition
Offers
Item is no longer available
Product highlights
Limited edition litter of Black Sesame color aibo .
Comes with four new eye colors exclusive to this edition.
Develops its own unique evolving personality through everyday interactions.
Stay connected with your aibo wherever you go with the "My aibo" app1,2.
Artificial intelligence powered by the aibo AI Cloud Plan2.
The aibone3, dice3 and pink ball accessories spice up playtime with aibo.
This product is not for sale or use in Baltimore, Maryland or the State of Illinois, and may not be shipped to purchasers in Baltimore, Maryland or Illinois.
Residents of Illinois and Baltimore, Maryland* may use the My aibo App as non-registered users, but the aibo Product and related Services are not available for sale or use in Illinois or Baltimore, Maryland.
* Baltimore zip codes: 21215, 21218, 21230, 21217, 21225, 21201, 21213, 21216, 21202, 21223, 21211, 21231, 21214, 21205, 21226, 21203, 21281, 21270, 21297, 21264, 21265, 21233, 21273, 21274, 21275, 21278, 21279, 21280, 21251, 21283, 21287, 21288, 21289, 21290, 21263, 21298

aibo is sold as a FINAL SALE – NO RETURN

aibo User Agreement: us.aibo.com/terms/pdf/terms-ai.pdf
Visit the aibo homepage: www.sony.com/aibo
Frequently Bought Together
The ERS1000 is the latest iteration of Sony's robotic puppy. This one-of-a-kind companion is made possible by pairing cutting-edge robotics with unique A.I. technology. Through deep learning, aibo is able to grow over time and form a unique personality through everyday interactions. With lifelike expressions and a dynamic array of movements, aibo is sure to become a beloved member of your family.
Watch - a day in the life of aibo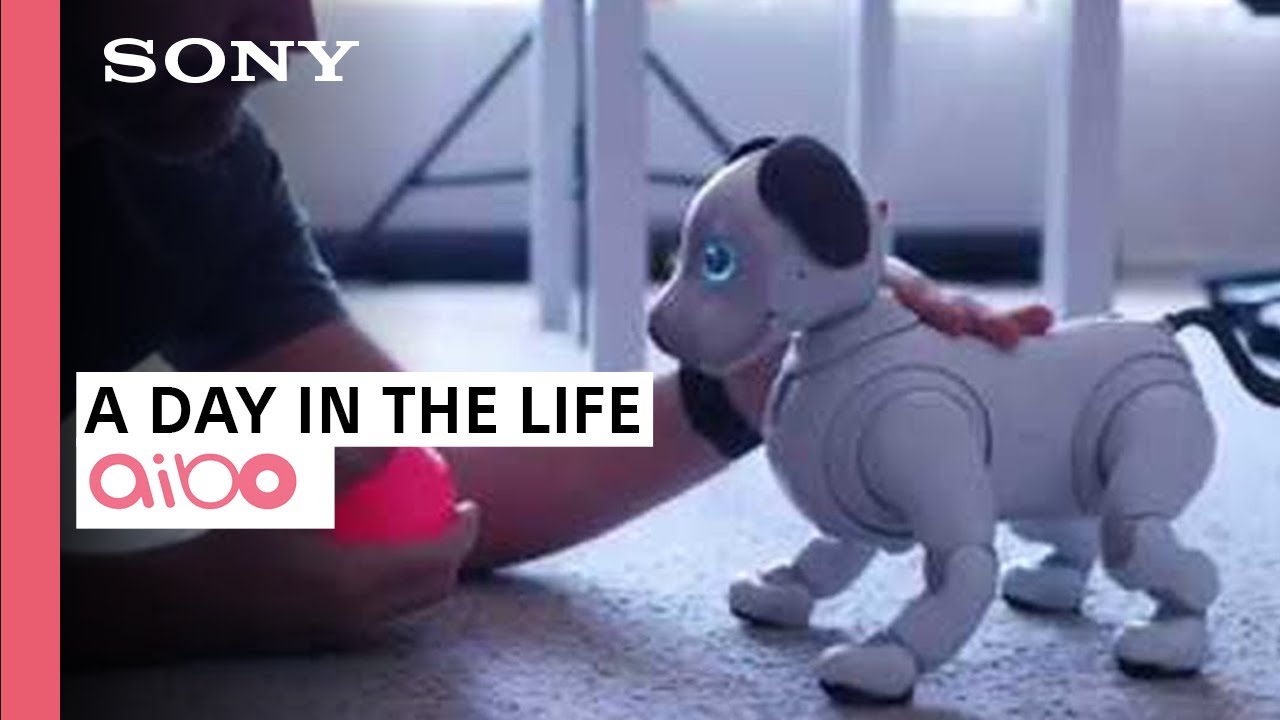 Want to learn all the benefits of what life with aibo is like?
Visit the official aibo website to learn more!
Learn more about aibo and how it works. Hear stories from current aibo owners on their experience with aibo. Get involved with aibo events, contests and more.
aibo's personality develops over time
From day one, aibo grows and changes, constantly updating its data in the cloud. Over time, your approach to nurturing your aibo will gradually shape its personality—it could be a doting partner, a wild, fun-loving companion, or anywhere in between. A keen explorer, aibo will learn its surroundings, knowing where to greet you when you get home and can be trained on where to go "potty."
With the aibo AI Cloud Plan, you get the essentials of the whole experience: name your aibo, watch your aibo grow, and communicate with your aibo via a special app.
Being with people is what aibo loves most
Not content with merely waiting around to be called, aibo will actively seek out its owners. Boasting the ability to learn and recognize faces, aibo develops a familiarity with different individuals over time. You can interact with aibo through a compliment or command that aibo will hear or a well-placed pat on the head, a scratch on the chin, or a gentle stroke down the back aibo that aibo will feel.
Things you can do with aibo
aibo has the ability to learn new things over time. Teach aibo tricks like sit, high five, or lay down, or have your pup perform special tricks like doing a song and dance.
Potty train your aibo to pee in a certain location, or teach aibo to wait for you at the door when you return from work. Have fun feeding aibo.
Give aibo virtual food through the My aibo app and watch as aibo digs in. You can also become friends with other aibos and enjoy virtual mealtime together.
Download the My aibo app1
Take your aibo experience to the next level with the "My aibo" app. In addition to accessing system settings, owner information and aibo's customization, a handy interface lets you check out your aibo's pictures, play with your aibo, and add "tricks" to its repertoire.