XR-75X90J
BRAVIA XR X90J 4K HDR Full Array LED with Smart Google TV (2021)
Offers
Special pricing in cart
Enjoy movies included with BRAVIA XR TVs2
5 credits redeem on latest release movies

12 months unlimited streaming of top movies
Product highlights
COGNITIVE PROCESSOR XR™ – Revolutionary TV processing technology that understands how humans see and hear to deliver intense contrast with deep blacks, high peak brightness, and natural colors.
XR TRILUMINOS PRO™ - Rediscover everything you watch with billions of accurate colors and see impressive picture quality that is natural and beautiful to the human eye.
FULL ARRAY LED & XR CONTRAST BOOSTER 5 – Precisely controlled backlighting brings out real-life depth and detail with deep blacks and high peak brightness.
GOOGLE TV™ – See 700,000+ movies and TV episodes, plus live TV, all in one place. Google TV brings your favorite content from across your apps and subscriptions and organizes them just for you. Watch content from Netflix, Amazon Prime Video, Disney+, YouTube, the Apple TV app, and many more.2
BRAVIA CORE™ – Bring the cinematic experience home. Enjoy streaming high-quality movies included with BRAVIA CORE™, exclusively on select Sony TVs.3
PERFECT FOR PLAYSTATION® 5 - Get the most out of your gaming with BRAVIA XR TVs featuring exclusive features for the PS5 console along with 4K/120fps5 as specified in HDMI 2.1 and input lag as low as 8.5ms.13
XR MOTION CLARITY™ – Intelligent motion processing for fast-moving, blur-free sports and action-packed movies.
XR 4K UPSCALING – Enjoy all your HD content in close to 4K resolution and bring back lost texture and detail with intelligent TV processing.5
ACOUSTIC MULTI-AUDIO – In addition to traditional TV speakers, two sound positioning tweeters on the sides of the TV elevate the soundstage, enabling sound to follow the action for a truly immersive experience.
DOLBY VISION7, IMAX ENHANCED8, NETFLIX CALIBRATED MODE9 – Enjoy immersive and engaging cinematic content as the creator intended.
GOOGLE ASSISTANT – Use your voice to easily find your favorite movies, shows, and music. Get answers on screen, control smart home devices, and more.2
APPLE AIRPLAY – Works with AirPlay 2 to easily stream content from your Apple device.10
ULTRA-SLIM WALL MOUNT COMPATIBLE – Hang your TV like a work of art with the optional SU-WL855 ultra-slim wall-mount bracket available for the 55" class, 65" class, and 75" class X90J series TVs.12
Explore the world with precise 4K HDR pictures
See how real your entertainment becomes when you pair the extreme contrast of a Full Array LED panel with the power of our revolutionary Cognitive Processor XR™.
Discover the X90J with an expert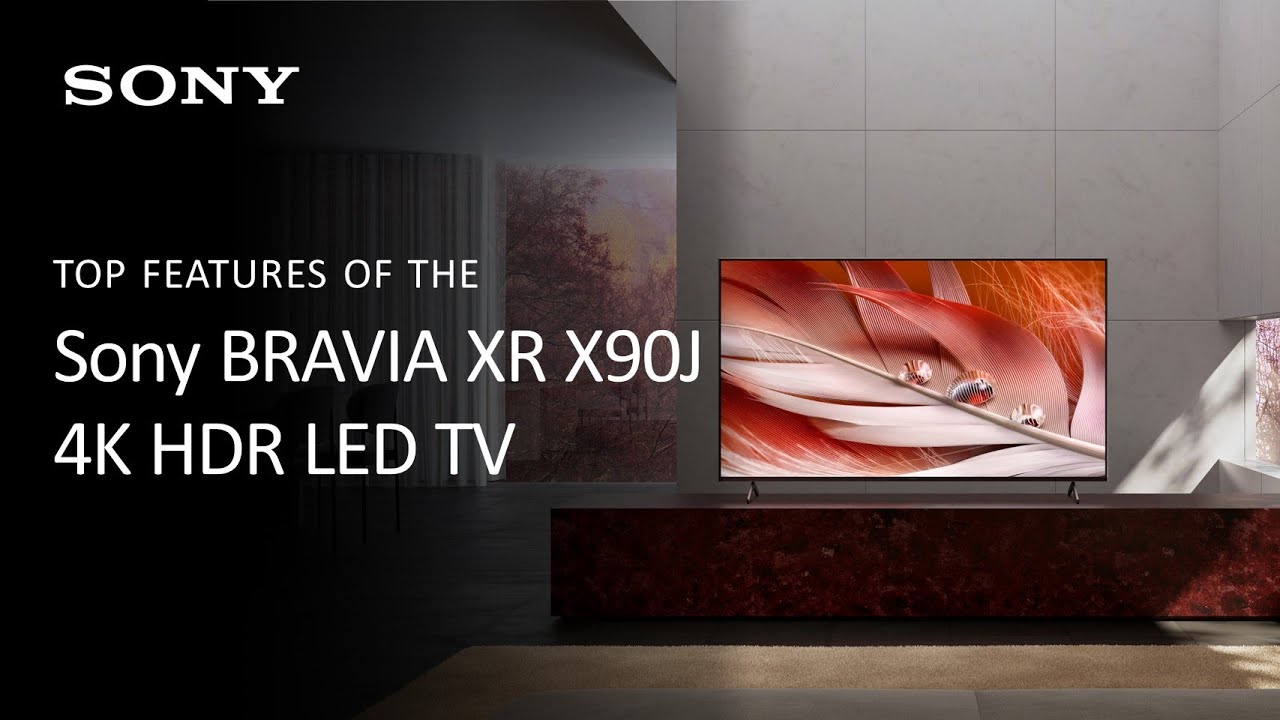 "One of the best mid-range 4K TVs money can buy in 2021."
Tech Radar
World's first cognitive intelligence TVs 1
Our BRAVIA XR™ TV takes vision and sound to the next level with the ingenious Cognitive Processor XR. It understands how humans see and hear, providing a whole new experience that immerses you completely in the scene.
Precise 4K picture, as perceived by the human eye
Enjoy picture quality that feels deep, natural and real. Our revolutionary processor uses human perspective analysis to cross-analyze and optimize hundreds of thousands of elements in the blink of an eye. Combined with our Full Array LED panel, this technology creates ultra-realistic picture quality full of lifelike contrast.
Turn any sound into a truly immersive experience
Advanced speaker technology with our Cognitive Processor XR turns any sound source into an immersive sound experience. Hear sound more clearly and accurately—whatever you're watching. Enjoy your entertainment in a whole new way, with sound and picture in perfect harmony.
The entertainment you love. With help from Google.
See 700,000+ movies and TV episodes, plus live TV, all in one place. Google TV™ brings your favorite content from across your apps and subscriptions and organizes them just for you. Searching is easy – just ask Google. Press the Google Assistant button on your remote and try saying "find action movies" to search across your favorite apps.2
Watch what you love. Control it with your voice
Your TV is now more helpful than ever. Use your voice to easily find your favorite movies, shows and music. Ask Google to find a specific title, search by genre, or get personalized recommendations on what to watch by saying, "what should I watch?" Even get answers on screen, control smart home devices and more. Just press the Google Assistant button on the remote to get started. 2
Bring the theater experience home, enjoy movies included with BRAVIA XR3
Five Movies to redeem, 12 Months unlimited streaming.* Terms and conditions apply.
Our BRAVIA XR TVs are not only designed to be stylish but also with the environment in mind. Up to 30% of sustainable material is used in the frame of this TV and our unique recyclable plastic SORPLAS™ with an industry-leading recycle rate of 89% is used in its components.
A wide palette of naturally beautiful colors
See colors that are natural and beautiful to the human eye. The Cognitive Processor XR enables our unique display to access a wider palette and reproduce each color with the subtle differences seen in the real world. With extended hue and saturation, vivid shades, and realistic texture can be seen in the flowers. Even pale colors look realistic.
Real life depth with deep blacks and intense brightness
Feel breathtaking contrast, just as in real life. Our Cognitive Processor XR cross-analyzes data, enhancing picture quality in the same way that the human eye focuses for real life color and depth. With XR Contrast Booster, bright areas are brighter and dark areas darker—no more details overwhelmed by shadow or lost in blown-out highlights.
Recreating lost texture, the intelligent way
Whatever the content or source, you'll enjoy entertainment close to 4K resolution with XR 4K Upscaling. Our Cognitive Processor XR accesses a vast amount of data, intelligently recreating lost textures and detail for real-world pictures. See details such as naturally defined animal fur and sharply outlined rock.
Intelligent motion processing for fast-moving, blur-free scenes
Watching sports and fast-moving movies just got a whole lot better. Our Cognitive Processor XR with XR Motion Clarity™ cross-analyzes data to ensure action stays smooth, bright, and clear.
The screen is the speaker, sound perfectly matches action
For an audio experience that matches how we sense the world, XR Sound Position brings you the reality of sound behind the picture. With sound-positioning tweeters on this BRAVIA XR Full Array LED TV, sound matches precisely with what's on the screen for a truly immersive experience.
All your entertainment upscaled to 3D surround sound
With BRAVIA XR, everything you watch gets the true surround-sound treatment. XR Surround creates surround sound from the sides and vertically so you can experience 3D audio without the need for in-ceiling or up-firing speakers.
Voice Zoom™ 2 enhances voices for clearer dialog
Hear TV dialog more clearly without turning up the volume. Even if speech is difficult to hear, Voice Zoom 2 detects the type of voice, analyzes it and enhances its clarity.
Control your compatible smart home devices using your voice. Adjust room temperature, lighting, and more – just ask Google.2
Supersize your smartphone favorites
Quickly and easily enjoy your favorite videos, photos, games, and more from your iOS or Android devices on the big screen. 2 11
Enjoy video chat with friends and family on the big screen
Catch up with your friends and family, on the big screen by connecting your TV to a camera. Compatible cameras are available from Sony, Logitech and more.14
Control all your devices with one smart remote
All your connected devices can be controlled with our smart commander. One-button access to video-on-demand services brings shows and movies into your room in seconds.
Beautiful minimalist design that maximizes entertainment
Our minimalist design maximizes the screen and minimizes the bezel so you stay focused on what's important—the picture. It's a TV designed for immersive sound too, whether positioned on a stand or mounted on a wall.
Actual look may differ depending on TV size.
Flush Surface for more immersive viewing
As the bezel is extremely narrow, your eyes naturally focus on the picture, not what's around it.
Slim Blade Stand, luxurious look and feel
Our slimline stand has been designed to perfectly match the TV and harmonize with your room and decor.
Supreme picture quality and sound, whatever the environment
Sit back and enjoy an enthralling viewing experience. Our unique ambient optimization technology with light sensor automatically adjusts picture and sound to your environment.
Enjoy studio-quality entertainment, as the creator intended
With a range of technologies that preserve the creator's intent, including Netflix Calibrated Mode, IMAX Enhanced and Dolby Vision®, this TV reproduces all the drama and excitement of the director's imagination. And as it's Calman Ready, creators can even use it during production edits. 8 9 10
Assistive Technology on Google TV
Our TVs include visual, hearing and mobility accessible technology.
Designed with the environment in mind
Sony is committed not only to offering products, services and content that deliver exciting experiences but also to working towards our goal of a zero environmental footprint throughout our business activities.
ENVIRONMENTAL FEATURES IN THIS PRODUCT
Dynamic Backlight Control, or pixel-level lighting control, helps improve energy efficiency by adjusting display brightness as picture content changes
Power Saving Mode helps save energy by adjusting the display brightness
Display Off Mode helps save energy by turning the picture display off without needing to put the TV into full stand-by mode, so audio can still be enjoyed
Specifications
Accessories
Optional accessories
Wallmount Bracket (SU-WL855 [Refer to Country/Area Handling Chart] TBD) Depends on country selection
Built-in Tuner
Number of Tuners (Terrestrial/Cable)
1(Digital/Analog)
TV System (Digital Cable)
Clear QAM
TV System (Digital Terrestrial)
ATSC/ATSC 3.0(NEXTGEN TV)
Tuner Channel Coverage (Analog)
VHF: 2-13/UHF: 14-69/CATV: 1-135
Tuner Channel Coverage (Digital Cable)
CATV: 1-135
Tuner Channel Coverage (Digital Terrestrial)
VHF: 2–13/UHF: 14–69 (14–36 for ATSC 3.0)
Design
BEZEL DESIGN
Flush Surface
Remote Control
Standard Remote
STAND COLOR
Titanium Black
Stand design
Slim Blade stand