XBR-55A8H
A8H 4K HDR OLED with Smart Android TV (2020)
Offers
Product highlights
Bring out the beauty of OLED with the powerful Picture Processor X1 Ultimate.
Millions of individual pixels are supercharged by the Pixel Contrast Booster for more vibrant colors to complement absolute OLED black.1
Acoustic Surface Audio produces 2.1 channel sound from the entire screen, creating an immersive multidimensional audio experience.
Sony's Android TV with Google Assistant gives you a smarter, easier way to get more from your TV.3
Experience a more natural picture with 4K X-Reality PRO & Object-Based Super Resolution.
See exactly what the creator intended with the advanced color and gradation of TRILUMINOS™ Display.
OLED + X-Motion Clarity makes fast-moving scenes bright and clear
Picture and sound are automatically adjusted to your environment with Sony's unique Ambient Optimization™ technology.
Works with AirPlay 2 to easily stream content from your Apple device.7
Compatible with Google Nest Devices5, Amazon Alexa6, and Apple HomeKit7 for an even smarter home.
See the big picture with HDR1, Dolby Visions™8, IMAX Enhanced™9 and Netflix Calibrated Mode.10
The super-slim one-slate design and narrow aluminum bezel harmoniously blends into any environment, keeping you focused on the picture.11
Premium metal low-profile stand for distraction-free viewing or can be adjusted to raise the TV to fit a soundbar seamlessly.
Hang your TV like a work of art with the SU-WL855 ultra-slim wall-mount bracket for select Sony BRAVIA™ OLED and LED TVs.12
Calman™ auto calibration mode makes high-performance screen calibration easier than ever.13
The processor that brings the best out of OLED's beauty
The same powerful processor used to drive our 8K 3 TVs precisely analyzes image data to bring out the intense contrast of OLED, with pure blacks, peak brightness and truly realistic pictures.
Boosting color and contrast for extra depth and realism
See real-world colors, discover the detail in deep shadow and bright highlights. With Pixel Contrast Booster, color and contrast are enhanced in bright areas so you can enjoy scenes full of lifelike shades and hues, more depth, fine texture, and the pure black contrast that only OLED can deliver.
Sony's OLED with Pixel Contrast Booster
Sound from the screen, incredibly immersive
Sound on conventional TVs with a speaker located below the screen is often out of sync with the picture. With our Acoustic Surface Audio, the screen is the speaker. An innovative actuator behind the screen vibrates discreetly to create sound so what you hear comes from the place in the scene where the action is happening—dialog from characters, engine noise from a car.
Open the door to unlimited entertainment
Choose from a wide variety of movies, shows, music, games, sport, and more with Android TV, simply by talking to your BRAVIA. Chromecast built-in lets you enjoy mobile apps on your TV, and with Google Assistant and smart speakers, you can control TV and smart devices with your voice.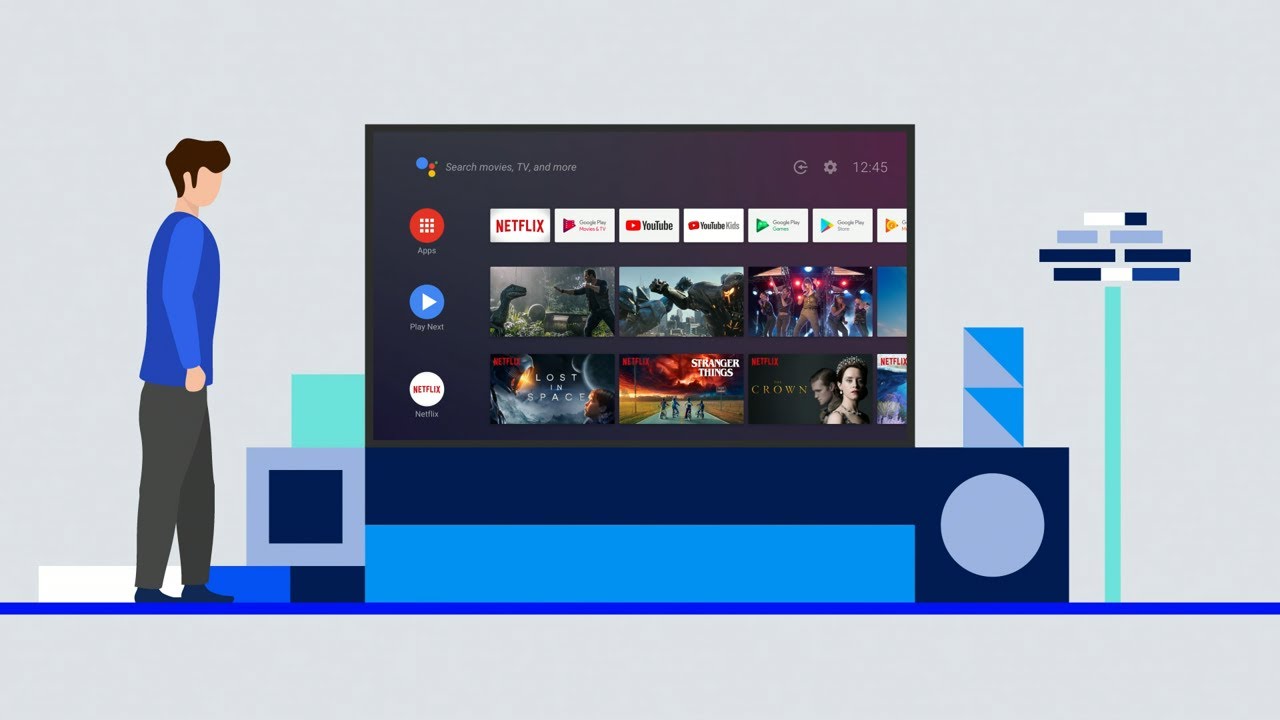 Supreme resolution, whatever you're watching
Any kind of content can be upconverted to lifelike 4K resolution with Sony's unique features. Our Picture Processor X1™ Ultimate, twice as fast as the X1™ Extreme, precisely analyzes and processes data to enrich 4K 5 pictures with real-world detail and texture. Even images filmed in 2K and Full HD are upscaled close to 4K by 4K X-Reality™ PRO 6 using a unique 4K database. Resolution of each subject is then optimized by Object-based Super Resolution to reproduce virtually real-world textures.
Reproduces a wider, more precise range of colors
By widening the color spectrum, TRILUMINOS powered by our X1 processors reproduces more colors than a conventional television. It analyzes and processes data in every image to make colors even more natural and precise so pictures are closer than ever to real life.
Making fast-moving scenes bright and clear
With pictures created by millions of individually controlled pixels, everything is sharp and clear on OLED. And with our X-Motion Clarity™ technology, even fast action stays smooth and clear. Moving images are precisely controlled to minimize blur so that pictures remain true with less loss in brightness during high-speed scenes.
Watch what you love. Control it with your voice
Search for shows, get recommendations, even control your TV—faster—with your voice. Ask Google or Amazon Echo for a little help on your big screen. 10 11 12
Embrace the thrills of the theater
See all your favorite movies in a completely new way with more drama and realism on a 4K OLED TV that's designed to deliver an authentic theater experience at home.
This Sony 4K Smart TV is an IMAX Enhanced product, ready to meet high-quality color, contrast, clarity, and sound. Take comfort in knowing you'll be enjoying a fully immersive at-home entertainment experience on this TV that takes full advantage of IMAX Enhanced content. 2 9
Enjoy cinematic thrills at home. Dolby Vision™ brings scenes vividly to life for authentic viewing, while Dolby Atmos™ fills the room with immersive surround sound. 7 8
Calman auto-calibration software allows an unprecedented level of calibration and the ability to fine tune adjustments simply not possible through conventional picture settings. 13 30
One-slate design concept, incredibly thin
With our super-slim one-slate design, the screen meets the edge of the TV, immersing you in the picture without distraction. 4
See how our beautiful design immerses you in the action 4
Our slim and simple one-slate design keeps you focused on the screen while blending harmoniously in any room environment.
Keeps you focused on the picture, not the television.
Flexible Metal Blade Stand, soundbar-ready
The direction of this versatile stand can be adjusted so your TV display won't disturb your viewing, even when used with a soundbar.
A concealed cable track keeps wires neatly hidden so your television stays free of clutter and looks good from the front, the sides, and the back. 9
Mount your Sony TV like a work of art
Make the most of your living space. The SU-WL855 ultra slim wall-mount bracket is designed to hang select Sony BRAVIATM OLED and LED TVs flush to the wall, just like any other work of art. Pull out your TV and swivel it left to right to adjust the screen angle for optimal viewing. 12
High performance calibration for professionals
Our TVs receive high performance calibration that has never previously been possible using CalMANTM software. It allows adjustments to be made with finer precision than conventional picture quality settings to meet the strict requirements of creators in the post- production stage. Colors are reproduced with maximum fidelity to the original TV signal.
Designed with the environment in mind
Sony is committed not only to offering products, services and content that deliver exciting experiences but also to working towards our goal of a zero environmental footprint throughout our business activities.
ENVIRONMENTAL FEATURES IN THIS PRODUCT
Dynamic Backlight Control, or pixel-level lighting control, helps improve energy efficiency by adjusting display brightness as picture content changes
Power Saving Mode helps save energy by adjusting the display brightness
Display Off Mode helps save energy by turning the picture display off without needing to put the TV into full stand-by mode, so audio can still be enjoyed
Specifications
Accessories
Optional accessories
Wallmount Bracket (SU-WL855 [Refer to Country/Area Handling Chart]). Depends on country selection
Built-in Tuner
Number of Tuners (Terrestrial/Cable)
1(Digital/Analog)
TV System (Digital Cable)
Clear QAM
TV System (Digital Terrestrial)
ATSC
Tuner Channel Coverage (Analog)
VHF: 2-13/UHF: 14-69/CATV: 1-135
Tuner Channel Coverage (Digital Cable)
CATV: 1-135
Tuner Channel Coverage (Digital Terrestrial)
VHF: 2-13/UHF: 14-69
Design
BEZEL DESIGN
Flush Surface
Remote Control
Standard Remote
STAND POSITION
2-way position (soundbar position)
Stand design
Metal Blade Stand
4K: 3,840 x 2,160 pixels. Requires HDR compatible content from supported streaming services, such as Netflix, Amazon Video or HDR compatible content device connected via HDMI input. Requires HDMI® cables sold separately
Upscaled, simulated and enhanced 8K and 4K images will vary based on source content.
User must connect to a Google account to use, including voice to activate linked apps. Wireless connectivity requires 802.11 home network (802.11n recommended). Network services, content, and the operating system and software of this product may be subject to separate or third party terms and conditions and changed, interrupted or discontinued at any time and may require fees, registration and credit card information. Apps must be compatible with TV. App availability varies by region and device. Use of this TV requires consent to Google Terms of Service (http://www.google.com/policies/terms/) and Privacy Policy (http://www.google.com/policies/privacy/).
Chromecast built-in compatibility dependent on app.
Google Nest devices (sold separately) are compatible with Sony TV's powered by Android TV. Requires compatible devices connected to the same wireless home network. Download the Google Home app from the Apple App Store or Google Play. Once download is complete, user must link compatible Nest Speaker devices to the Sony device in order to access the voice control function and to control TV operation. Subject to third party app terms and conditions.
Amazon Alexa enabled devices (sold separately) compatible with Sony TV's powered by Android TV. Amazon account required. Subscriptions may be required to access certain content. Compatible devices require internet connection.
This Sony TV is compatible with AirPlay 2 and HomeKit. iOS 12.2 or later or macOS 10.14.4 or later is required. Apple ID account required. Subscriptions may be required to access certain content.
Dolby Vision content is compatible with streaming services such as Netflix, Amazon Video or compatible content device connected via HDMI input. Requires HDMI® cables sold separately.
IMAX Enhanced content enables the full IMAX Enhanced experience.
Netflix streaming membership required. 4K Ultra HD availability subject to your Netflix subscription plan, internet service, device capabilities, and content availability. www.netflix.com/termsofuse
Actual look may differ depending on TV size and type of cables used.
SU-WL855 wall-mount bracket is available for select Sony OLED and LED models ranging from 55" class to 75" class. TV and wall mount system sold separately. Hardware included with wall-mount bracket.
Requires separately sold Calman calibration software to be installed on your PC, a pattern generator, a meter (colorimeter, spectrophotometer etc.), and Calman for BRAVIA app to be downloaded from Google Play and installed on your TV. Internet needed to utilize app services on TV. Network services, content, and software of this product may be subject to separate terms and conditions and changed, interrupted or discontinued at any time and may require fees, registration and credit card information.
© 2020 Sony Electronics Inc. All rights reserved. Reproduction in whole or in part without written permission is prohibited.

Picture Processor X1, X-Reality PRO, X-Motion Clarity, TRILUMINOS, X-tended Dynamic Range and the Sony logo are trademarks of Sony Corporation. PlayStation is a registered trademark of Sony Interactive Entertainment Inc. Android, Android TV, Google Play, Google, YouTube and the Google logo are registered trademarks of Google LLC. Netflix and the Netflix logo are registered trademarks of Netflix Inc. All other trademarks are trademarks of their respective owners. Features and specifications are subject to change without notice. Screen images simulated.