SALE
BRAVIA XR 55" Class A90J 4K HDR OLED with Google TV (2021)
Model: XR-55A90J
Earn
1400 Sony Rewards Points
About This Item
COGNITIVE PROCESSOR XR™ – Revolutionary TV processing technology that understands how humans see and hear to deliver intense contrast with pure blacks, high peak brightness, and natural colors.
XR TRILUMINOS PRO™ - Rediscover everything you watch with billions of accurate colors and see impressive picture quality that is natural and beautiful to the human eye.
XR OLED CONTRAST PRO – Feel immersive depth and realism with ultimate blacks and our brightest-ever OLED picture.
Offers
Enjoy movies included with BRAVIA XR TVs3
10 credits redeem on latest release movies

24 months unlimited streaming of top movies
Features
2021 King of TV

Best SDR Day Mode
Best SDR Reference Mode
Best HDR TV
Best Live Sports

"The A90J offers the best picture and sound quality in a TV today."

Digital Trends
Ⓒ 2021 Designtechnica Corporation. All rights reserved. Used under license.
BRAVIA XR MASTER Series A90J
Redefining OLED with ultimate brightness
See our best ever 4K HDR OLED TV, powered by the revolutionary Cognitive Processor XR™. Enjoy unparalleled contrast with extreme brightness and pure blacks in an immersive Seamless Edge design.
Discover the A90J with an expert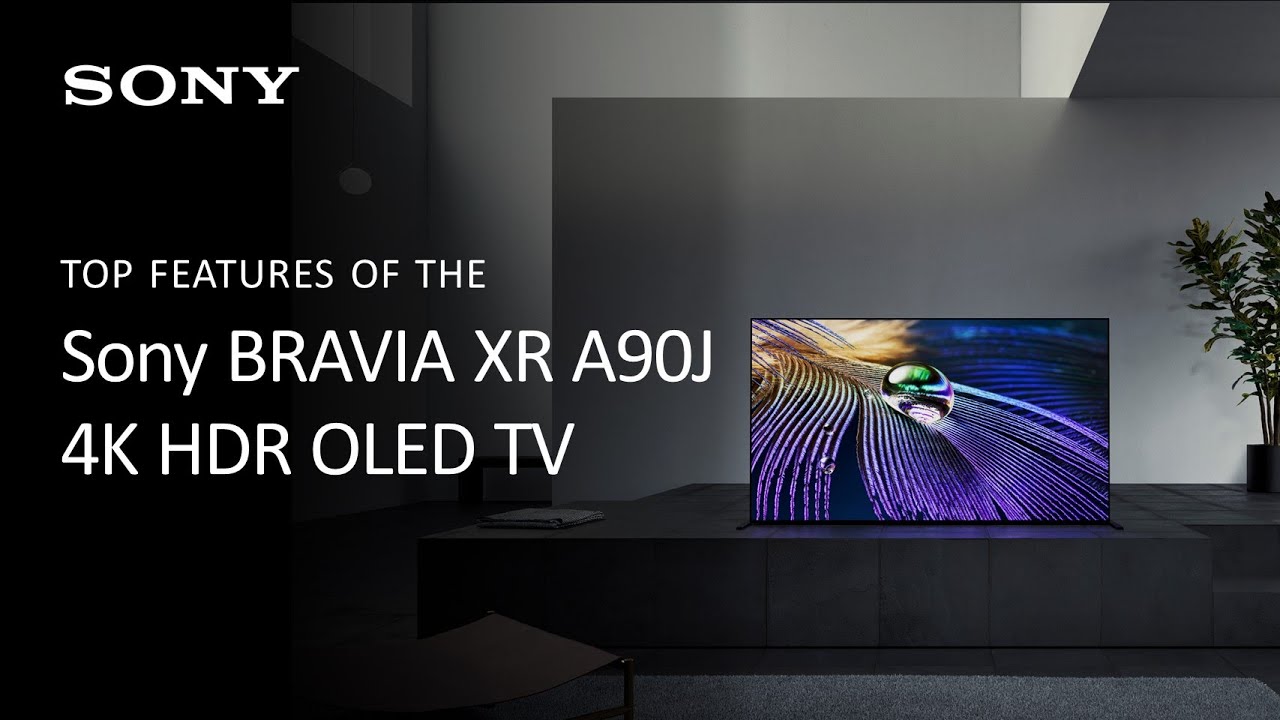 World's first cognitive intelligence TVs 1
Our BRAVIA XR™ TV takes vision and sound to the next level with the ingenious Cognitive Processor XR. It understands how humans see and hear, providing a whole new experience that immerses you completely in the scene.
Revolutionary OLED picture, as perceived by the human eye
Enjoy breathtaking contrast on our best ever OLED with picture quality that feels deep, natural, and real. Its revolutionary processor uses human perspective analysis to cross-analyze and optimize hundreds of thousands of elements in a blink of an eye. Paired with our unique OLED panel, this technology delivers pure blacks and our brightest ever picture.
Frequently Bought Together
Recently Viewed
As of 11/18/20, Cognitive Processor XR cross-analyses multiple picture elements combined with focal points; recreating human perspective. Verified by Strategy Analytics.
User must accept Google Terms of Service (http://www.google.com/policies/terms/), Play Terms of Service (https://play.google.com/intl/en-US_us/about/play-terms/index.html) and Privacy Policy (http://www.google.com/policies/privacy/) to use TV. User must connect to a Google account to use certain advertised features, including voice to activate linked apps, and install certain apps and operating software during setup. Use of TV without connecting to a Google account allows only basic TV features and certain apps. Wireless connectivity requires 802.11 home network (802.11n recommended). Network services, content, operating system and software of this product may be subject to separate or third-party terms and conditions and changed, interrupted or discontinued at any time and may require fees, registration and credit card information. Apps must be compatible with TV. App availability varies by region and device.
Purchase an eligible TV and register for BRAVIA CORE™ by February 23, 2024 to be eligible for promotion offers. Available movies subject to change. Terms and conditions apply, for full details see https://www.sony.net/bravia-core. © 2021 Layout and Design Sony Pictures Home Entertainment Inc. All Rights Reserved. Network services, content, and operating system and software of product may be subject to separate or third-party terms and conditions and changed, interrupted or discontinued at any time and may require fees, registration and credit card information.
User must setup broadband network environment. By default, Pure Stream setting is turned OFF and must be turned ON in BRAVIA CORE settings. BRAVIA CORE offers streaming between 30Mbps-80Mbps once user turns ON Pure Stream. To access Pure Stream at 30Mbps, user must have a minimum internet speed of 43Mbps over Wi-Fi. To access highest quality Pure Stream available at 80Mbps user must have minimum internet speed of 115Mbps over Wi-Fi. Subject to user's network operator's video streaming restrictions, BRAVIA CORE automatically selects the best bitrate as following with adaptive streaming functionality based on the internet speed available.
4K: 3,840 x 2,160 pixels. Game title supporting 4K/120fps required. Game title supporting VRR required. Results may vary depending on the game you're playing. If enabling VRR results in any unexpected visual effects, you can turn it off at any time.
4K: 3,840 x 2,160 pixels. Upscaled, simulated and enhanced 4K images will vary based on source content.
Requires HDR compatible content from supported streaming services or HDR compatible content device connected via HDMI input (sold separately).
Dolby Vision content compatible with streaming services or compatible content device connected via HDMI input (sold separately).
IMAX Enhanced content enables full IMAX Enhanced experience with compatible streaming services such as Fandango Now (US only) and BRAVIA CORE, or compatible content device connected via HDMI input (sold separately).
Netflix streaming membership required. 4K Ultra HD availability subject to your Netflix subscription plan, internet service, device capabilities, and content availability. www.netflix.com/termsofuse
This Sony TV is compatible with AirPlay 2 and HomeKit. iOS 12.2 or later or macOS 10.14.4 or later is required. Apple ID account required. Subscriptions may be required to access certain content.
Three-way stand is only available on the 85" Class model. 75" Class and 65" Class models have two-way stand with standard and raised positions. Actual look may differ depending on TV size and type of cables used.
SU-WL855 wall-mount bracket is available for select Sony OLED and LED models ranging from 55" class to 77" class. TV and wall mount system sold separately. Hardware included with wall-mount bracket.
Remote design may differ depending on country. Interoperability and compatibility among Bluetooth® devices vary.
Requires separately sold Calman calibration software to be installed on your PC, a pattern generator, a meter (colorimeter, spectrophotometer etc.), and Calman for BRAVIA app to be downloaded from Google Play and installed on your TV. Internet needed to utilize app services on TV. Network services, content, and software of this product may be subject to separate terms and conditions and changed, interrupted, or discontinued at any time and may require fees, registration, and credit card information.
Input lag time measured via 4K/120fps game HDMI input, may differ by real-time usage environment or specific conditions. Game title supporting 4K/120fps required.
A camera is required for video chat. Camera sold separately. See compatible cameras here: https://www.sony.net/camera-support
© 2021 Sony Electronics Inc. All rights reserved. Reproduction in whole or in part without written permission is prohibited.

Sony, BRAVIA, BRAVIA XR, Cognitive Processor XR, XR Triluminos Pro, XR Motion Clarity, BRAVIA CORE, and the Sony logo are trademarks of Sony Corporation. Google TV is the name of this device's software experience. Google, YouTube, YouTube Music, Google TV and other marks are trademarks of Google LLC. All other trademarks are trademarks of their respective owners. Features and specifications are subject to change without notice. Screen images simulated.