XB100 Compact Bluetooth® Wireless Speaker | Orange
Model: SRS-XB100/D
Earn
50 Sony Rewards Points
About This Item
Enjoy powerful, clear sound, with a deep bass
Sound Diffusion Processor expands sound far and wide
Waterproof and dustproof1,2 (IP67 rated)
Offers
Features
SRS-XB100
Compact body, clear and powerful sound
Enjoy big sound with the super-compact SRS-XB100 wireless speaker, offering powerful, clear sound, a waterproof and dustproof design1,2, and up to 16 hours of battery life.3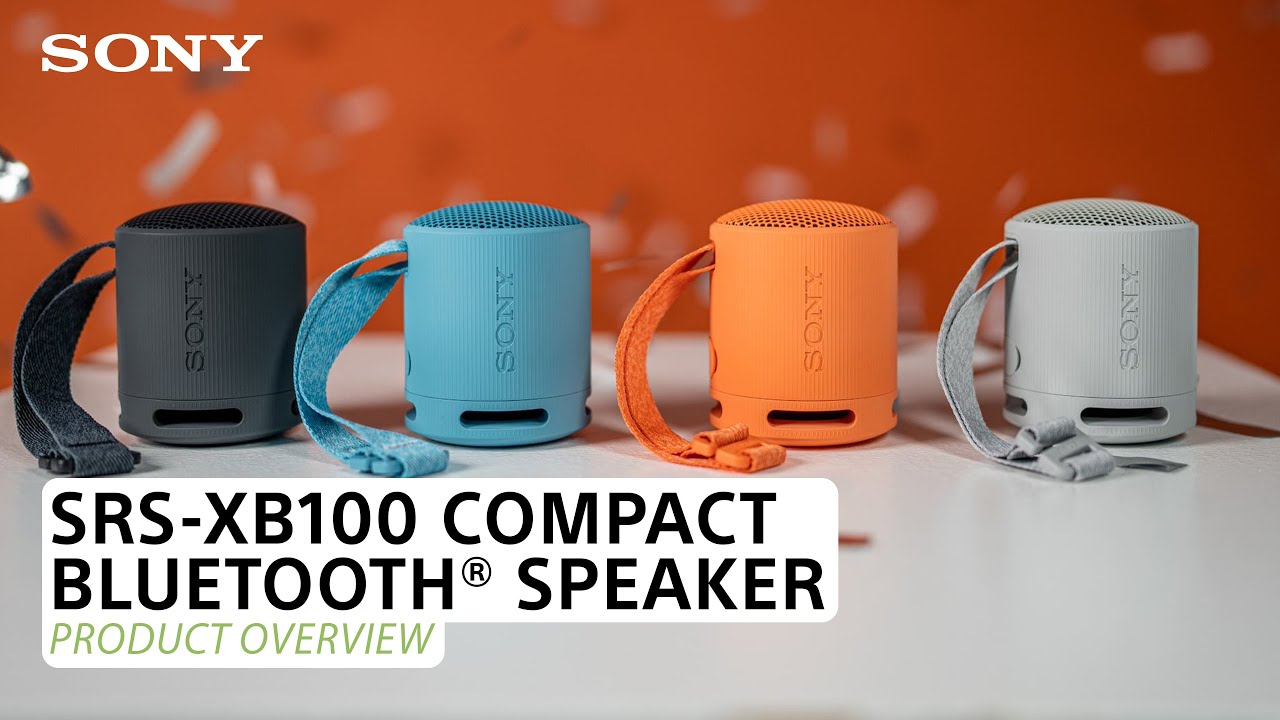 Sony brings you closer to the music and the artists you love. Watch exclusive videos and enter to win prizes only available for Sony fans.
Enjoy powerful, clear sound, with a deep bass anywhere you go
Frequently Bought Together
Recently Viewed
The unit, with the cap fastened securely, has a waterproof specification of IPX7*1 as specified in "Degree of protection against water immersion" of the IEC60529 "Ingress Protection Rating (IP Code)", and a dust proof specification of IP6X*2 as specified in "Degrees of protection against solid foreign objects".*1 IPX7 equivalency: The speaker has been tested to and maintains its operability when gently submersed in water to a depth of 1m and left for 30 minutes.*2 IP6X equivalency: The speaker has been tested to and continues to block dust after stirring for 8 hours in a testing device which contains dust particles that are up to 75 μm in diameter.
Do not place the system directly on sand, such as in a sandbox or on a sandy beach.
When the specific music source is used and the volume level of the unit is set to 36. Time may vary, depending on the temperature or conditions of use.
Only compatible between SRS-XB100 wireless speakers.
Recycled plastic is used in multiple parts of the speaker strap and body, which can be subject to change. Coating and adhesive materials excluded.
Interoperability and compatibility among Bluetooth® devices vary.
Google and Android are trademarks of Google LLC.
©2023 Sony Electronics Inc. All rights reserved. Reproduction in whole or in part without written permission is prohibited. Sony and its logos are registered trademarks of Sony Corporation. Bluetooth is a trademark of Bluetooth SIG, Inc. The N Mark logo is a trademark of the NFC Forum, Inc. All other trademarks are trademarks of their respective owners. Features and specifications are subject to change without notice.