BUNDLE SAVINGS
Sony ZV-1 II Vlog camera for Content Creators and Vloggers
Model: ZV-1M2/B
Est. Delivery Nov 30-Dec 1
BONUS :
Earn
900
4500 Sony Rewards Points
About This Item
Ultra-wide 18-50mm1 zoom lens gets it all in the frame
Large 1.0-type sensor for professional results even in low-light
Offers
Features
$30 cash back when you register your Sony camera or lens.*
*Offer valid for purchases of eligible models between 10/15/23 – 1/31/24. Redeem by 2/18/24. Fulfilled within 8 weeks. See pro.sony/reg for terms and conditions and eligible models.
ZV-1 II
All for vlogging
Capture your world the way you want. The vlog camera ZV-1 II streamlines shooting on the go, allowing you to capture amazing quality video and audio without any complex setup.
Take a ZV-1 II tour
The ZV-1 II is an ideal all-round vlog camera. Compact and portable, it features a wide-angle zoom lens for versatile framing, a 1.0-type image sensor for great image quality, and an intelligent microphone for clear audio recording.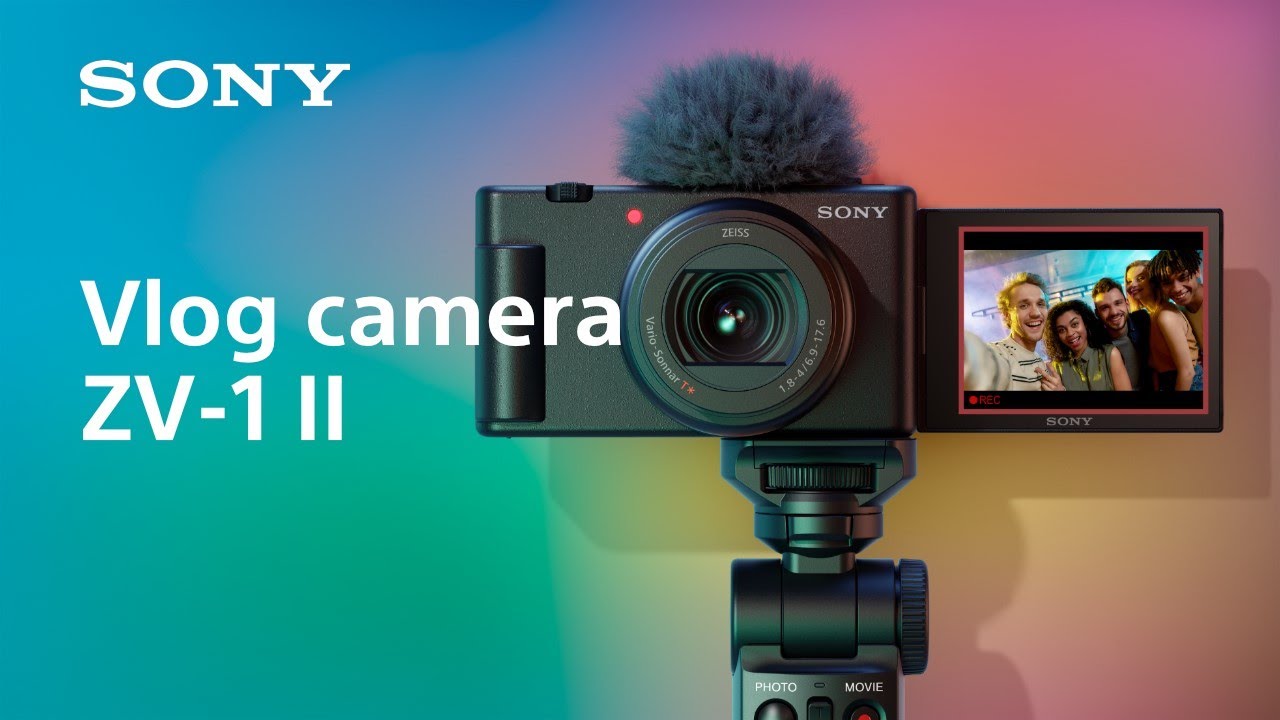 AT A GLANCE
All your favorite features in the box
Frequently Bought Together
Recently Viewed
35mm format equivalent when shooting still images. Slightly cropped in Active mode.
In the Intelligent Auto or Scene Selection mode.
Available in "Movie" mode and "S&Q" mode only. Proxy recording is deactivated.
The image (excluding the bars) is in CinemaScope aspect ratio (2.35:1), but the recorded image is 16:9.
The actual corresponding frame rate is 23.98 fps.
Direction may be fixed depending on the shooting settings.
Approximate
Image crop in Active Mode. Active Mode is not available when recording at frame rates of 120 (100) fps, including S&Q.
Does not work when the Bokeh Switch is ON or when subject recognition is OFF.
Sold separately
Check regional availability of services and applications via the URL below: Creators' App: https://www.sony.net/cca , Creators' Cloud: https://www.sony.net/cc/ Download app at Google Play and the App Store. Network services, content, and operating system and software subject to terms and conditions and may be changed, interrupted or discontinued at any time and may require fees, registration and credit card information.
Transfer may be interrupted when a different app is launched on some operating systems.
1280x720 resolution at 30 fps. Use a commercially available USB cable or terminal conversion adapter for connecting to a mobile device.
Sound recording is not possible. Frame rates are 1-120fps (NTSC) or 1-l00fps (PAL) in eight steps.
Proxy recording unavailable at recording frame rate of 120 p or when Slow & Quick Motion Frame Rate is120 fps
Please check the compatibility info for compatible microphones.
Not including materials used in coatings and adhesives.
Depending on the time of production, SORPLAS™ may not be used for some parts.
Sony survey of products and supplied accessories produced from April 2012 through March 2022
Used for the wind screen base fabric and raised area. Recycled PET (polyethylene terephthalate) bottles may not be available depending on the time of production.
Availability varies depending on region and language.
© 2023 Sony Electronics Inc. All rights reserved. Reproduction in whole or in part without written permission is prohibited. Sony is not responsible for typographical and photographic errors. Features and specifications are subject to change without notice. Sony, G Master, the Alpha logo and the Sony logo are trademarks of Sony Corporation. All other trademarks are trademarks of their respective owners.